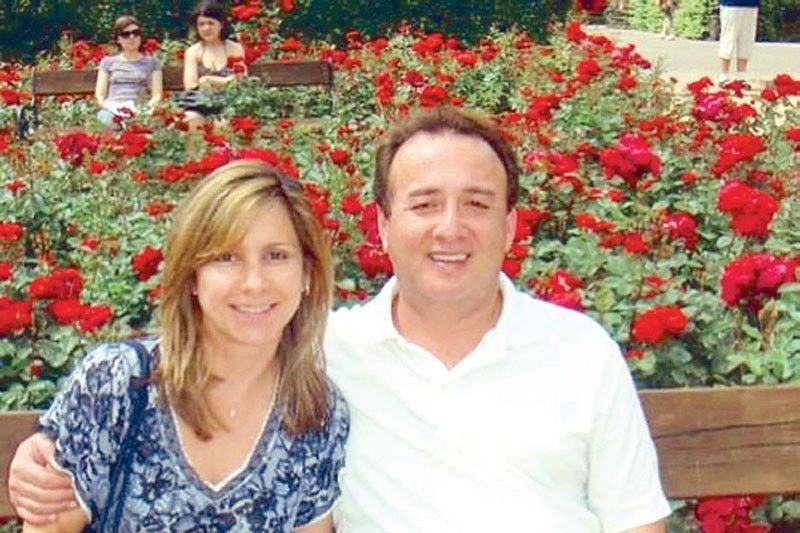 Francis and Sandy in a rose garden in Poland in 2010.
Francis promised her a rose garden
I would like to remind you that being happy is not having a sky without storms, or roads without accidents, or work without fatigue, or relationships without disappointments.
Being happy is finding strength in forgiveness, hope in one's battles, security at the stage of fear, love in disagreements.
Being happy is not only to treasure the smile, but that you also reflect on the sadness. — Pope Francis, as quoted by Alexandra Lamb Moran
When Francis Roxas Moran Jr., who recently passed away, was president of the board of the condominium his family lived in, he had a rose garden planted on its grounds. He was so inspired by the sight and scent of a rose garden he had visited on a trip in 2010 to Poland with his wife, the former Alexandra "Sandy" Lamb, that he wanted to replicate it. It was difficult to maintain, but he persisted.
After Francis, 60, passed away, Sandy and their only son Jonathan took a walk near the garden where the long-stemmed roses once grew. The roses were no longer there, but they remained vivid to Sandy, the woman Francis pursued for 12 years till they finally exchanged "I do's" in 1991. And Sandy told her son that, just like in his life's endeavors, Francis, the son of the late Francis Moran and the still sprightly Charo Roxas-Moran, was persistent with his roses till the end.
During a memorial Mass for his father recently, Jon recounted, "Unfortunately the roses kept dying. They kept getting replaced, despite how expensive the roses were. This story really surprised me — for my father to create a rose garden, out of inspiration of beauty and then maintain it despite financial costs. That is unlike my father. I thought my father was a lion. What I know now after his passing is that, like the garden he looked to cultivate, my father is more like a rose. Warm and inviting, prickly to the touch, but come close enough, and the aroma will engulf you, gifting you with joy." You go past a rose's thorns, and you will behold its genuine character.
Sandy is Francis' rose. He never stopped till she bloomed in his arms every day of his life. They were prom dates in 1979 and he pursued her in the Philippines, in California, and in the East Coast, striving to be worthy of her love. To support himself in New York while Sandy was working there, he took odd jobs like working at call centers and being a driving instructor in Manhattan till he himself landed the job of a lifetime as a finance chief of a multinational advertising agency in New York, then as an expat based in Hong Kong responsible for the Asia Pacific Region.
Since the day he won Sandy's hand, he endeavored to give her a rose garden.
"I thank God for the wonderful 41 years that we had together. I know it's a long time, come to think of it, and we were very fortunate to have a long, interesting life and journey together. He was actually my high school prom date in 1979. And we dated on and off for years. He was dedicated, he was focused on knowing that he really wanted to be with me. And finally in 1991, we got married. Shortly thereafter, we were blessed with our wonderful son Jon."
"Next year, 2021, we would have celebrated our 30th wedding anniversary. We were making so many big plans, including trips to take, but I suppose it was never meant to be. We had a relationship that was based on a real solid foundation and the love we shared was unique and unwavering.
"We were blessed with an incredible life in Hong Kong, New York, Manila. We traveled the world, we were blessed with so many amazing friends and family. People say that I was the love of his life, but actually, he, too, was the love of my life."
***
After Francis passed on after a valiant struggle, Sandy lovingly recalled to Jon how his father pursued her around the world. "I think hearing and remembering these stories made me understand and appreciate my dad's exaltation of financial security and power because he was truly a self-made man. There's dedication. He was able to make a life for himself, for my mom and for me. This, I think to my father was his language of love. And I appreciate that now," Jon said.
Sandy battled breast cancer in 1998, when Jon wasn't even five. Yet, through it all, Francis was unwavering in his love and support.
So, from the moment he was intubated to the moment he breathed his last, Sandy was steadfast in her love — and in her faith that in God's will is her peace.
"I was diagnosed with breast cancer in December 1998," Sandy recounted in her eulogy. She herself battled COVID at home as Francis was fighting for his life in the ICU. "I wake up with renewed energy and love of life and I thank God every day for the gift of a new day, so again, I choose to never give up and never give up on people who love you. Never give up on happiness for life is really an incredible journey."
"I know that God has a purpose in our suffering," she said amid her tears.
"We're still in utter disbelief and at times, you know, we feel that he might just walk in the door of our home. So, the realization that he is gone is really still very painful and we are totally heartbroken. But instead, we hold on to the faith that God really had other plans for him. God has the perfect plan for everything. He had that for my dear Francis, because his mission in life has been completed, and it was his time to return back to his Creator. But we are at peace knowing that he will live in our hearts forever."
***
A few days ago, Jon had a dream.
"In my dream, I was in the hospital trying to find my father," Jon shared. "I found these two women to sing a song for my father. When I found them, they seemed to know where my father was. I entered a door and within was my dad in this hospital bed. Machines, just clean shaven, and he saw me and immediately sat up in his bed probably faster than he would have done when he was healthy. And he had a smile on his face and he looked good. I asked him how he was and he said that he was doing fine. He felt good and that he was excited to get out of there. And I remember what struck me in my dream was that he was so full of light. So healthy, he still had his rosy cheeks." Yes, he had rosy cheeks.
"And so, Dad, I hope where you are now, you are happy," Jon said to his father, knowing he is just around. "I picture you sitting on a massage chair, eating some Japanese food, watching basketball on TV. When it's my time, I will join you there as a son. Until then."
After his eulogy, Sandy hugged Jon.
"(Your father) is our angel now in heaven and he will take care of us," she said.
Their lion and their rose. *