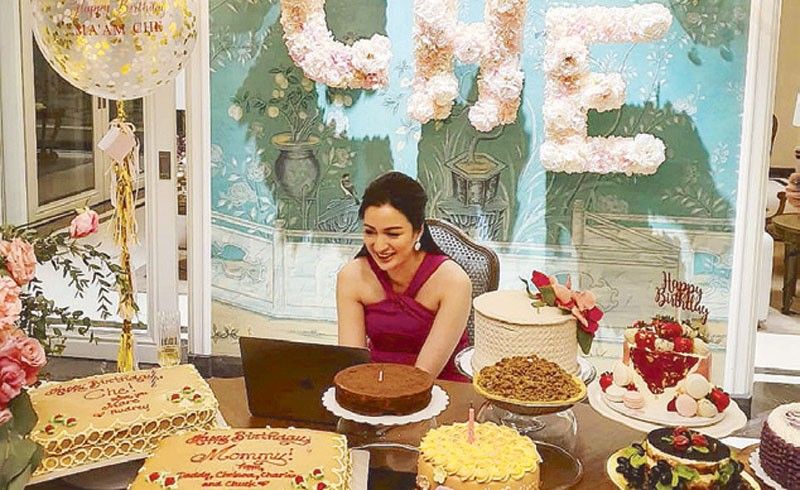 Che Uy celebrates her birthday with a Zoom party.
For now, happy celebrations come in a box!
PEOPLE
-
Joanne Rae M. Ramirez
(The Philippine Star) - June 30, 2020 - 12:00am
I recently marked a milestone even if it was somebody else's birthday the exquisite Che Uy's!
Che's party was a milestone for me as it was the first social event I attended under the "new normal."
Though restrictions are being eased in many places around the world, Filipinos are still exercising an abundance of caution, and social gatherings now are mostly limited to a box. Yes, the box that is your computer or mobile phone screen.
So, for the first time in my life, I must say it is good to think within the box. The box liberates you, frees you from confinement, and opens up borders, literally.
Social gatherings are boxed in, and celebrating out of the box seems unlikely at this point. (After Che's Zoom party, I attended another one for my high school classmate Marga Viaplana Gregorio. The latter was attended by classmates from as far as Spain and Australia. Most of us had a cocktail in our hand.)
These Zoom parties are the best celebrations we can hold at the moment, when gatherings with more than 10 people are prohibited. And with a good host, no one needs to fight for airtime. They give you an excuse to wear a nice top over your shorts, groom your eyebrows and take off the masks that hide your lipstick.
Celebrating within a box is actually thinking out of the box!
***
Che Uy's Zoom party was very personal. Despite her husband tycoon Dennis Uy's prominence, most of the people in Che's cheerful gathering were old and new friends, former classmates and family. I probably would feel intimidated going to a party in a ballroom, but listening to the banter she shared with her friends from Davao and the unscripted comments from her kids who would dart in and out of the box during the Zoom party put me at ease — you could feel the sides of the restrictive box society sometimes builds around you toppling. In these Zoom parties, almost everything is spontaneous, unrehearsed, natural.
Dennis was holding the balloons as their children gathered around the dining room table, which was filled with cakes and flowers. Vicki Belo led the prayer then everybody else said their birthday wishes for Che. Most of her friends from way back expressed their admiration for the way Che hasn't changed despite the success she and her husband have attained.
My wish for her was for the blessings that have come her way to continue coming. I quipped that when we were lining up for blessings before God, Che must have been first in line.
***
Che is a working wife and mother, albeit more glamorous than most of us.
"I choose to work because I personally believe that society tends to put women in a box where we don't work, especially when our husbands are successful. I prefer to break that box. I will never feel satisfied or content relying on someone else," Che told PeopleAsia, which hailed her as one of its "Women of Style and Substance" in 2019.
Che is the Udenna Group's corporate treasurer. She holds the purse strings with the financial management activities of the conglomerate, analyzing data and making decisions that benefit the financial position of the business. She also sits on the board of multiple companies, one of which is Phoenix Petroleum Philippines.
In response to the government's call for businesses to support its workforce during the COVID-19 containment period, the Udenna group as a whole has decided to maintain the salaries and benefits of all its employees for the duration of the quarantine period. To further help the affected employees, Udenna said it would give half of the 13th month pay and a portion of the year-end bonus in advance.
Very early on during the outbreak of the coronavirus in Metro Manila, food service companies that are part of the Udenna Group like Wendy's and Conti's Bake Shop sent food packs for frontliners in about seven medical institutions. They also sent food packs for health workers, community workers and PNP officers.
"My motivation stems from my children. I want to lead by example," said Che.
During the enhanced community quarantine, Che posted photos of Dennis sitting still and listening to every word she said because she was cutting his hair! She also cut the hair of her kids Chelsea, Charlize and little Chuck. Just like a "normal" mom.
"Business may give me opportunity, a better life, even, but the unforgettable memories I make with my children are more meaningful to me. I choose to put my family and children first," she said.
She told PeopleAsia's Jose Paolo dela Cruz her parents Carmelita and Ruben Chiong were the mold that shaped her into the woman she is today.
Che describes her childhood as carefree. "It was a happy time in my life. I lived in Davao all my life, with my parents and my younger sister Michelle. My childhood was simple yet satisfying, the littlest things brought us joy. We'd go to the beach for holidays. We were a very tight-knit family, and I'd bond with my cousins and other relatives frequently," she recalled.
Wife, mother, daughter, businesswoman and philanthropist, Che Uy will continue thinking out of the box. But for now, she's content to stay within it, to help flatten the curve and unbox more blessings for others.
(You may e-mail me at joanneraeramirez@yahoo.com. Follow me on Instagram @joanneraeramirez.)