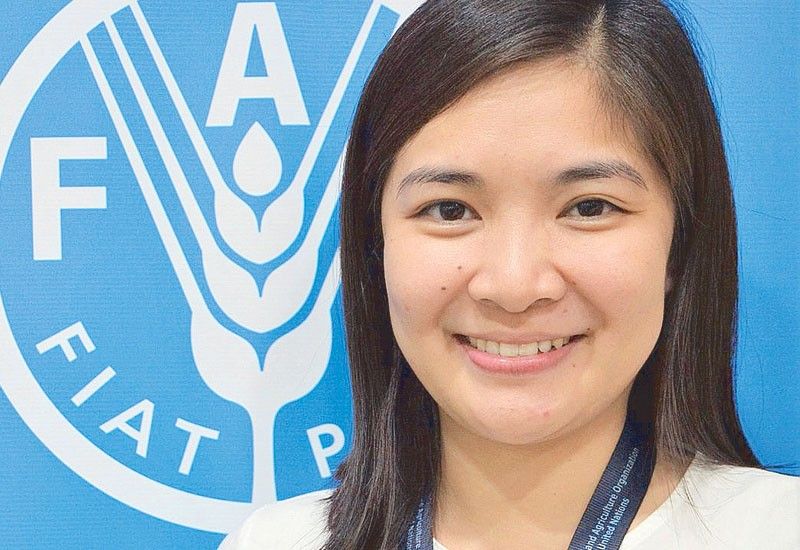 United Nations Food and Agriculture Organization assistant country representative for programs (Philippines) Tamara Jean P. Duran.
Food security in the time of COVID-19
The Philippines has been acknowledged as one of the world's fastest growing economies.
Recently, it was also acknowledged by The Economist as sixth among 66 countries that are most financially secure during this time of the COVID-19 pandemic, so our hats off to President Duterte's economic team chaired by Finance Secretary Sonny Dominguez with members Trade Secretary Mon Lopez, Budget Secretary Wendel Avisado, Public Works and Highways Secretary Mark Villar, Transportation Secretary Art Tugade, Energy Secretary Al Cusi, Science and Technology Secretary Boy dela Peña, Tourism Secretary Berna Romulo-Puyat, Agriculture Secretary William Dar, Interior Secretary Ed Año, and Socioeconomic Secretary Karl Chua.
But even fast-growing and financially secure countries can be challenged, especially in this time of pandemic.
Make no mistake about it: the COVID-19 pandemic disrupted livelihoods, food supply chains, and people's access to food and basic services. There is a threat to food security, and this must be arrested at the soonest possible time.
Recently, Bughaw Digital Inc. and the Chevening Alumni Foundation of the Philippines Inc. (CAFPI) held a Digital Conversation on Food Security in the Philippines in the Time of COVID-19.
The Chevening Alumni Foundation of the Philippines Inc. is the organization of graduates of the UK Government's global scholarship program that offers future leaders the unique opportunity to study in the United Kingdom.
University of the Philippines president Danilo Concepcion is the chairman emeritus with House Deputy Speaker Ron Salo as president. I am privileged to serve this group as its chairman.
The conversation, broadcasted live over Facebook (welcome to the "new normal"), was ably moderated by Ronald Bong Rodriguez of Bughaw Digital. Rep. Ron Salo gave the opening remarks, which set the tone for the conversation. Secretary William Dar delivered the keynote message touching on the state of food security in the Philippines today.
Secretary Dar and I were together in the Cabinet of former President Erap Estrada. He also served as Agriculture secretary then. The fact that he has served both Cabinets in the same capacity shows the extent of his competence and expertise in the field of agriculture and food.
"The threat of hunger is as real as the threat of COVID-19." This is the message that Secretary Dar brings with him wherever he goes, even to the meetings of the Inter-Agency Task Force on Emerging Infectious Diseases (IATF-EID), which he is a member.
Secretary Dar mentioned that the global impacts of COVID-19 on agriculture were the disruption in food supply, labor shortages, reduction in job quality, food wastage, affected livelihood of millions, and price spikes and increased price volatility.
He also said that a food security framework must be in place with a vision for a food-secure and resilient Philippines with prosperous farmers and fisherfolk, dubbed as "Survive, Reboot, Grow" towards socio-economic recovery and resiliency.
A mindset of survival, rebooting, and growth must be instilled in the agriculture sector, especially with the accelerated implementation of the Department of Agriculture's (DA's) "Plant, Plant, Plant" program.
The keynote speaker who gave an overview of the state of food security in the country today was Tamara Jean P. Duran, the assistant country representative for programs (Philippines) of the Food and Agriculture Organization (FAO) of the United Nations.
Tamara has been with the FAO for more than five years now and oversees the program development and management of FAO's portfolio in the country, which, among others, includes initiatives that seek to promote food security and nutrition.
In her presentation, Tamara said that nearly half of Filipinos (45.4 percent) experience food insecurity.
No doubt, food is available, but it is a question more of moving them where they are needed most.
Tamara mentioned that this crisis is straining food systems and will continue to do so in the foreseeable future. She agreed with Secretary Dar that there was a need to reshape the DA's strategic plan post-ECQ with the Survive, Reboot, Grow model.
Some institutional initiatives she suggested to strengthen food security were the establishment of a food security task group, a food resiliency plan for COVID-19 ECQ, the "Plant, Plant, Plant" program, urban agriculture, and support for local produce.
There were two resource speakers who shared what they were doing in the field of agriculture and food security, to inspire us, perhaps, to roll up our sleeves and pick up a trowel.
The first was Cherrie Atilano, the multi-awarded founder and CEO of AGREA Agricultural Systems International Inc., a for-purpose and inclusive business that is creating the first replicable one-island economy that promotes "zero hunger, zero waste, and zero insufficiency."
AGREA aims to, among others, establish food security in the country by targeting to help 4.5 million smallholder farmers.
The second resource speaker was Moncini A. Hinay, who, with his nine-year-old daughter, Raaina, co-founded Kids Who Farm in Zamboanga City. Moncini explained that this was a food production plus education advocacy initiative that aimed to teach farming and the importance of food production to kids and women, even teens.
There has been a surge in interest, according to Moncini. Understandably so, because kids are just staying at home under quarantine, always looking for new things to do. Why not get them involved in farming, yes, and even develop food security for the coming generations. A brilliant idea, if I may say so.
Even kids have a role to play in food security. That I believe in as well.
All in all, it was a highly interesting, provocative and relevant discussion, which I hoped was picked up by many and cascaded to a lot more.
My hats off to the organizers for the success of this digital conversation. Trust that under the new normal, there would be more discussions of the sort on more topics that seek to help us adjust to a new way of life moving forward.
Always, with the care and the healing of the nation in mind.