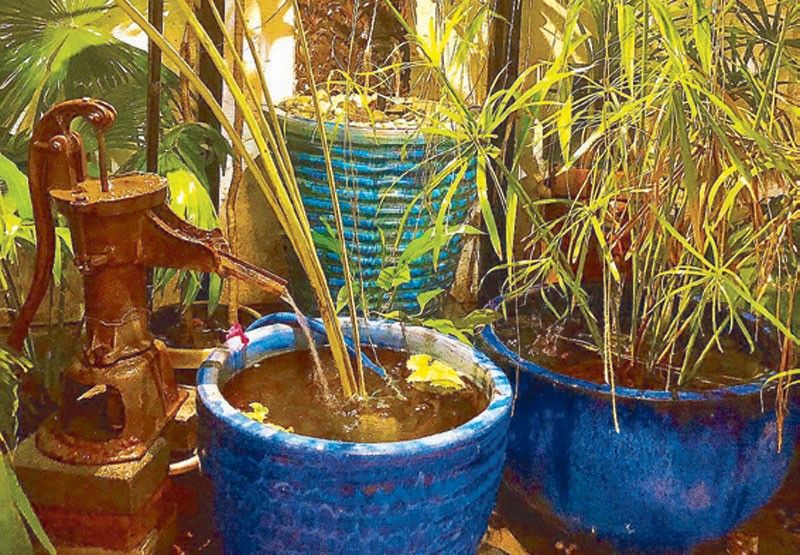 With some free time, imagination and a pump, you can create a water feature in your pocket garden. The sound of running water is relaxing.
Joanne Rae Ramirez
How to make a lockdown liberating
In this time of lockdown, invite 'Marie' into your house
Kondo, that's who. Before Yoon Se-ri, there was KonMari.
Marie Kondo, also known as "Konmari," has written four bestselling books on organizing. Her book The Life-Changing Magic of Tidying Up (2011) has been published in more than 30 countries. This Japanese organizing guru was named one of Time magazine's 100 most influential people in 2015.
Before I discovered Captain Ri and Yoon Se-ri (of Crash Landing on You fame, just in case you've been living under a rock) on Netflix, I discovered Marie. In this time of enhanced community quarantine due to the coronavirus disease 2019 or COVID-19 that has reached pandemic proportions throughout the world, her visit into our homes in the next three weeks may not only be timely but liberating.
My niece Patricia Sotto, a young businesswoman, suggests, "Marie Kondo your closet, your room, and after that, the house!"
Marie Kondo encourages tidying by category — not by location — beginning with clothes. She starts the tidying (I hesitate to use the word "purging" because she treats even discards with reverence) process by asking you to put ALL your clothes on your bed till they are a heap. The heap stares at you like a monster you want to slay.
Then you go through each item. Whatever still "sparks joy" in you, you keep. The ones that no longer "spark" joy you don't just dump. She actually encourages you to "thank" the piece first, then fold the piece neatly before you get rid of it.
Those you want to keep are to be folded neatly into small tents. First you fold into half, then into another half till the piece can stand like a triangle. This way, they can be stored in a box or drawer and are easily visible when you need them.
After the clothes, the books, paper, komono (kitchen, garage, or miscellany) and lastly, mementos or sentimental items.
She stores all items of the same type in the same place and does not scatter storage spaces. She also does not encourage you to store your things in a trash bag, because they ultimately might be mistaken for garbage.
In the kitchen, she advises housewives to store plastic food containers with their lids on, otherwise you'll always be searching for that missing lid.
***
My cousin Aimee Ferrer suggests that wives, most of whom are stay-at-home wives for the time being, "go back to basics" and "re-learn family recipes" since one's loved ones have their meals at home three times a day.
My sister Valerie Sotto has updated her First Aid kit by checking on expiration dates and organizing medicines according to their purpose — fever, allergy, LBM, etc.
My cousin Karen Parungo agrees with de-cluttering. Our family friend Didit Castro has sorted through the clothes in her closet and put those that don't fit her anymore in a box labelled, "If only." "If only" means if only she can fit into them again, so she's planning to either give them away or hold a garage sale when all this is over. (If you know Didit, you better watch out for her garage sale because she has excellent taste.)
"Do 5S on your closets," says interior designer Bern Concepcion. "5S" stands for: Sort (identify necessary items), Set in Order (place things in such a way that they can be easily reached), Shine (a virtual sweep of areas), Standardize (work to standards) and Sustain (make it a habit).
My cousin Gillian Caballero says she agrees with all this spring cleaning, but suggests we also make time to just lounge around. My cousin Aimee thinks that's a great idea, too, because her mother Nellie Loleng always takes naps and is still healthy and alert at 91!
"Start a vegetable garden," adds Bern. "Read your Bible. Read biographies. Fix broken things in the house. Clean up your e-mail box." Our common friend IT wiz Charlene Sun adds, "Plant your own herbs." She will harvest bok choy from her herb garden in one month, and hopefully, tomatoes in two months. Charlene has also whipped up dishes from old family recipes, like her mother's Fish Head with Szechuan vegetables.
Lawyer Yette Morales, who I met during a tour of the Balkans last year, has a great idea. "Enjoy viewing your travel photos and insert captions electronically. You might have forgotten the what, who, where in those photos. Recall, recall, recall and feel the pleasure again. That's what you spent for anyway!" I agree, one should invest in unforgettable memories of beautiful places to buoy one's spirits when overseas travel is temporarily just that — a memory.
***
I suggest that you also let "Marie Kondo" and her organizing skills inside your refrigerator by cleaning it.
This exercise, which I personally find cathartic, takes time, effort, concentration and discernment. Discernment — I kid thee not.
Let go of the rotten, which is easy to "discern" in their plastic containers. Aside from getting rid of the rotten, ask yourselves how you allowed it to reach that point — whether it's milk or friendship. So, either you love it, you leave it, or you destroy it. Don't let anything fester.
Next, check out those that have trespassed their expiration date. These are usually the bottled or canned stuff. An exercise to remind us that we, too, have shelf lives. The longer we make ourselves relevant, the more carefully we take care of our health, the longer we stay on the shelf.
Your refrigerator reflects your life. Leave room for new things and fresh blessings.
***
And finally, a word from the wise on how to spend the next few days under lockdown. Fr. Dennis Paez exhorts the country to be "locked together in prayer."
Amen. And may being locked in prayer free us all from COVID-19, and sustain those working hard to liberate mankind from it.