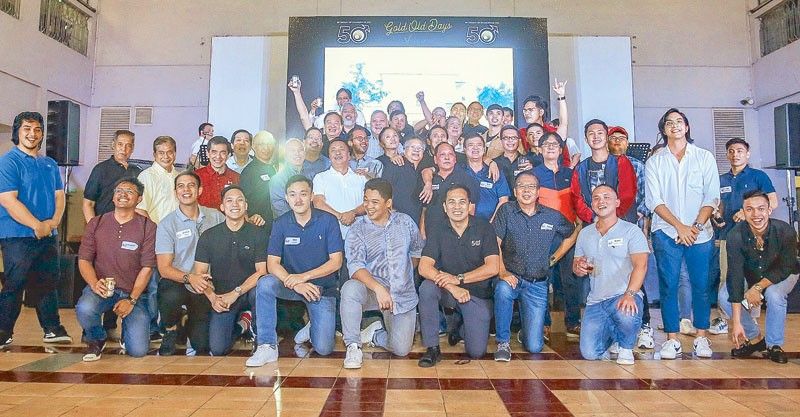 Alumni and residents of the UP Society of Emancipated Men (UP SEMen).
I can almost hear the snickers and the guffaws, but you read it right.
Yes, Virginia, there is such a thing as the UP SEMen or the University of the Philippines Society of Emancipated Men.
The UP SEMen was founded 50 years ago at the UP College of Business Administration. It counts former Senate president and House speaker Manuel Villar and former Socioeconomic Planning secretary Romulo Neri as founding members.
Founding member Vicente "Nonoy" Quimbo, acknowledged as the father of the Philippine wine industry, served as the first president.
The UP SEMen was created mainly because women then greatly outnumbered the men in the college with a 4:1 ratio.
In this regard, the men wanted "emancipation" from being outnumbered as well as to have a social organization for fun and relaxation.
So, recreation and not procreation. But, I digress.
Ed Francisco, head of BDO Capital & Investment Corp., said that the group was not a fraternity but a closely knit brotherhood where friendships withstood the test of time.
He added that the organization was also a seed, in reference to its name, that helped develop leaders in government and business. The organization hopes to continue this tradition for the many years to come.
The organization likewise is looking to support projects to improve the facilities of the UP Virata School of Business, the current name of the UP College of Business Administration.
Yes, we were a band of brothers, also known as SEMenites, forged in the cauldron of university life endemic to UP, strengthened by a common resolve to excel whilst consuming copious amounts of alcohol to decompress from the rigors of academic pursuit.
Some of the illustrious SEMenites, among many, include Philippine Ambassador to Malaysia Charles Jose, former Agrarian Reform undersecretary lawyer Anthony Parungao, KIA Philippines president Emmanuel Aligada, retired Deutsch Bank Philippines country head Eric Cruz, UNILAB top executive Noel Hererra Lim, marketing guru Jos Ortega, and a slew of successful businessmen like Jun Que, Jun Belen, Bert Mendoza, and public servant par excellence Armand Padilla.
Legal eagles that were members include Mark Bocobo, Orly Mendiola (we were contemporaries in the ACCRA Law offices), Bong Somera, Joey Austria, Jack Racela, Bobby Mendoza, the late J Castro, former MWSS administrator Jojo Allado, and Prof. Roger Quevedo, to name a few.
During our rambunctious 50th anniversary celebration titled "Ganito Kami Noon, Ganito Pa Rin Kami Ngayon" at the UP Bahay ng Alumni, UP Diliman, Quezon City, former Senate president Manny Villar described the "phoys" (what we called ourselves) as emancipated "not from their wives," but from "a life of mediocrity to a life of excellence."
He added that "these are the men who seized the day and made their lives and the future of the country better."
There is no better example to this than Manny Villar himself, with his achievements in business and politics.
Seeds to a better and brighter future of the country. That's how the UP SEMen is, was, and always will be.
Cheers, mga Phoys!