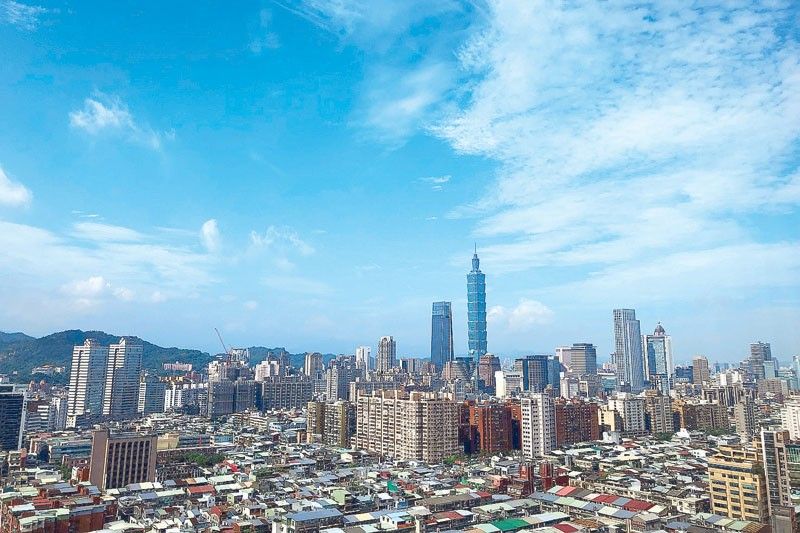 The Taipei 101 dominates the Taipei skyline.
Thus says Manila Economic and Cultural Office (MECO) chief Lito Banayo on the current state of travel and labor relations between the Philippines and Taiwan after Malacañang lifted a temporary travel ban to the latter.
After a brief travel ban to Taiwan, which elicited strong reactions from many sectors in the country, including from Foreign Affairs Secretary Teddy Locsin Jr., all's clear.
Earlier this month, the Philippines placed a temporary travel ban on China and its special administrative regions Hong Kong and Macau (now partially lifted in both places) to contain the newly discovered strain of coronavirus, which has reportedly infected over 75,000 (as of Wednesday).
The travel ban belatedly included Taiwan on Feb. 10, supposedly as a precautionary measure. On Valentine's Day, Feb. 14, Malacañang announced that the ban was lifted.
Tourism Secretary Bernadette Romulo-Puyat said the inter-agency task force on COVID-19 (IATF-covid19) recommended the lifting of the ban after a meeting at Malacañang. The task force reportedly took note of the absence of local transmission of COVID-19 in Taiwan.
For his part, Locsin said on Twitter just hours after the government announced the lifting of the travel restriction, "There was never any sane reason to ban it."
According to a report in The Philippine STAR, Banayo told radio dzBB following the lifting of the ban that overseas Filipino workers (OFWs) can be assured they face no retaliation from their Taiwanese employers when they return to work.
Banayo said OFWs who failed to return to their jobs in Taiwan as a result of the travel ban have the strong relationship MECO has with the Taiwanese government to cushion their anxieties.
He disclosed the Taiwanese Ministry of Labor called on employers to extend the contracts of OFWs who missed their flights back to Taiwan due to the temporary travel ban.
Banayo also welcomed the lifting of the ban because the Taiwanese constitute the fifth largest group of tourists to the country.
"More than 200,000 for 2019," Banayo told me when I dropped by his office in Taipei earlier this year during a private visit. "Taiwan has become the fifth largest market, after Korea, China, the US, then Japan and Taiwan. Taiwan jumped from No. 8 to 5."
A visa to the Philippines has a fee of 1,100 Taiwan dollars or some P1,800, and the rising number of tourists has helped increase the income of MECO by 39 percent compared to 2018.
And Taiwanese tourists, according to the MECO chief, spend generously while in the country.
"They shop, they stay in the best hotels, their expenditures are bigger per capita. Walang backpacker na Taiwanese," he pointed out.
He also described Taiwanese tourists as, "very educated, genteel, very disciplined."
For his part, Father Joy Tajonera, who runs a center for distressed OFWs in Taiwan, says that Taiwanese have a high and sentimental regard for Filipinos because many Filipino businessmen invested in Taiwan in the '50s.
He says Taiwanese employers are generally very good to Filipinos, majority of whom are factory workers and domestic helpers. A typical factory worker earns a gross salary of about $700, and nets $500 after board and lodging expenses.
"If you don't have a stable job in the Philippines this is a more secure job," says Father Joy.
My relatives and I flew to Taiwan in early January and we enjoyed the sights, the shopping and the food. The variety of food choices is boggling — flattened chicken, custard tarts and milk tea on clean roadside stalls; pepper pork buns baked in a drum-like brick oven (recommended by the Michelin travel guide) at the Raohe Night Market; Xiaolongbao in the always full Din Tai Fung; giant crabs at Addition Aquatic Development; Peking Duck at Celestial restaurant; pineapple cakes for pasalubong in colorful pastry shops.
Just make sure you carry a card of your hotel wherever you go because hardly any cab driver speaks English.
Glad travel between the Philippines and Taiwan is now as smooth as milk tea.