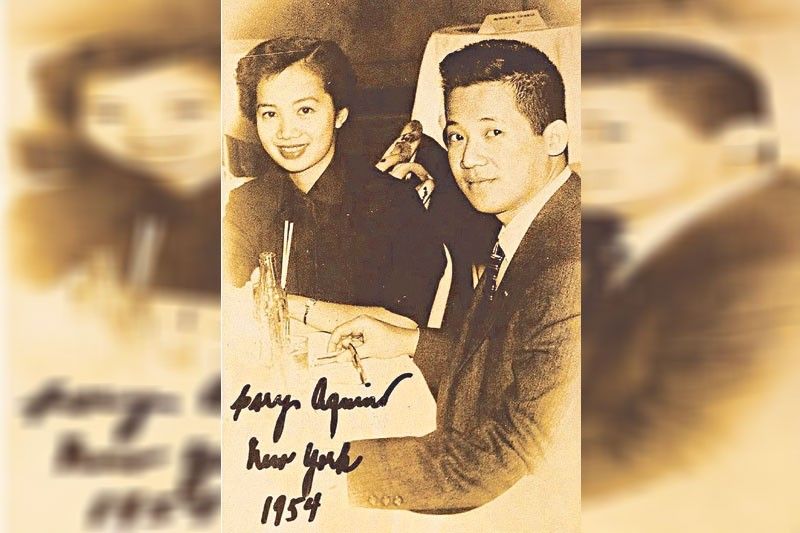 Cory and Ninoy Aquino during Happy Valentine's to all! * their honeymoon in New York in 1954.
People magazine
Today is a red-letter day as most of the world celebrates Valentine's Day, albeit in the time of the novel coronavirus.
The real origin of Valentine's Day isn't certain, but one thing is — dear old Valentine always fought for love.
According to history.com, one legend on St. Valentine's Day revolves around a prisoner named "Valentine." He is believed to have actually sent the first "Valentine" greeting himself after he fell in love with a young girl — possibly his jailor's daughter — who visited him during his imprisonment. Before his death, he wrote her a letter signed "From your Valentine." From the Middle Ages on, that greeting became a declaration of love.
Father Dave Concepcion of the Maria Gorretti Parish in Manila told us last year during a visit to Cana (where it is believed Jesus' first miracle, performed at a wedding, took place), "Love is not just an emotion. It is a decision."
Here are three love stories where husband and wife not just "fell" in love, but "decided" to love for keeps, for better or for worse.
Ninoy & Cory Aquino
"Dad would not have been the hero that he is if he had not married a Cory," Pinky Abellada, the second of Ninoy and Cory Aquino's five children, said with certainty when I interviewed her during her father's death anniversary in 2013.
The French and Math major, who married rising political star Ninoy Aquino on Oct. 11, 1954, was willing to give up her wealth, her privacy, and in some instances, her pride, to show her love and support for the man who made it clear to her from the start that he was going to put country above family.
"When I got married, I knew who the real boss was, and that was Ninoy. I was just determined to be a good mother," former President Cory Aquino, who succumbed to cancer in 2009, once told me.
Though Ninoy's brutal assassination on Aug. 21, 1983 gave her much pain, it was not the greatest trial of her life. Cory revealed that the two greatest trials she had to face as Ninoy's wife were his hunger strike (his weight plummeted to 123 pounds and once, she had to prop him up on three stools, like in musical chairs, to bring him to the bathroom from his hospital bed) and his solitary confinement in Laur, Nueva Ecija in March 1973.
Cory, who became Ninoy's bride when she was only 21 (he was barely 22 himself), never wavered in her support for Ninoy — whether he was in the limelight or in the darkness of prison. When Ninoy was in prison, some of her old friends shunned her.
When Ninoy's death was confirmed, Cory asked her children for a few moments to herself in their house in Boston before she faced them. "We just cried. All of us."
The first time Cory saw her husband lying in a coffin in their home on Times Street in Quezon City, she whispered something to him.
"I saw Ninoy's bloodied and bruised body in the coffin and I was telling Ninoy, 'Ninoy, tell me what I should do.' I did not break down. When I kissed him, I promised him that I would continue with the struggle, never thinking then that I would become President. I kissed him on the cheek, and it was hard. When you're dead, it's really just your hair that would still remain as soft as it was. So I was touching Ninoy's head, but I couldn't even stay long because I saw all the people outside waiting to come in," Cory recalled.
Then she wiped away her tears and carried on.
Ronnie & Menchu Concepcion
For the first 50 years of their married life, she was the pampered one.
"My life with Ronnie for a little over 50 years of our marriage was bliss. Ronnie spoiled me, pampered me. We brought out the best in each other. It was a perfect partnership. We raised our children together and well. He allowed me full responsibility to run the house while he took care of the family business. And, he was a good provider. It is said that marriages are made in heaven, and if this is true, mine was especially crafted by the good Lord," recalls the beauteous Menchu de las Alas Concepcion.
From the day Ronnie Concepcion took her as his bride, she has always been his ace. And now, even as he is stricken with Alzheimer's, Menchu is still his ace.
"I have walked a long and difficult journey with Ronnie. I have gone through a lot of pain, heartaches and trials," she shares.
Since then, Menchu has "learned to accept the things that are beyond my control. I know that I cannot let go of the 50 beautiful years Ronnie and I shared."
"Ronnie has always been good to me, now is the time he needs me most," says Menchu of her beloved Ronnie, a CPA with a master's degree in Business Administration from the University of California in Los Angeles, who steered Concepcion Industries Inc. into a world-class appliance manufacturer/distributor, and a total globally competitive Filipino brand.
Through the difficulties, Menchu still believes that she and her children are blessed because "Ronnie is still with us… These are bonus years, indeed. It is good to be with him now that he still has the chance to be happy and be at peace."
"He still looks for me, he still recognizes me, but perhaps not for long," she concedes.
She breathes life into the vows she recited at her wedding in 1959, at her 50th wedding anniversary, and her recent 60th wedding anniversary, because her life is an affirmation of her vows: "For better or for worse, for richer or for poorer, in sickness and in health, till death do us part."
Victor & Linda Ley
Victor and Linda Ley's story is one where not only Victor fell in love with the porcelain-skinned Linda — even his two sons did, too.
A little over 20 years ago, Victor lost his wife Cherry to breast cancer. During Cherry's wake, Linda, a family friend, felt her heart ache for the two little boys she left behind, Mark and Mikes who were playing outside the funeral home, seemingly oblivious to the painful truth.
"I really took pity on them," she told PeopleAsia. Her only wish, she recalled, was for them to find a good mother.
God granted her wish — and gave the boys the good mother they deserved after they lost their own. He gave them Linda.
"It was around 18 years ago when I met 'Linda.' My dad introduced this woman as 'Tita Linda'."
"Tita Linda came at a time when me, my dad, and my brother only had a roof over our heads. And I say 'only' not to sound ungrateful but because — even if we did have a house, I didn't know if it was truly a home."
"Tita Linda showed me what a home was. Tita Linda showed me how it felt like to have a home-cooked meal," Mark said.
This beautiful woman named Linda not only became Victor's bride, she became the mother Victor's sons longed for. She cooked special meals (which she still does today) for Victor and his sons, prepared Mark and Mikes' baon, picked them up from school and took them to the mall. She also gave the boys an older sister, Adrienne, from her first marriage.
"Tita Linda showed me that someone else could love my father as much as I did. But most of all, Tita Linda showed me that someone could love me and my brother as much as my father did. Thanks, Dad, for asking me all those years to stop calling her 'Tita' and start calling her 'Mom.' I understand now."
And so the fami-Ley lived happily ever after.
Happy Valentine's to all! *