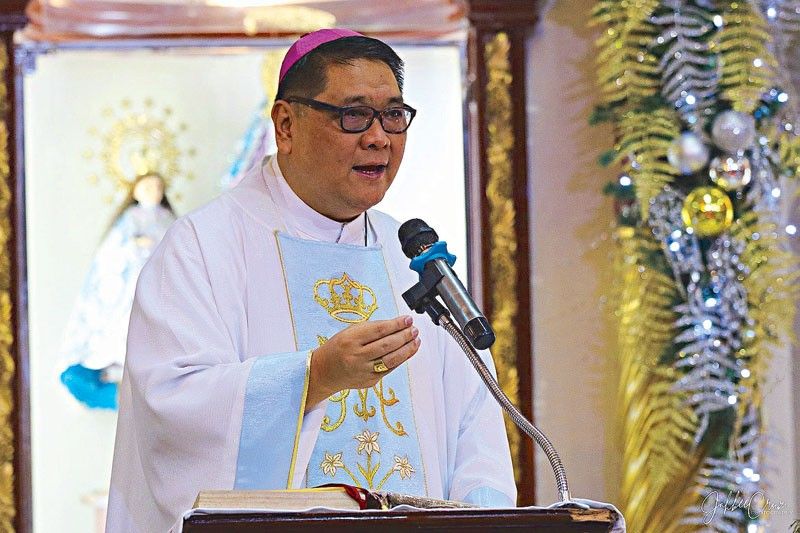 Diocese of Pasig Bishop Mylo Hubert Claudio Vergara.
How to live a Christian life according to Bishop Mylo
Pasig City residents are very fortunate to have Bishop Mylo Hubert Claudio Vergara as Bishop of the Diocese of Pasig. Personally, I always look forward to his homilies, which, most of the time, are answers to my prayers.
Bishop Mylo's energy and dynamism have brought a lot of positive changes in the diocese. One of which is the Tahanan ng Mabuting Pastol (House of Good Shepherd) Building in Pasig. It was conceptualized by the late Rev. Francisco C. San Diego, D.D., the first Bishop of Pasig, and was then continued and finished by Bishop Mylo.
Bishop Mylo is aware of the power of social media, most especially to the youth. That's why he moved to strengthen the use of social communications as a platform for evangelization and spreading God's blessings.
In 2012, Bishop Mylo established San Vicente Ferrer Quasi-Parish in Palar Village, Barangay Pinagsama, Taguig City. It was later elevated to the status of full-fledged parish — the quasi-parish of Bagong Tanyag (2015), the chaplaincy in Fort Bonifacio (2017), and the quasi-parish of Palar (2018).
Born in Manila on Oct. 23, 1962, Bishop Mylo graduated from the Ateneo de Manila High School and earned a B.S. Management Engineering and Masters in Philosophy degrees at the Ateneo de Manila University. He went on to finished his licentiate in Sacred Theology at the Loyola School of Theology and doctorate in Sacred Theology at the University of Santo Tomas. He was ordained to the priesthood in 1990 for the Archiodiocese of Manila and in 1994, he became Dean of Studies and Professor of Philosophy of the Holy Apostles Senior Seminary in Guadalupe, Makati City. In 2002, Bishop Mylo also became the president of Radio Veritas Global Broadcasting System.
In 2005, he was appointed Bishop of San Jose, Nueva Ecija, then became the second Bishop of Pasig in 2011. Pasce agnos meos, which literally translates to "Feed my lambs," (John 21:17) is Bishop Mylo's motto. It expresses his faith like that of Peter who was called by Jesus to translate his love for him into action.
Read on as Bishop Mylo shares with us how to live a Christian life.
1. Be prayerful because we cannot live without God in our lives.
2. Be forgiving to those who hurt us because we want reconciliation and healing to mend broken relationships.
3. Be a good listener to others because a listening heart makes people feel accepted.
4. Be less judgmental and more patient and understanding to people around you because we are not perfect.
5. Be a good steward of creation because the world we live in is our "common home" for generations to come.
6. Be a promoter of the dignity and sanctity of life because life is a gift from God and we are just caretakers.
7. Be compassionate to the poor and needy because in doing so, we exercise Christian charity.
8. Be a servant of the Church because true Christian discipleship must be expressed in serving others.
9. Be a good citizen of the country because loving one's country is a manifestation of loving God.
10. Be a good example to others because Christ taught us not just in words but more effectively in deeds.