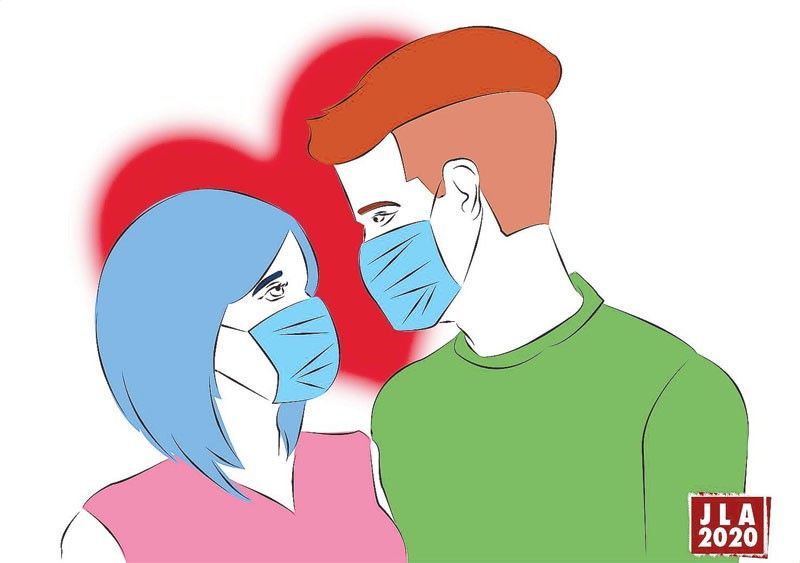 Love in the time of 'corona'
PEOPLE
-
Joanne Rae M. Ramirez
(The Philippine Star) - February 4, 2020 - 12:00am
Last week, after officiating over two wedding rites, Quezon City Mayor Joy Belmonte recalled the Gabriel Garcia Marquez novel Love in the Time of Cholera and dubbed her social media post, "Love in the Time of nCov."
True, Valentine's Day is 10 days away, and love cannot be put on hold even in the time of the novel coronavirus (nCoV). Actually, when love strikes, whatever time of the year, there's no shackling it.
Methinks the Day of Hearts will be just as festive this year, even with the Department of Health confirming last week an nCoV case in the Philippines.
Despite this, Makati Diamond PR and marketing manager Stephanie Chanco expects a full house in their fine dine restaurant Alfred on Valentine's Day, where there will be a buffet from 6 p.m. to 10 p.m. "It's an intimate place, where interaction will be mostly between couples and among small groups." Besides, the hotel has a thermal scanning facility that screens everyone who enters the hotel.
The sparks are sure to fly at any of Shangri-La at the Fort's restaurants for the season from Feb. 14 to 15. At High Street Cafe, signature dishes from the restaurant's nine culinary neighborhoods and free-flowing alcoholic and non-alcoholic beverages are on the menu. In addition, there will be a Valentine's-themed tea set at High Street Lounge from Feb. 8 to 16, from 2 p.m. to 6 p.m. daily.
"I think Filipinos are romantic in nature and will celebrate Valentine's no matter what. Our type of clientele is discriminating in taste so they look for the flavors they want. They enjoy the sleek chic atmosphere Nic's provides whether they come in alone or with friends," says Rina Go of Nic's.
I think other fine-dine restaurants, as in past years, will still be full and won't be accepting reservations unless perhaps you're a sheikh.
One really need not shy away from enjoying Valentine's Day as long as one practices the most basic of precautions washing of the hands. Many medical advisories list washing of the hands even before wearing of masks as the first defense against infection, a pretty easy thing to do, but sadly not automatic among some Filipinos after using the toilet.
***
There will also be some couples who will opt to stay home and have dinner by candlelight on Valentine's Day. I think people will drink more wine and alcoholic drinks because these come from a bottle and are unlikely to be contaminated. Rubbing alcohol is also on demand and has been swept off the shelves of supermarkets and drugstores! (Not for drinking, of course!)
I think florists will still even make more of a killing, and so will pastry shops and chocolatiers. Because there will be no human interaction and thus less fears of contamination in these expressions of love.
Legal spouses will be happy because straying partners may be more circumspect in their "wanderings" for fear of getting infected by the virus and spreading it even to their innocent children.
On Valentine's Day, swooning couples are unlikely to avoid pricey dinner concerts. They would most likely avoid places frequented by tourists who had just been to China, not because they (Filipinos) are racists but because according to the World Health Organization, as of Thursday morning, there have been more than 7,800 confirmed coronavirus infections around the world, all but 98 of which were in China. There have been 170 deaths, all in China. The Philippine Chinese Chamber of Commerce & Industry Inc. has, in fact, donated 600,000 face masks to the Philippines (I just hope they get to the people who need them).
The travel industry will likely be hit by the fears of the coronavirus, but industry leader Jojo Clemente said in a TV interview that earnings lost from less tourists can be recouped but one's health cannot be sacrificed. So he is in favor of a temporary ban on tourist arrivals from China.
But despite all this, love will survive even in the time of the coronavirus. Because love is like a virus infectious, hard to contain, hard to isolate, stubborn. But unlike some viruses, love isn't self-limiting. It doesn't run its course. Unlike a virus, love can last forever.
***
Did you know that it is the brain, not the heart, that tells you that you are in love?
The heart is a muscle that pumps blood to your entire body, and it reacts when the brain tells it that you are in love.
According to an article titled "Love and the Brain" published online by the Harvard Medical School, "When we are falling in love, chemicals associated with the reward circuit flood our brain, producing a variety of physical and emotional responses racing hearts, sweaty palms, flushed cheeks, feelings of passion and anxiety."
Another study published by ScienceDaily notes, "MRI scans indicate that love lights up the pleasure center of the brain."
In his book True Love, Dr. Fred Nour is straight to the point, "The heart has nothing to do with love. The heart is just a strong muscle that functions to pump blood all over our body… Love is perceived by the intermediate (limbic) brain. When we see the beloved, the intermediate (limbic) brain releases chemicals that cause the heart to beat faster and stronger."
According to Nour, the heart "is the servant of the master, the brain."
So whether in the time of the coronavirus or ordinary time, use your head but listen to your heart. Because it is the heart that beats and speaks of what the brain has whispered to it.
Happy Valentine's in advance, everybody.