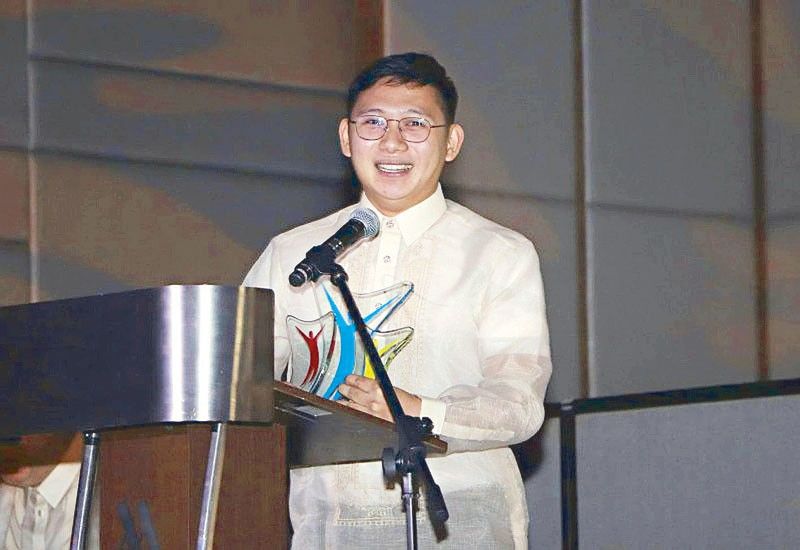 Conrad Manila's housekeeping coordinator Carlo Espiritu, a cancer survivor, was honored by Hilton Hotels Worldwide for his inspiring work ethic.
There's a popular saying (from Rabbi Harold Kushner and attributed by some to US Sen. Paul Tsongas): "Nobody on their deathbed has ever said 'I wish I had spent more time at the office'."
But for some people, their deepest wish is to have had the good health to have been able to spend more time at the office. Why? Breadwinners who love their jobs and are treated fairly by the company they work for want to go to work because they know that time spent at work is time spent loving their family. Work is an enabler for their son's college education or their daughter's braces. Even non-breadwinners who love their jobs know that time spent at work makes that Dior bag affordable, or that trip to Machu Picchu possible.
I recently met a young man who battled Hodgkin's Lymphoma for two years and was hardly ever absent for work during his ordeal.
Carlo Espiritu, the housekeeping coordinator of Conrad Manila, was only 22 years old when he was diagnosed with Hodgkin's Lymphoma in 2017. According to Carlo, the first symptom was back pain.
"At first, I wasn't paying much attention to it. Then episodes of fatigue followed. Noong hindi ko na siya kaya with fatigue and all, napansin ko po na may lumps. That was the time that I consulted the company doctor of Conrad. After a biopsy of the lumps, I was diagnosed with Hodgkin's Lymphoma."
The 22-year-old, whose promising career was virtually just beginning, told his family, "For me, it's not an excuse for anyone to be sad. You need to stay positive, especially sa pinagdadaanan ko."
"During that difficult time, I still went to work every day and when they prescribed for me three cycles of chemotherapy, I would always schedule my chemo during Mondays and Tuesdays, the less busy days of housekeeping in the hotel. If I had the strength the next day, I would still report for work."
The dedication of Carlo didn't escape notice. Zeny Iglesias, Conrad's marketing communications and PR consultant, wrote about Carlo's inspiring story and submitted it to the Hilton Group (of which Conrad is a member).
Carlo, much to his surprise, was awarded the 2018 CEO Light and Warmth Award, the highest Hilton (Hospitality, Integrity, Leadership, Teamwork, Ownership and Now) Award.
Launched in 2011, the award is the highest honor within Hilton and an opportunity for the company to recognize and celebrate exceptional team members and franchisee employees who embody the Hilton vision and mission, as well as its values of hospitality, integrity, leadership, teamwork, ownership and now.
"I was so happy and humbled to receive the award," says Carlo, one of 13 recipients of the award, which had nominees from 6,000 Hilton hotels in 160 countries. To add to his joy, he was declared cancer-free in 2018.
According to a writeup on Carlo that appeared in the Hilton website, "Carlo is described by his peers as 'an earnest, hardworking, eager-to-learn and gracious young man.' He joined the hotel in its pre-opening stages as a temporary housekeeping attendant, and, due to his outstanding performance, later earned a permanent position and advanced to housekeeping coordinator.
"Carlo is the person his team can depend on for a variety of tasks, including laundry issues, guestroom amenities, lost and found, and even towel art. Despite having a long commute, he always starts the day welcoming others with his signature warm disposition.
"Colleagues and guests who did not know of his condition did not realize this multi-tasking 'star' of housekeeping was battling cancer. He has now successfully completed his chemo treatments.
"Carlo is at the forefront of Travel with Purpose programs at the hotel. He is the first to volunteer during off-hours and weekends, offering to cook and serve hot congee for school children in disadvantaged neighborhoods. He helps with the meal-packing events for malnourished children and pregnant women in marginalized communities, and more."
Despite job offers from other companies, Carlo has decided to stay at Conrad Manila where he knows his career path will continue to flourish.
***
"I also want to share that recently, I won an award from the Mabuhay Awards. It's an organization that recognizes Filipino hoteliers nationwide from the so-called 'heart of the house'." The "heart of the house" refers to the part of the hotel where the employees are rarely seen, but whose work is keenly felt. To Zeny, they are the hotel's "unsung heroes."
Where did Carlo get his forbearance from?
"First, from the Lord; then family and friends. If you know somebody facing the same challenges, even just your moral support is a big thing already. Yung kumustahin mo lang siya is a big help for anyone who's experiencing difficult times."
Conrad Manila marketing and communications manager Angel Velasco is happy that Carlo has stayed inspired even during his illness. "When we say Conrad Manila, it means 'staying inspired.' Even while Carlo was facing adversity from 2017 to 2018, he never used it as an excuse to be in a bad mood. He was always smiling — I'm sure you're all familiar that housekeeping is one of the most stressful jobs in the hotel industry. Carlo is an example, a light for everyone so they will be inspired to work as hard as Carlo."
***
My late father Frank Mayor worked till he was in his seventies, and was fortunate to have been employed in California by a company that gave equal opportunities to senior citizens and millennials alike. My father responded to this opportunity in full measure — he rarely called in sick (except for some minor surgery he once had). He always volunteered to be "on call." When he was showing signs of improvement after his chemotherapy, he excitedly asked his doctor, "When can I go back to work?" Even his doctor was stunned by Dad's question.
Years after his death, his locker in the hospital he worked in remained a shrine of sorts to him. His co-workers would always tell the new ones it once belonged to an extraordinary man the likes of whom they would probably never see again.
Love your job. It gives you stepping stones to your dreams. Don't bite the hand the feeds you. Learn from your supervisors, they've got the benefit of experience. Don't tolerate abuse in the workplace — find work in a place that values you and gives you value.
There are days when we simply don't want to get out of bed, on rainy days and Mondays. There are days when we don't want to return after a vacay. We need a life, for crying out loud.
On those days, just remember, truly blessed are those who have both a life and a living.