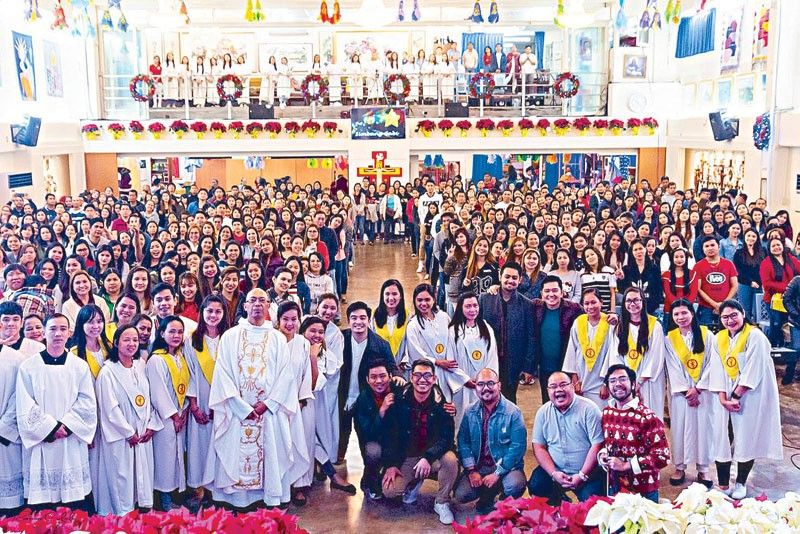 Fr. Joy Tajonera with some members of the Filipino community in Taiwan during a Christmas concert in Taichung City.
Oh tidings of comfort & joy
PEOPLE
-
Joanne Rae M. Ramirez
(The Philippine Star) - December 31, 2019 - 12:00am
According to government statistics released this year, there were some 2.3 million overseas Filipino workers (OFWs) in 2018 — with more females than males. Women comprised 55.8 percent of OFWs, and were generally younger than the males — with about half (47.5 percent) of the women between the ages of 25 to 34 years.
This cold statistic shows that many Filipino mothers were away from their children this Christmas.
***
The Top 5 destinations for OFWs are Saudi Arabia, the United Arab Emirates, Hong Kong, Kuwait and Taiwan.
Fr. Joy Tajonera, a Filipino priest from the Maryknoll order who has devoted his life to ministering to the needs of Filipino migrant workers in Taiwan, runs two homes for OFWs in distress there. These centers in Taipei and Taichung are aptly called Ugnayan Centers.
"Ugnayan is a home away from home for Filipinos in Taiwan," says Father Joy, who I personally think lives up to his name, having seen him minister to his flock in Taiwan, where there are some 160,000 registered OFWs.
Established 16 years ago, Ugnayan Centers are a haven for OFWs, those who need "comfort and joy," especially those who have cases pending in court, who have experienced maltreatment and those who have married Taiwanese and have problems in their marriage and/or are seeking custody of their children. (Father Joy reveals that the Taiwanese labor office also provides a hotline for OFWs in distress, with at least one call center agent able to speak Filipino.)
"Eighteen OFWs in distress are living in the Ugnayan centers nowadays, 15 to 18 is the average number, three are pregnant," revealed Father Joy. "We want to comfort them with the assurance that they will not be homeless in Taiwan."
In the last 20 years, he has become the virtual ninong of some 20 babies born in Taiwan to Filipinas abandoned by their partners.
Father Joy once told us that the biggest gathering in any place in Taiwan on a Sunday is that of Filipino Catholics hearing Mass.
"Each OFW is a mustard seed planted overseas so that his or her family, motherland and place of work will benefit from the shade of the full grown tree that he or she will become. These seeds are scattered all over the world, and from them have also sprung bastions of faith," Father Joy believes.
True, it isn't just the families of OFWs who benefit from their (the OFWs') sacrifices abroad. The host cities of these OFWs benefit as well from their hard work, their sunny disposition, their values and their faith.
Those who seek refuge in an Ugnayan Center need not be burdened by board and lodging fees. Father Joy gets support from the Church, from the Manila Economic and Cultural Office (MECO) in Taiwan, from fundraising activities and from private sector donors. "Fortunately for them, the work conditions in Taiwan are somewhat better than in other places," MECO chairman Lito Banayo told me shortly after he became chairman. "There certainly are problems, and we have sat with both their leaders in the Filipino community as well as our labor and welfare officials here to listen and learn about their plight."
Equally important, Father Joy has corollary Ugnayan Centers in the Philippines. "Kaya kahit umuwi na sila, we try to help and support them with food and schooling."
"Ugnayan also tries to bridge the gap by reaching out to both sides — the OFW abroad and the family left behind," added Father Joy.
***
Fr. Joy recently organized Star Pasko, a Christmas concert for OFWs in Taiwan. He invited the Ninoy and Cory Aquino Foundation musical ministry choir to sing for their kababayans at the Tanzi Catholic Church in Taichung City. The choir sang in three Masses aside from the two concerts, which drew 2,000 Pinoys (30,000 via Facebook live) — finding comfort and warmth amid the cold of Taiwan's winter.
"We wanted to bring joy to the migrant workers during the Christmas season," Father Joy said. Star Pasko in Taichung was supported by MECO, the Philippine Overseas Labor Office, OWWA, the Ugnayan Center and the Ninoy and Cory Aquino Foundation.
For Father Joy Tajonera and the groups that support his Ugnayan Centers, there will always be "room at the inn," so to speak, for Pinoys who have traveled far and wide and need a place to rest their weary heads on and find comfort and joy in the winter of their need.