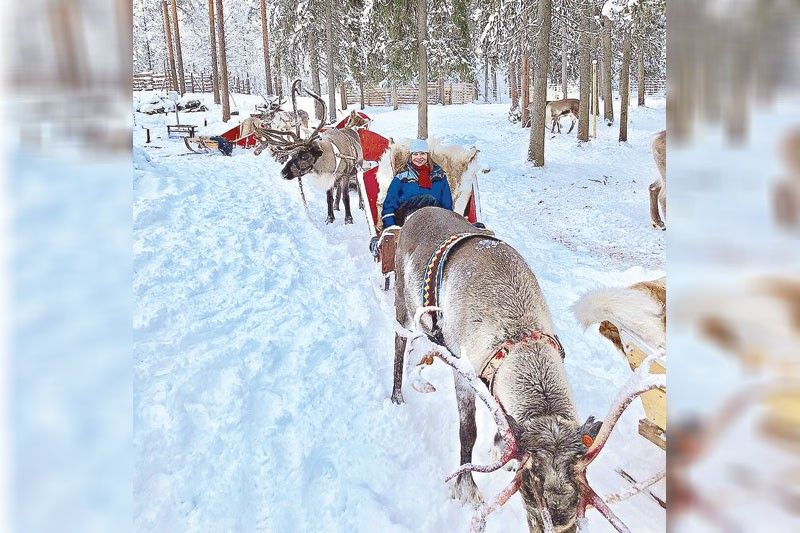 Sleigh bells ring in winter wonderland.
Sleigh bells ring, are you listening...
Who didn't grow up with images of Santa Claus in a gift-laden, reindeer-driven sled swishing through the snow; of chimneys and snow-dusted fir trees even while enjoying puto bumbong in 32-degree Centigrade weather?
So, visiting the Arctic Circle, like I did two years ago, to meet the real Santa Claus (the only one who lives in a place with an official Arctic Circle postmark) was a childhood dream come true. And as long as your heart believes, it is still true.
Never, never in my wildest dreams did I think I was one day going to the North Pole to visit its King — Santa Claus.
After a brief stopover in Helsinki, we took a short flight to Rovaniemi, the capital of the Lapland, in northernmost Finland. I remember that as the plane was touching down amidst a flurry of cottony snow, I swear I could hear, "You better watch out, you better not cry, you better not pout I'm telling you why… Santa Claus is coming to town…"
Actually, I was coming to Santa's town. Whoa!
***
In the winter months in the Arctic Circle, the sun rises at around 10 a.m. and sets at 3 p.m. For all our outdoor tours, our group, headed by Corporate International Travel & Tours Inc. president Shan Dioquino David, donned Arctic suits and heavy-duty snow boots. The Lapland itinerary is 90-percent outdoors, and in sub-zero weather, one needed the protection of an Arctic suit, which looks like a space suit without the helmet. Pretty lightweight but very effective, it made us enjoy all our activities without anyone catching as much as a sniffle. (However, don't zip yourself up completely till you're outdoors, or you'll feel pretty stifled.)
Garbed in our Arctic suits, we excitedly headed to our first destination — a frozen lake outside the city, which was fringed by birch trees with white snow icing, for some ice fishing.
Walking on water (okay, iced water) was almost like catching the big fish.
***
Santa Claus' original home lies in the mysterious Korvatunturi ("Ear Fell") in Finnish Lapland. Since the exact location is a secret only known to a chosen few, he decided to establish an office in Rovaniemi, the capital of Lapland, in 1985. Or so the legend goes. Rovaniemi received the status of the Official Hometown of Santa Claus in 2010.
There are many reasons to love Rovaniemi — spellbinding nature and phenomena, Lappish traditions and culture, urban life and wild activities on immaculate white landscapes make the Official Hometown of Santa Claus a winter wonderland.
If Santa's in town, can the reindeers be far behind? Rovaniemi has 10,000 more reindeers than people, 200,000 reindeers to 190,000 people.
We went on a reindeer sleigh ride in Raitola that brought me back to the storybooks of our youth. (Dasher, Dancer, Prancer, Vixen, Comet, Cupid, Donner, Blitzen and... Rudolph!)
In the reindeer farm, we were led to wooden sleighs lined up like chariots under the winter sun. Sitting on our fur-lined throne inside the sleigh like ice queens, and covered up by a warm blanket, I commanded our Rudolph to take us around the forests and the snow-carpeted plains.
Snow was falling on our lashes and I could hear the Christmas carol Winter Wonderland, "Sleigh bells ring, are you listening? In the lane, snow is glistening. A beautiful sight, we're happy tonight, walking in a winter wonderland."
Every step the reindeer took on this 2.5-kilometer ride through winter wonderland brought me closer — not to a dream — but to a dream-come-true. Images of all the Hollywood movies of reindeer-pulled sleighs and children frolicking in the snow, of Tim Allen in The Santa Clause, A Christmas Carol, even Home Alone 2: Lost in New York, flashed through my mind.
I must have done something good as a child to be rewarded with a second childhood — appreciated by an adult's mind.
***
After romancing the snow and feeling like a child again with sleigh and snow mobile rides, we met the one figure in our childhood that we all wanted to meet in person, a demi-god of sorts created by myth and reality, religion and folklore.
Whether you're the future king of England or the little king of your barangay, you inevitably scribble a wish list on Christmas to Santa Claus, arguably the face of Christmas (before a child realizes the spiritual dimension of the season, that is).
Santa Claus, also known as Saint Nicholas, Saint Nick, Kris Kringle, Father Christmas, or simply Santa, is a legendary figure originating in Western Christian culture who is said to bring gifts to the homes of well-behaved ("good" or "nice") children on Christmas Eve (Dec. 24) and the early morning hours of Christmas Day (Dec. 25).
Even in tropical Philippines, where Santa would wilt with his coat, vest, boots and beard, we believe in Santa Claus due to our colonial heritage and the Western traditions that were easily assimilated with our own.
I was able to interview the real Santa Claus, and wearing a red vest marked "media," I was ushered by his "elves" to a homey parlor in Santa's Village for my "exclusive" interview.
"What is it that most people who line up to see you wish for?"I asked Santa during my brief interview.
"Happiness!" was his immediate reply.
And why should we believe in Santa Claus?
"I believe in myself," he mused. "And you know where I belong? In your hearts. And as long as I am in your hearts, I have a home."
Since 1985, Santa Claus has received 15 million letters from 198 countries, which makes the Santa Claus Main Post Office a must on any visit to Santa Claus Village. The merry postal elves are happy to serve customers all year round in their headquarters, which is a real post office operated by Posti, Finland's national postal service. Every letter sent from here gets a special Arctic Circle postmark not available anywhere else, so your greetings home are sure to reach the recipients.
So myth or magic, man or showman, Santa Claus exists.
I left Santa Claus believing that Dad and Mom were right, as they often are. There is a Santa Claus. He exists when you believe that the dreams of your childhood made you want to be a better person when you grew up. And when there are times when life isn't all that jolly, memories of a childhood when one believed in all things good will always bring a smile to one's lips.