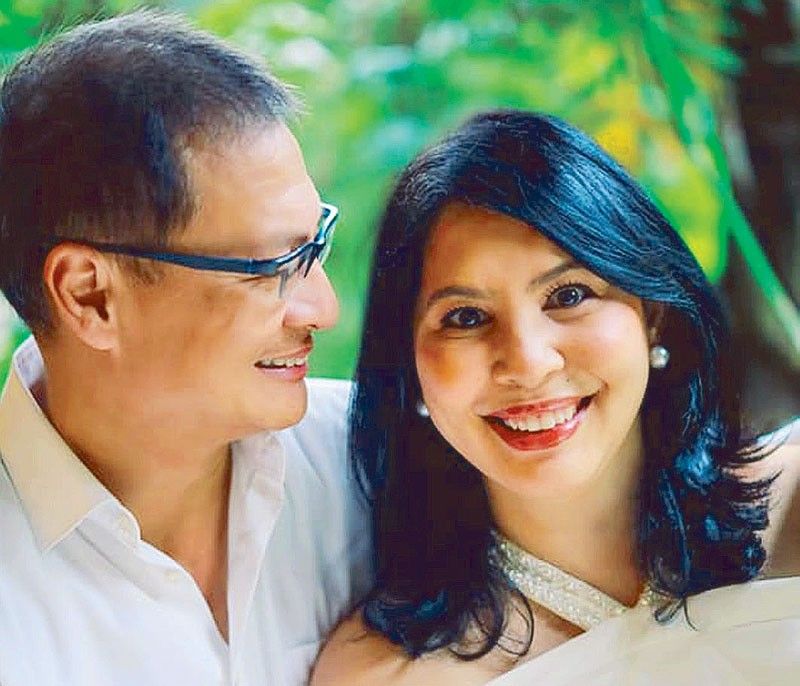 Eric and Rosanna Angeles.
Rosanna Angeles
Encourage early language development in children
WORDSWORTH
-
Mons Romulo
(The Philippine Star) - December 10, 2019 - 12:00am
The professional, friendly and interactive environment at the TalkActive Therapy Centers (with branches in Mandaluyong and Taguig) is largely due to its clinic director Rosanna Henares Angeles' experience as a parent, a therapist and a professional.
Prior to being a speech-language therapist and clinic owner, Rosanna was an advertising executive. She left her job to be a full-time mom to her children, with one needing intensive physical, occupational and speech-language therapy. Her personal experience had led her to be an advocate of early intervention.
Rosanna's attitude towards what she calls her vocation is summed up in words she shares with her therapists: "Give the kids your gift! Make sure that each time they walk out your door, they should be a little more ready to face the world."
TalkActive Therapy Center provides occupational therapy and speech-language therapy for children, adolescents and adults. How can we encourage early language development in children?
According to Rosanna, "There is only one golden rule to encourage language development in children and that is to engage in interactive communication. Communicate using your face, voice and body. React to them and encourage them to react to you. Back and forth conversation is critical to language development and, despite all the recent advances in technology, nothing has yet been invented to replace human interaction."
Here are 10 ways to get you started:
Put the gadgets away. We have seen quite a number of children exhibiting speech and language delays due to early gadget use. The American Pediatric Society (APS) discourages screen time altogether for children under the age of two. For children ages two to five, the APS encourages co-viewing and suggests that tech time be limited to one hour per day.
Since gadgets are out, YOU should be FUN! Find your silly, animated and playful side. Play with their toys, use facial expressions and gestures to augment your expressive language. React to what they do by imitating them. Laugh. Squeal with delight. Give hugs and fist bumps. Children enjoy most when they think they are being entertaining.
Follow your child's lead when it comes to toys and activities. Play is a child's inner language and an expression of how they understand their world. If a boy likes kitchen toys, allow him to play with them. He is simply processing what he sees in his world. In the beginning, your child's attention span will be short and you will change toys very often.
Remember that play should be reciprocal. Joint attention has three elements: you, your child, and the person/object/activity that you are communicating about. The child must be able to shift his or her attention between you and that object. Try to hold that attention for as long as you can. Put the object and your face at his or her eye level. Make the subject interesting by labeling it or describing it. You may also assign sounds to it. Turn-taking skills are also important. Not only does turn-taking encourage participation, it is also a pertinent skill for back-and-forth conversation or interactive language. You can practice turn-taking by building Lego blocks, feeding a doll, pressing a button or banging on a drum.
Concentrate on receptive language first. Typically, a child knows more than he or she can say. Understanding a word comes way before he or she can say it. Build receptive language by starting to establish verbal routines. You can have a repertoire of actions songs or use regular phrases for certain situations such as "ready, get set, go," "one-two-three, boom," etc. Have your child imitate you in doing the actions. Eventually, he or she will fill in the words!
Use simple language. Very young children, or those experiencing language delays, are not developmentally ready to process complex language. Speak to them in a level they understand. For example, if a child is not speaking yet, try to talk to him or her in single words. Exclamatory words are particularly helpful and most children pick them up quickly. Use "wow, yahoo, good job" to express delight or model "yum" while eating their favorite food. When he or she begins using single words, talk to him or her using word combinations. Label what is happening at the moment like "eat cookie, drink water or play ball."
Stimulate language using obstacles, choices, foils and expansion. Some children don't talk because they don't have to. Consider the following strategies:
a. Labeling. Label objects and actions. Say "Pop! Bubble!" when she reaches for one. Point to items you bought from the grocery or things you picked up from the garden. Be entertaining!
b. Obstacles. Place toys or favorite food in clear boxes or glass shelves. Encourage your little ones to point to what they want. Reward their efforts to verbally express their wants and needs.
c. Choices. Give your child choices. "Cookie or milk?" If they can do adjectives, ask, "Wear red shirt or blue shirt?"
d. Foils. When they ask for something, pretend not to understand and give them the wrong thing. Encourage them to correct you. The word "no" is an important word to learn even if they overuse it.
e. Expansion. Expand on what the child is able to say. If the child says, "Look, duck," affirm it and say, "Yes! Look… yellow duck!"
Help your child understand and follow commands. Ask him or her to help you around the house. Give commands such as: find/give me/get/throw the ____. If he or she masters getting one thing, have him or her remember two objects next. Not only is this a good way to improve the child's memory, listen and comply, it will also make the child know that by helping, he or she is made a valuable member of the family.
Expand life experiences. Exposure is key. Bring your child to the playground, restaurant, supermarket, zoo, museum or beach. A child learns best from first-hand experiences.
Most important of all, provide meaningful, relevant and pleasant language experiences. Reinforce and praise every effort to communicate, even if it is just an approximation of the actual word. Repeat his or her statement with the correct pronunciation or model the appropriate grammar or sentence structure. Provide a language-rich environment that allows him or her to hear and recognize a variety of sounds. Provide many opportunities for him or her to respond to his name, read books, listen to music and sing songs, ask questions and tell stories. A child will have to see you do all these before he or she follows suit. Language learning is a complex task but what Ludwig Wittgenstein said was true then as it is true now, "The limits of my language mean the limits of my world."
Bonus question: What can replace gadgets in the home? Outdoor play, grass, kites, sticks, books, a collection of items for bathing and cleaning, cooking and kitchen chores (filling up glasses, setting up the table), cleaning up using a broom, rags, sponges and water. *
(For more information, call 8251-1766 and 09556894686 or e-mail talkactivetherapycenter@gmail.com.)