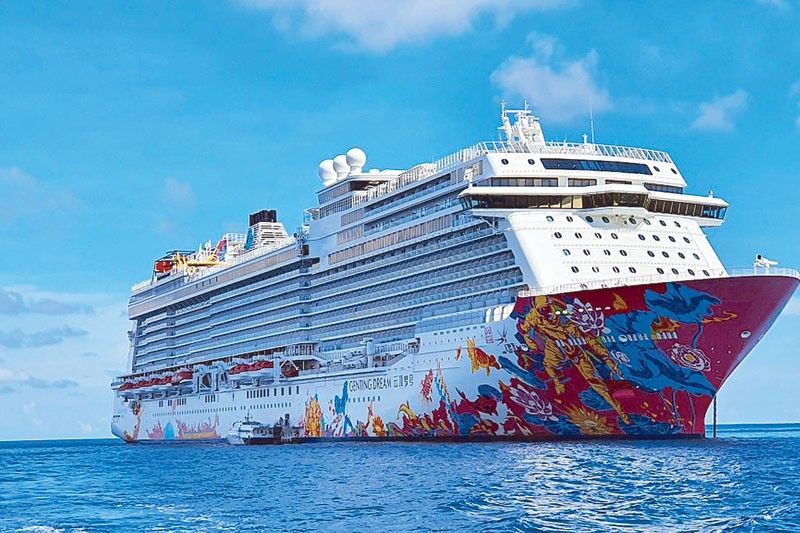 The Genting Dream.
Peppe r Tee hankee on a Leica C Digital Camera
THE PEPPER MILL
-
Pepper Teehankee
(The Philippine Star) - November 22, 2019 - 12:00am
I recently took a five-night cruise aboard the Genting Dream, which carried 3,900 passengers and over 1,000 crew members. The great thing about huge ships is one doesn't feel as sea sick as when one is taking smaller cruise ships on the ocean.
Mother-and-daughter tandem of Horizon Travel & Tours Carol and Angeline Cua invited me, along with travel agents, for this trip, which covered Singapore, Malaysia, Cambodia and Thailand.
Genting Dream (sailing from Singapore) is one of the three cruises of Dream Cruises. The other two are World Dream (from Hong Kong or Guangzhou) and Explorer Dream (from Australia and New Zealand). Watch out for the Global Dream, a 208,000-ton German-built ship that can accommodate over 9,000 passengers, which will be launched in 2021!
All aboard!
Upon arriving in Singapore, we proceeded to the port where we boarded for our Asian cruise. Seventy percent of the Genting Dream's staterooms have a balcony. There are more affordable cabins with no window or one window as well. Should one wish to splurge a bit, the ship has a private area called "The Palace" with a private dining area and private pool. This area also houses the Penthouse units, one of which has its own private Jacuzzi and sauna.
The cruise gives passengers accommodation and on-board meals (breakfast, lunch and dinner) at their choice of three inclusive restaurants — buffet poolside restaurant (with the best chicken rendang), a western restaurant, and a Chinese restaurant.
There are restaurants where one has to pay but the prices are actually very reasonable like the two Japanese restaurants — one for sushi and bento meals and another for teppanyaki. For really good Chinese food, there's Silk Road, a club-like restaurant that turns into a cabaret at night. Also in this ship are the outdoor Hot Pot with scenic ocean views, and Blue Lagoon, a 24-hour restaurant that serves Asian fare such as fantastic laksa and chicken wings.
Perhaps my favorite restaurant was Bistro by Mark Best of the Australian celebrity chef Mark Best. His restaurant had rock oysters from Sydney. I also had the most perfectly cooked wagyu flank steak with Alaskan king crab legs for a fraction of what I would pay in Singapore. The inclusive restaurants were not bad either! They served lobsters for dinner during the last night of the cruise. I also had my favorite baby abalone three times during the cruise.
There were certain nights where there were parties by Singapore's legendary nightclub Zouk. Do check out Bar 360 and the Johnnie Walker House for a nightcap!
Enjoying land & sea
On the second day of the cruise, we started the first of our three shore excursions. We were given an option of a guided tour or just a time on our own.
Our first shore trip was in the fine-sand beach of Pulau Redang in Malaysia. A day was enough here for those who would like to dive and snorkel to explore the blue waters teeming with marine life.
For our second shore trip the next day, we docked in Sihanoukville, Cambodia. I thoroughly enjoyed the Phsar Leu market, where local Cambodian sweets and fresh fruits were plentiful. My best buys from the market were giant cashew nuts and kampot pepper, reputedly one of the best peppers in the world.
For our last shore trip, we were given a choice to go around Bangkok or Pattaya. Our group opted to go to the UNESCO World Heritage Site and old capital of Thailand — Ayutthaya. These ancient ruins still made my jaw drop even if I had been there before. The shore excursion also took us to the Bang Pa-In Summer Palace of the Thai Royal family in Ayutthaya and we also had a delicious and authentic Thai lunch.
Fun on board
You'll never get bored while in the Genting Dream because there's just a lot of activities offered on board. Every night after our shore excursions, some of us joined the nightly bingo and trivia games. There were also live performances in the ship's Zodiac Theatre — one night featured Some Like it Hot, a song-and-dance show, and the next night featured Sonio, a musical show with magic and acrobatics. Of course, there were gambling and karaoke, too.
Our fifth day was spent entirely at sea to head back to our point of embarkation -— Singapore. There was so much to do on board. There was the Crystal Life Spa for massage or facial; a pool and giant slides to enjoy. Other points of attraction included a zip line, mini-golf, a court for basketball and tennis, bowling alley, rock climbing wall, Tai Chi activities, and so on.
It was also a pleasant surprise to see Filipino nutritionist Nadine Tengco on board. She gave a talk on nutrition and also shared her healthy recipes. There was also a huge duty free shop on the ship that was almost as big as a small airport's duty free section with several discounted items.
Six days and five nights seemed short with all the shore excursions and countless activities to do at sea. These Dream Cruises have an itinerary of three, four and five or longer days to two or more destinations around Asia and Oceania. *
(For more information, call Horizon Travel & Tours Ermita, Manila office at 8521-2586 and 0917-8072538 or its Binondo office at 8986-2717 and 0917-819-8628. Visit www.horizontravel.ph for package deals and promos.)