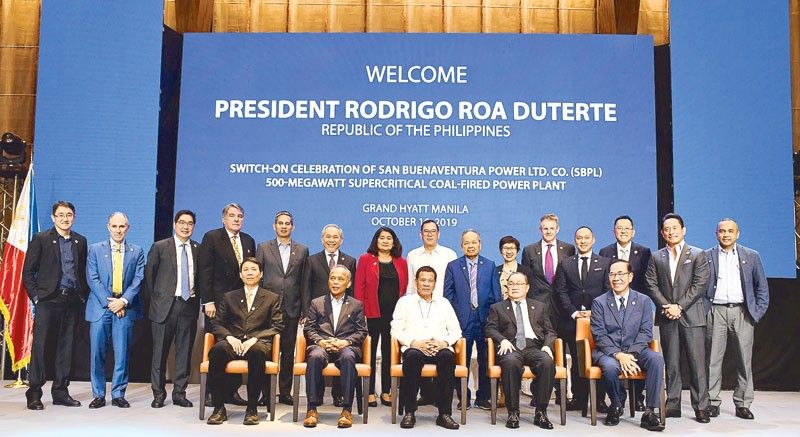 President Rodrigo Duterte with EGCO Group SVP for business development Danuja Simasathien, Energy Secretary Alfonso Cusi, Meralco and Meralco PowerGen chairman Manuel V. Pangilinan and Meralco PowerGen president and CEO Rogelio Singson; Meralco SVP for human resources Edgar Carasig, director Pedro Roxas, vice chairman Lance Gokongwei, Meralco PowerGen chief technical officer John Quirke, Smart president and former Meralco executive Alfredo Panlilio, Meralco president and CEO Atty. Ray Espinosa, Meralco PowerGen VP for external affairs Litz Santana, Meralco director Jose Ma. K. Lim, Meralco director and retired Supreme Court Chief Justice Artemio Panganiban, Meralco director Anabelle Chua, Meralco PowerGen EVP and COO Dan Neil, One Meralco Foundation president Jeffrey Tarayao, Meralco PowerGen SVP and SBPL president Marcos Yorobe, the author and Meralco VP for regulatory Jose Ronald Valles.
An 'empowered' Philippines
Energy security is crucial to the socioeconomic development of any nation. A quick perusal of the development agenda of the administration of President Rodrigo Duterte would make even the man-on-the-street surmise that all these would just be a pipe dream sans the energy capacity to back it all up.
Look at it this way: the population is growing, while business and industry are also expanding; thus, the consumer base and requirement for electricity has also grown by leaps and bounds.
So much so that the current power generation capacity cannot cope with the demand. There really is a need for more power plants in the country, lest we return to the dark ages of yore, pun unintended.
The Department of Energy, under the able leadership of Secretary Alfonso Cusi, has been exhausting all means to tap available resources to fulfill this need. Early this year, Cusi emphasized the need to tap all available energy resources "to assure the country's energy security amidst ever-growing demand."
"We are technology-neutral, because we want to explore all possible ways to bring affordable, secure and reliable power to Filipinos throughout the entire archipelago," Cusi once said.
Indeed, in spite of the government's thrust to explore renewable energy as a viable source, there was also a need to tap into sources that are readily available and that are more cost-effective to the consumers, albeit with better, cleaner technology.
In response to this burgeoning need, Meralco PowerGen Corp. (MGen), a wholly-owned power generation subsidiary of the Manila Electric Co. (Meralco), the Philippines' largest distribution utility, recently inaugurated its P6.2-billion San Buenaventura Power Ltd. Co. (SBPL) power plant, the country's first supercritical coal-fired power plant, to provide additional power supply to the Luzon grid.
"Supercritical" here does not describe the urgent need to have a power plant, although the need itself can be described as such, but describes the type of generator or boiler used in this operation. The generator operates at supercritical pressure as compared to conventional or subcritical power plants.
The power plant is also the first in the Philippines to utilize what is called HELE technology (HELE for High Efficiency, Low Emission), which makes it the most advanced operating coal-fired power plant in the country today.
According to Rogelio "Babes" Singson, MGen president and CEO, their plans are now centered on providing large-scale reliable sources generation both from conventional and renewable energy (RE) sources using the most advanced and efficient technologies available.
"(The) utilization of HELE technology base-load power plants and advancing RE prospects from the twin pillars of MGen's growth aspirations," Singson said.
The power plant was built by the consortium of South Korea's Daelim Industrial Co. Ltd. and Japan's Mitsubishi Corp.
The SBPL plant itself is a partnership between MGen, with a 51 percent stake, and New Growth BV, a wholly owned subsidiary of the Electricity Generating Company of Thailand (EGCO), the first independent power producer in Thailand.
MGen started operating the 500-megawatt after it secured a provisional authority to operate from the Energy Regulatory Commission headed by its indefatigable chairman and CEO, Agnes VST Devanadera.
President Duterte led the switch-on celebration at the Grand Hyatt Manila, together with Meralco chairman Manuel V. Pangilinan, Secretary Cusi, Meralco president and CEO Atty. Ray Espinosa, and MGen president and CEO Babes Singson, which followed a ceremonial inauguration at the project site in Mauban, Quezon Province.
The ceremonial inauguration on-site was led by Cusi, Agnes VST Devanadera, Thai Ambassador Vasin Ruangprateepsaeng, Mauban, Quezon Mayor Marita Llamas, executives from Meralco led by its former president and CEO Oscar Reyes, and EGCO executives led by Jakgrich Pibulpairoj.
In his speech, President Duterte said, "Let me assure our partners in the private sector that this administration remains committed in harnessing the potential of sustainable and renewable energy in driving the growth of our economy."
"Let me thank you for increasing the capacity of our energy sector to meet the growing electricity demand in Luzon. With your help, I am confident that we can chart a better future for the power industry as we march towards a more sustainable and progressive future," the President added.
As a commonly used phrase goes, Power On! *