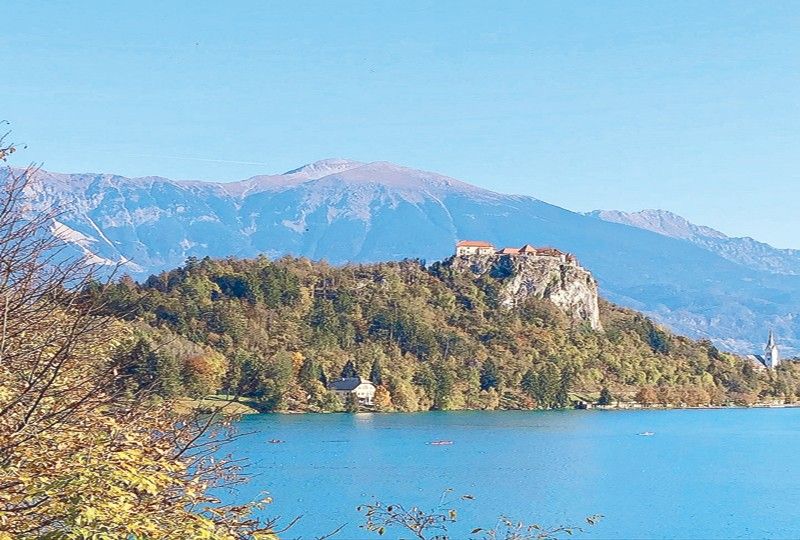 Bled Castle built on a precipice jutting out of Lake Bled in Slovenia.
Joanne Rae Ramirez
My late mother-in-law Lutgarda Quintans Ramirez, once told me: "To travel is to see God." She attributed the line to St. Augustine, who is also quoted to have said, "The world is a book, and those who do not travel read only a page."
These lines came to mind during a recent trip to the Balkans — from lovely Slovenia, historic Croatia to amazing Bosnia and Herzegovina.
The Balkans were once in the news for the most heart-wrenching reasons — its homeland war (centered mostly in Bosnia and Herzegovina).
But today, 25 years later, it has been put on the map by the HBO series Game of Thrones, whose episodes were mostly filmed in ancient Croatia, which has the most picturesque seaside fortresses.
I am not a GOT fan (not yet, anyway), but I had always wanted to visit the Balkans ever since my mother-in-law and sister-in-law Beth went on a pilgrimage to Medjugorje (Bosnia) and took a side trip to Dubrovnik (Croatia) in the mid-80s, just a few years before the homeland war there.
A Balkans Tour was organized by Corporate International Travel and Tours Inc. (CITTI), whose president Shan Dioquino David is known for putting together unique journeys. I immediately signed up for the tour.
The Balkans tour Shan organized took us to the most marvelous places — man-made, and natural. The former, built by the ingenuity of man ("The engineers knew then what we know now," said our guide Boris when he toured us around the 4th-century-AD Diocletian's Palace in Split); the latter, created by the awesome Almighty Architect of all.
From Manila, we flew via Turkish Airlines nonstop to Istanbul, and from Istanbul it was a brief two-hour flight to Ljubljana. On our way home, we took off from Sarajevo and including a brief stopover in Istanbul, we were back in Manila in 15 hours.
Among the natural jaw-droppers was the 24-km. Postojna cave in Southern Slovenia, which has its only railroad tracks for tourists (not unlike those in Universal Studios' Indiana Jones ride). The cave is like an art gallery of pieces of sculpture — in this case, stalactites and stalagmites — some made of semi-precious stones, some looking like they were chiseled by Michaelangelo. (Will go into more detail on the awesome Balkan natural wonders in my next article.)
***
"Life is a journey. Days are running away."
A saying, writ by a stone wall, at a 14th-century Franciscan monastery in Dubrovnik hit with laser-like precision the reason we must tick off as many boxes on our bucket list as we can. While we can.
No matter how hard we try, we cannot outrun the days. We can keep pace with them, but we cannot sprint past the days and the nights of our lives. So enjoy them. Don't hold the days back, but make each day count, not just tomorrow, but TODAY.
"Life is full of choices, we have to make the most out of the opportunities that come our way. Build memories with your family and friends that will last a lifetime. Even as time runs away, the memories will not," says Shan, who makes sure that her family also gets to bond during their travels. Her husband Captain Reg David is a senior Philippine Airlines pilot.
One of my fellow travelers in this Balkan tour is actually 75 years old (my lips are sealed because she looks 20 years younger). She outpaced some of us in climbing the steps to the Fortress of Klis (where Daenerys proclaimed, "All the slaves are free."). She joined every single activity in the itinerary — while I had to beg off from some on the last day.
Another busy lady in our group, a lawyer and a professor, makes time for at least two major trips in a year. How does she make time for work and travel?
"I have an inner switch, and I know when to switch it off."
***
Let me close this piece with the translation of poem written by Mário de Andrade (1893-1945/São Paulo, Brazil), as shared by my high school classmate Sandy Lamb Moran.

MY SOUL HAS A HAT
I counted my years
& realized that I have
Less time to live by,
Than I have lived so far.
I feel like a child who won a pack of candies: at first he ate them with pleasure,
But when he realized that there was little left, he began to taste them intensely.
I have no time for endless meetings where the statutes, rules, procedures & internal regulations are discussed,
knowing that nothing will be done.
I no longer have the patience
To stand absurd people who,
despite their chronological age,
have not grown up.
My time is too short:
I want the essence,
my spirit is in a hurry.
I do not have much candy
In the package anymore.
I want to live next to humans,
very realistic people who know
How to laugh at their mistakes,
Who are not inflated by their own triumphs
& who take responsibility for their actions.
In this way, human dignity is defended
and we live in truth and honesty.
It is the essentials that make life useful.
I want to surround myself with people
who know how to touch the hearts of those whom hard strokes of life
have learned to grow, with sweet touches of the soul.
Yes, I'm in a hurry.
I'm in a hurry to live with the intensity that only maturity can give.
I do not intend to waste any of the remaining desserts.
I am sure they will be exquisite,
much more than those eaten so far.
My goal is to reach the end satisfied
and at peace with my loved ones and my conscience.
We have two lives
& the second begins when you realize you only have one. *
(Corporate International Travel and Tours Inc. may be reached
at 8631-6541 or +63917-6316541.)