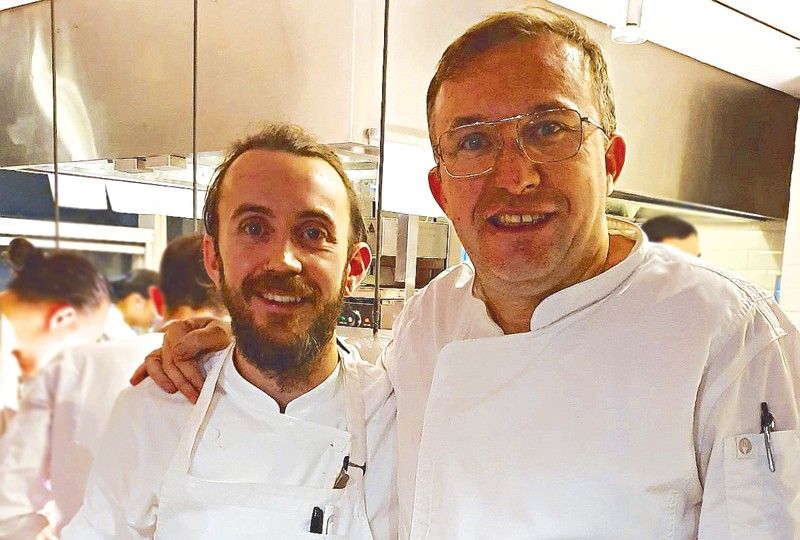 Chefs Matthew Sartori of Wildflower Perth and Chele Gonzalez of Gallery by Chele.
A 'wild' & heavenly dinner
Sydney and Melbourne in Australia have a lot of good restaurants but Wildflower in the city of Perth will pleasantly surprise those looking for the best in Australian cuisine.
Wildflower, a modern destination restaurant at Como The Treasury Hotel, creates a farm-and-forager menu that celebrates seasonal local produce. It is helmed by head chef Matthew Sartori.
Matthew was born in inland Western Australia and grew up experimenting with the flavors of the bush. In 2007, he moved to Perth and developed his knowledge of seasonal ingredients and indigenous traditions while working under acclaimed chefs Matt Stone at Greenhouse and Paul Iskov at Fervor. The West Australian Good Food Guide attributed Wildflower's early success to its creative menu concept and awe-inspiring location. Wildflower received its Best Restaurant Award in 2017.
The 2019 Australian Good Food and Travel Guide awarded Wildflower with three hats (the highest possible rating) along with the Reader's Choice Award for Fine Dining, establishing it as a unique dining experience in Australia.
Recently, Gallery by Chele in BGC welcomed Matthew to its kitchens where he shared his culinary knowledge, skills and the ingredients he personally brought from Western Australia. For one night only, Matthew, together with chef Chele Gonzalez, prepared an unforgettable dinner for guests.
I knew it was going to be a unique dinner when we were served bread and butter with wattleseed, an aboriginal seed from an Australian acacia, which gave the standard bread-and-butter combination a nutty and coffee-like kick. This wattleseed was brought in by Matthew from Australia.
A white snapper ceviche with upo, cashew and moringa (malunggay) was the perfect starter. It was a clean-tasting fish that prepared us for the next dish — swimmer crabs (alimasag).
These blue swimmer crabs were served with whey, fermented broth, jicama (singkamas) and avocado. The dish was full of flavor and had a perfect combination of salty (from the crab), sweet (from the avocado), and sour (from the fermented jicama).
I had three favorites from the mains. First, the tuna belly escabeche, which was cooked beautifully that gave it a flaky and soft bite. It had a tang from the native Australian lemon myrtle and the fruit of rattan (yes, apparently, it is edible).
Next was the prawn served with a delectable brown butter and sandalwood oil. It was so good I scraped it off the plate! Another one of my favorites was the black Iberian pork served with black garlic, sweet potato and Australian strawberry gum, a dish I heartily ate in less than a minute.
Even though the dishes were served in small plates, they were bursting with unbelievable flavors, some of which were new to me. Chele and Matthew seemed to be totally in the same frame of mind when they collaborated to produce such perfect dishes.
For dessert, there were the wonderful Jackfruit Eclaire, and "Epilogue-Tradition," which is a combination of bibingka and cheesecake that blew my mind! Think of Japanese cheesecake with a mousse-like creamy texture that was cooked in a banana leaf over charcoal. If that whetted your apetite, Chele informed me that this amazing dessert will be available at Gallery by Chele in mid-December.
Matthew said, "The most exciting challenge of working with native ingredients is respecting their delicate seasonality, but the rewards are endless, allowing you to forge your own techniques without boundaries." Both chefs worked with what was seasonably available in Australia (brought by Matthew) and what was in season in the Philippines.
The heavenly dinner was one of the best I have had this year. Thank you, Matthew and Chele, for collaborating on this dinner. I hope this would happen again soon.
(Gallery by Chele is located at 5/F Clipp Center, 11th Ave. corner 39th St., Bonifacio Global City, Taguig. For inquiries, call 0917-5461673.)