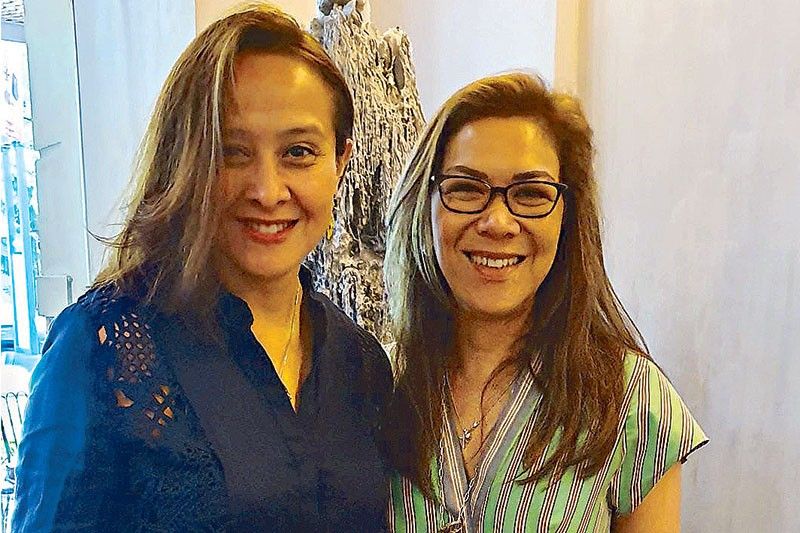 Kat Kuhn-Alcantara and Malou Fores.
Photo by Pepper Teehankee on a Leica C Digital Camera
Five sumptuous years for CDP!
THE PEPPER MILL
-
Pepper Teehankee
(The Philippine Star) - October 15, 2019 - 12:00am
It's always a joy to eat at the restaurants of Malou Fores. For years, I have enjoyed her food establishments like Mamou and Chef Du Partie or CDP Global Table.
I was excited to find out recently that for CDP, Malou and her partner Kat Kuhn-Alcantara have come out with new dishes, which I was able to try, for the restaurant's fifth anniversary.
Popular to diners are two new pasta dishes — the crab roe spaghettini with cream, and salted egg carbonara. Another widely ordered dish at the restaurant is an egg served with vodka cream and ikura (salmon roe).
Though I am really not fond of curry, I enjoyed two yummy curry dishes — curried shrimp and oyster roll, and curried mussels. My co-diners raved about the duck paella, which I skipped as I was saving space for the dessert.
The matcha lava cake with white chocolate ice cream dessert really hit the spot for me because matcha and white chocolate are two of my favorite things. It was a good thing I saved space for dessert!
Take note that the regular CDP favorites are still on the menu.
Happy fifth anniversary, Chef Du Partie! And congratulations to Malou and Kat!
(CDP is located at 148B Level R1, Power Plant Mall, Lopez Drive, Makati City. For inquiries and reservations, call 855-64454.)
Giving thanks
Two of the most powerful online platforms in the country, Property24 and Carousell Philippines, recently thanked their valued property partners by treating them to an eat-all-you-can feast at Vikings Luxury Buffet at SM Jazz in Makati City.
Carousell Philippines general manager Raffy Montemayor, head of sales for property Shine Resurrection and Property24 South Africa general manager Leon van Onselen welcomed guests to the celebration.
Present at the event were real estate developers like Greenfield Development Corp., Filinvest Land Inc., Megaworld Corp. and Robinsons Land Corp.
Carousell Philippines and Property24 continue to enjoy their position as two of the leading online classifieds platforms in the country because of their valued property partners. *
(Follow me on Instagram @pepperteehankee.)