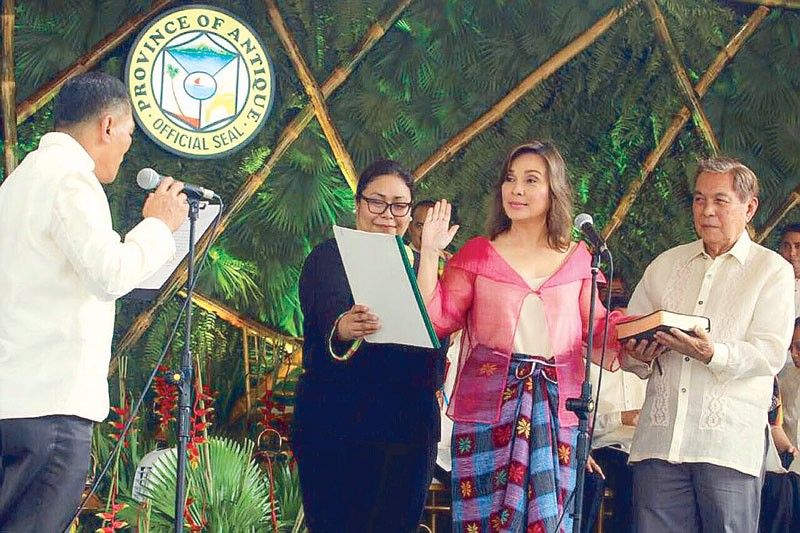 Legarda took her oath as representative of Antique before barangay captain Macario Bagac of Mag-aba, Pandan. With her is her father Antonio Legarda (right).
In the House, Inday Loren comes 'home'
Even before she threw her hat into the political ring in Antique, then senator Loren Legarda has been living her dream there — waking up to the fresh air each morning, watching the sunset every night, eating fruits plucked from the trees in her backyard, and eating fish from Antique's rich waters.
But she noticed that the majority of Antiqueños were not enjoying the bounty of the land and the seas due to lack of knowledge, technology and equipment.
"Living in Antique has brought me closer to nature, living by the sea, seeing the mountains daily. It has brought me closer to the simple, basic needs of my people, who deserve much more than they have had for three decades. Deprivation, poverty have challenged me to help our people. Being in Antique inspires me to make my laws of three senate terms work. I love my beautiful province where the mountains meet the sea, where the mountains kiss the sky," says Loren.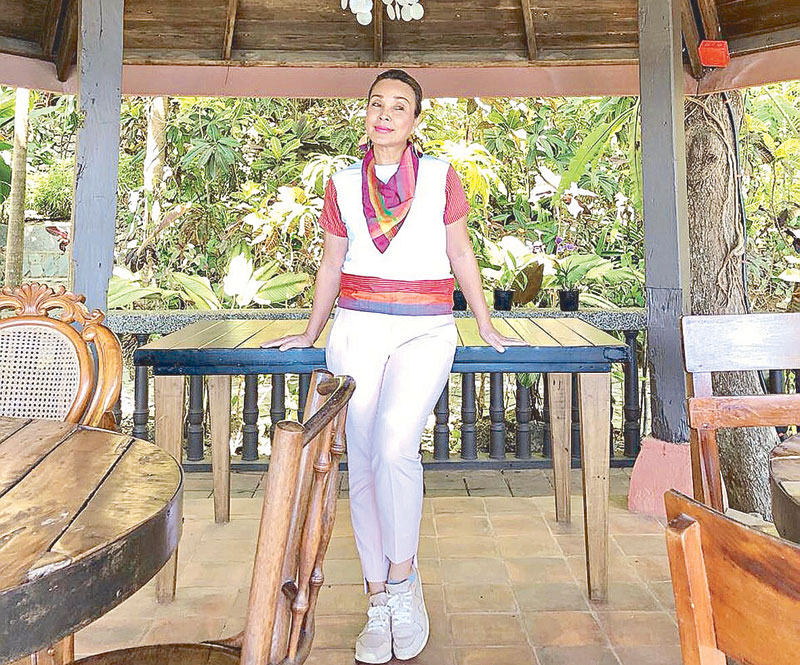 Antique Rep. Loren Legarda in San Jose, Antique.
So she fast-tracked the construction of a tuna processing facility and the procurement of mire fishing boats and engines. She supported techno hubs in universities in the province (unfortunately the poorest on Panay Island), which have blast freezers. Then she helped build a community landing site for the fisherfolk.
"I made kulit the Department of Agriculture and the Bureau of Fisheries and Aquatic Resources to give boats to the fisherfolk. It's a matter of kulit, kulit, kulit," said Loren when we visited her last May in San Jose, the capital of Antique.
Since Antique is embraced by the sea from north to south, seas that were a rich trove of fish and tourist dollars, Loren filed the Northern Antique Protected Seascape and Landscape Act of 2019 as one of the 10 bills she filed on her first day in the House of Representatives.
House Bill No. 632, or the "Northern Antique Protected Seascape and Landscape Act of 2019" declares the seascape and landscape located in the municipalities of Libertad, Pandan, Sebaste, Culasi and Tibiao in the province of Antique as an eco-tourism zone, thus according them priority development by the Department of Tourism, Department of Environment and Natural Resources, Department of Public Works and Highways, and Tourism Infrastructure and Enterprise Zone Authority.
In Loren's hometown of Pandan is the Bugang River, which is known as "the cleanest inland body of water in the Philippines." In 2014, the Senate commended the local government and community of Pandan for their conservation efforts and cited their case a successful model for community-based eco-tourism.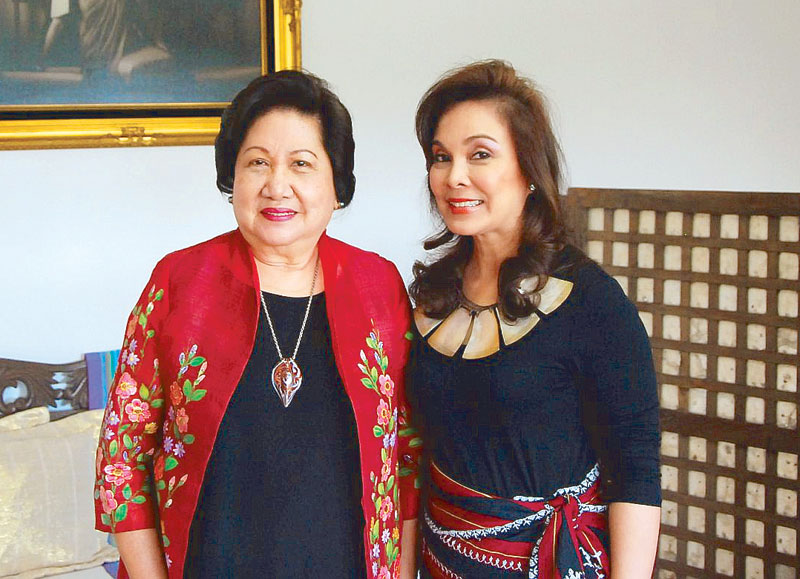 Legarda with former Antique Gov. Sally Perez.
Loren, who is the province's first female representative in the House, also seeks to establish the Antique High School for the Arts to ensure that the talent and exceptional giftedness of young Antiqueños are recognized early and nurtured, thereby preserving and promoting Filipino heritage.
Few know that aside from being the home of the late National Artist J. Elizalde Navarro, whose mural depicting "the barter of Panay" dominates the lobby of the provincial Capitol, Antique is home to some of the country's most talented artisans.
We met weavers in Bugasong and Tibiao towns who learned the art of weaving piña, cotton and abaca from their elders. According to the leaders of their associations, Loren immediately got both the National Commission for Culture and the Arts and the Philippine Fiber Industry Development Authority to support them with threads, looms and invitations to Manila trade fairs.
Another bill she filed that reflects her support of the indigenous fabric of Antique — a tapestry of the province's rich culture as well as source of livelihood — is House Bill No. 636, which provides for the development and protection of the Philippines' handloom weaving industry.
According to the Philippine Statistics Authority, Antique had the highest incidence of poverty in Panay (18.3 percent) in the first semester of 2018. (According to the report, Capiz is the most prosperous, followed by Aklan and Iloilo.)
* * *
The moment Senator Loren decided to run in Antique, her kasimanwas baptized her "Inday Loren." "Inday" is a term of endearment reserved for female children. Indeed, Antiqueños immediately regarded the senator as a beloved daughter coming home to help her province. They say that her many Gella relatives were calling her to come home for "payback time" to the province that nurtured her many accomplished relatives like Malolos Constitution delegate Ariston Gella (who was also the province's first pharmacist), Gov. Vicente Gella, Mayor Pedro Gella, National Treasurer Vicentito Gella, Supreme Court Justice Calixto O. Zaldivar, Executive Secretary Peter Garrucho, Tourism Secretary Narz Lim, among others.
"From Day 1 of the campaign period, I knew that Inday Loren's opponents were doomed. It was 'love at first sight' for the Antiqueños," says Loren's aunt, former Antique Gov. Sally Zaldivar Perez. "They could feel the sincere desire of Inday Loren to improve their lives. Thus, when votes were being counted on May 13 and 14, Loren made history by winning in all 18 towns of Antique by an unusually big majority — 130,000 votes more than her closest opponent."
According to Inday Sally, "This is the first time that the senator ran in a local election so her methods were different from the local politicians. For example, she never mentioned her opponent's name, but, in all her speeches, she would always say, 'Ang ating kalaban dito sa Antique ay poverty, ignorance, malnutrition, disease, lack of livelihood opportunities, etc.' This kind of campaigning clicked with the Antiqueños."
The former governor told us she overheard one old woman telling her husband, "Abaw si Inday Loren hulog kang langit — guapa, maaram kag may pag-ulikid pid kanaton." (Inday Loren is a gift from heaven — beautiful, intelligent and passionately cares for us.)
Naturally, Inday Sally is unabashedly biased towards Loren. Only time will tell if indeed she is just being biased towards Loren, or just saying it like it is.
It would be nice to see Antique rise with the tides of its beautiful seas.