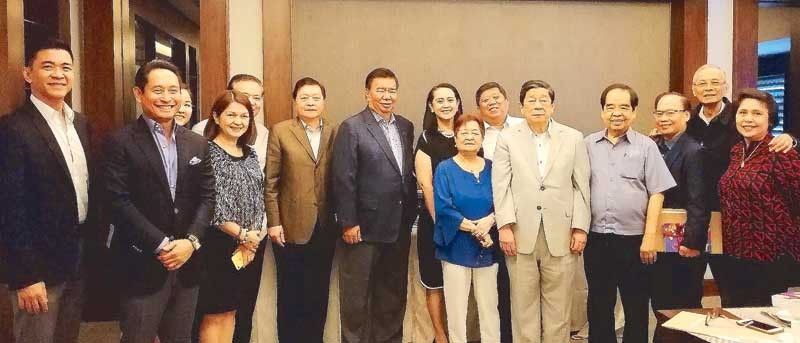 (From left) Prof. Andre Palacios, the author, lawyers Jennifer Castro, Ernestine Villareal-Fernando, Jose Gerardo Medina and Avelino Cruz Jr., Sen. Franklin Drilon, professors Sandy Coronel and Myrna Feliciano, lawyers Alfonso Reyno Jr., Jose Perpetuo Lotilla, Nilo Peña, Simeon Marcelo, Victor Lazatin and Fina de la Cuesta-Tantuico.
Every revered educational institution looks forward to the support that its graduates bring.
More than just counting the quantity and quality of its graduates, a school's worth is also gauged by how much it has instilled in its students and alumni not only academic excellence, but also the values of social responsibility and altruism.
For the University of the Philippines College of Law, that value of social responsibility also translates into public service — a tradition that has produced four Philippine Presidents, three Vice Presidents, eight Senate Presidents, five Speakers of the House, and 14 Supreme Court Chief Justices, including those that have served in various positions and capacities in the Executive, Legislative and Judicial branches of government.
I was privileged to serve in several capacities.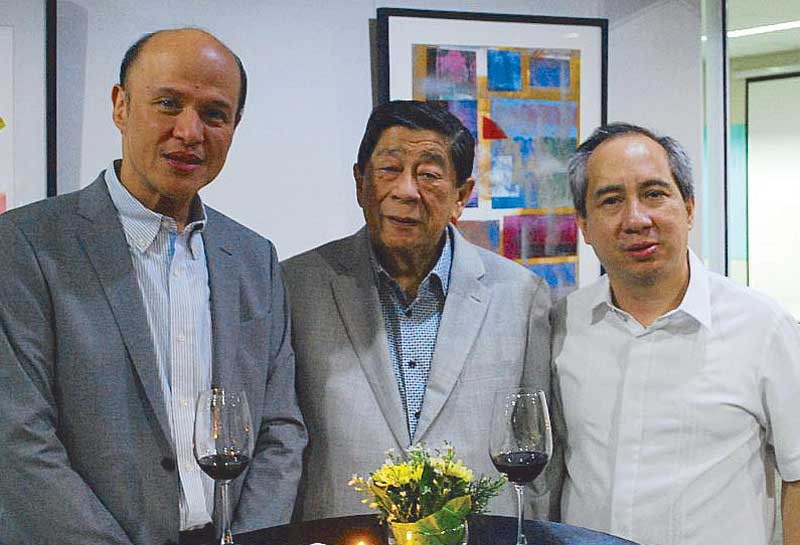 Generous hearts all. These respected legal eagles individually gave substantial donations. (From left) Lawyer Charlie Yu of Empire East & Land Holdings Inc., lawyer Alfonso Reyno Jr. and lawyer Gabriel Dee of Picazo Buyco Tan Fider & Santos Law Offices.
True to its calling, UP Law seeks to expand its horizons above and beyond what we have now.
The UP Law Alumni Association (UPLAA) and the UP Law Alumni Foundation (UPLAF) have recently been meeting often and vigorously to come up with ways to address the various needs of the college.
The UPLAA has Alfonso "Boy" Reyno Jr. as chairman emeritus with Victor "Boy Laz" Lazatin as chairman.
Former DOTC Undersecretary Jose Perpetuo "Juju" Lotilla is UPLAA president, with Ferdinand Domingo, Nilo Peña, Jose Gerardo Medina, Victoria Loanzon, former Ombudsman Simeon Marcelo and current UP president Danilo Concepcion as directors. Lemuel Santos serves as corporate secretary.
The UPLAF has retired Supreme Court Justice Ameurfina Melencio-Herrera as chairman-emeritus and Sen. Franklin Drilon as chairman with former Defense Secretary Avelino "Nonong" J. Cruz Jr., former Finance Secretary Edgardo Espiritu, Myrna Feliciano, Supreme Court Justice Francis Jardeleza, ACCRALAW's Victor Lazatin, Loida Nicolas-Lewis, Alfonso Reyno Jr., former Philippine Bar Association president Fina de la Cuesta-Tantuico, and myself as trustees.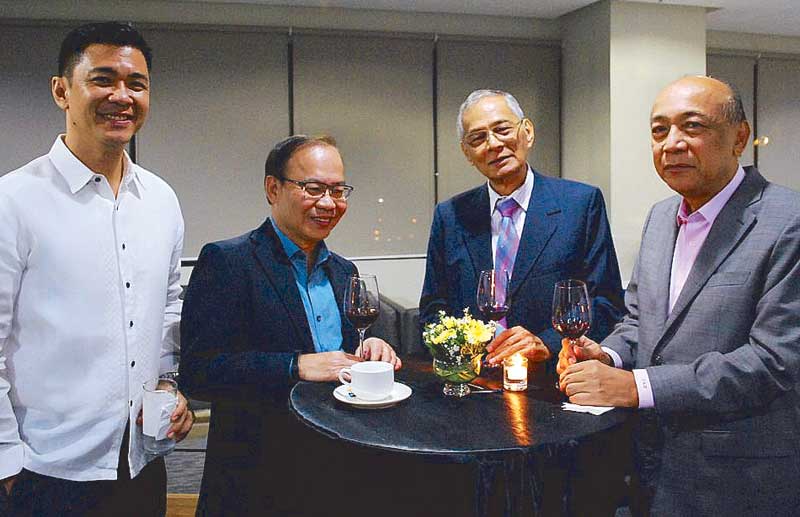 Victor Lazatin or 'Boy Laz,' (third from left) as he is fondly called, and my mentor at the ACCRA Law, donated a very generous amount to the college. With him in photo are Prof. Andre Palacios, lawyers Simeon Marcelo and Ferdinand Domingo.
Current UP Law dean Fides Cordero-Tan sits as ex-officio. We are fortunate to have a forward-thinking dean in the college.
Avelino Cruz Jr. is the current UPLAF president with Victor Lazatin as treasurer and Fina de la Cuesta-Tantuico as secretary.
I serve the foundation as its communications director with former PPP Center executive director and current UP Law professor Andre "Raj" Palacios as the assistant communications director. Corporate lawyer and UP Law lecturer Ernestine Carmen Jo Villareal-Fernando is the assistant treasurer.
Primordial among the plethora of needs to be addressed is funding for scholarship grants (which also include the student's living expenses), medical benefits for college staff, professorial chairs and the faculty trust fund.
To date, the UPLAF sponsored lectures, provided equipment to the college, awarded travel grants to faculty and deserving students, supported the UP team to the Jessup Moot Court competition, financed academic publications, and sponsored awards and prizes as student incentives.
Indeed, the herculean efforts of the board of trustees of UPLAF with then UPLAF chairman Sen. Ed Angara and current chairman Sen. Frank Drilon to drum up support for the college have born much fruit.
UP College of Law dean Fides Cordero-Tan.
One of the most significant contributions of UPLAF is the grant of annual honoraria to the regular faculty through the Faculty Trust Fund.
And then, there is the new campus at the Bonifacio Global City. The vision of UP BGC is to be a center for law and innovation and to attract the best global talents.
The property on which the campus stands was acquired through the efforts of the late Ed Angara and Sen. Frank Drilon, Danny Concepcion, and then BCDA president and CEO (also a UP alumnus) Arnel Casanova.
Currently, the BGC campus hosts professional programs offered by three colleges in UP Diliman, namely: the College of Law, the Virata School of Business and the School of Statistics.
The plan is to set up the BGC campus as a Constituent University by the authority of the UP Board of Regents, to be able to hire the best Filipino and foreign faculty and staff, as well as to come up with an interdisciplinary advisory board.
Another significant pursuit, would be the UP BGC Bill that would formalize into law the vision and plans of UP for the BGC campus.
My fellow Chevening Scholar and British alumnus, Prof. Raj Palacios, made a compelling presentation on this.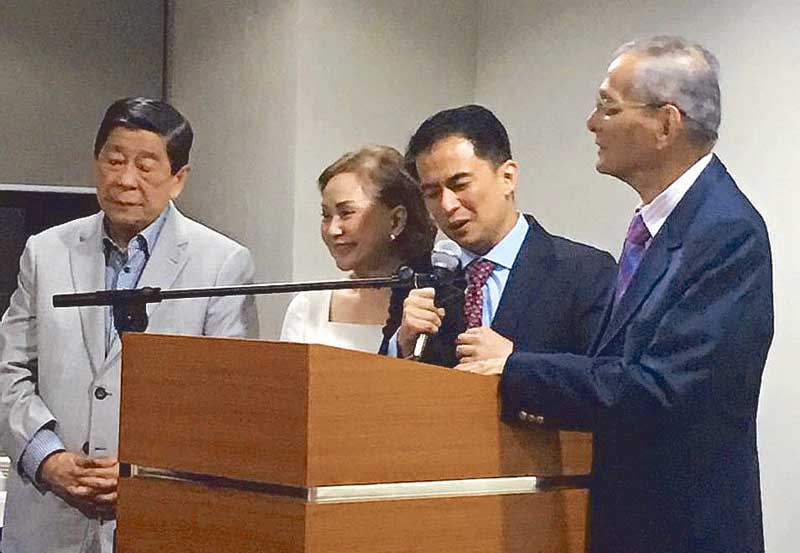 The Reyno family expressed their unselfish support to ensure the needs of the college are met. Lawyers Alfonso Reyno Jr., Yolanda Reyno and Alfonso Victorio 'King' Reyno III with Victor Lazatin.
Angara is the father of UP BGC as he was the one who envisaged that the UP BGC attract the best and the brightest worldwide so that they may create breakthrough or disruptive innovations in law, technology and society.
His vision was to establish UP BGC as an autonomous unit of the UP System to undertake instruction, research and extension programs for emerging areas of law, such as those concerning technology, ASEAN, international arbitration and maritime affairs, to name a few.
UP BGC is under the office of the UP president, who has designated the dean of the College of Law as the executive director.
The officers of the UPLAA and the UPLAF have been discussing this bill to turn SEJA's vision for UP BGC into a reality.
A fundraiser, the first of many, was also held and we raised P8 million or so in just one night! Again, our profound thanks to our generous and kindhearted donors.
But our beloved alma mater still needs our help.
Every day, as we entered the portals of Malcolm Hall, we were greeted by these immortal words of American Supreme Court Justice Oliver Wendell Holmes: "The business of a law school is not sufficiently described when you merely say that it is to teach law or to make lawyers. It is to teach law in the grand manner, and to make great lawyers." An admonition every UP lawyer and law student has taken to heart.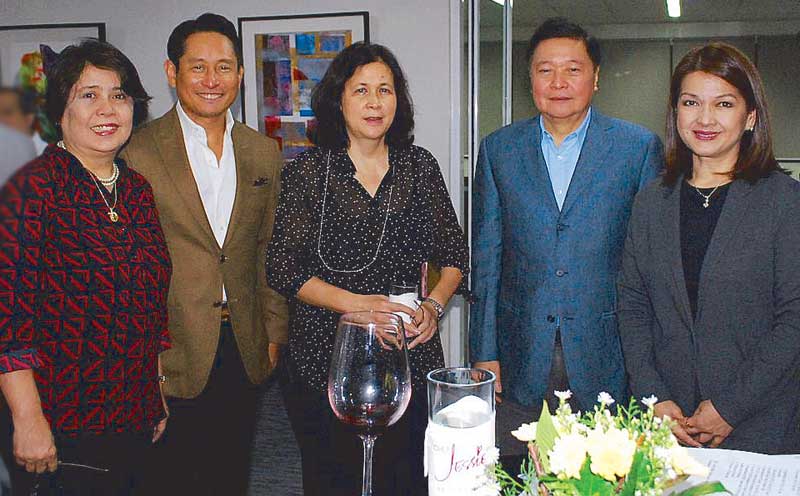 Lawyers Nonong and Charito Cruz also donated a generous amount. My classmate and class valedictorian lawyer Ging Gonzalez-Montinola pledged to support the scholarship programs. Lawyers Fina Tantuico and Bingbing Villareal-Fernando also donated. (From left) Fina de la Cuesta-Tantuico, the author, lawyers Gizela Gonzalez-Montinola of Romulo Mabanta Buenaventura Sayoc & de los Angeles, Alfonso Cruz Jr. and Ernestine Villareal-Fernando.
It is my fervent hope that all UP Law alumni will be inspired to do whatever they can, and whatever it takes, to support the College of Law in its continued quest to make great lawyers as every UP lawyer is and has been.
The UP College of Law needs us. Now is the time to answer the clarion call and to give back.
In parting, I wish to pay tribute to someone who was not even from UP Law, or from UP even, who made a donation without which the UP BGC campus would not have materialized.
A man with a vision whose excellence in business did not only make the companies under his wing succeed but has uplifted the lives of his countrymen.
The building of the UP BGC bears his name for all eternity: Henry Sy Sr. Hall.
My thoughts and prayers are with the Sy family for the loss of a great and well-loved patriarch.