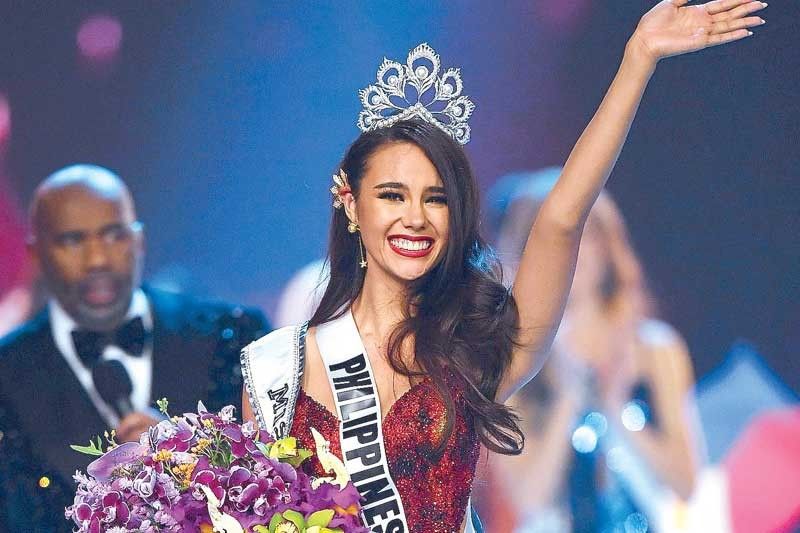 Catriona Gray after being crowned Miss Universe 2018 in Bangkok, Thailand Monday. She wears a $250,000-crown studded with pearls by Mikimoto.
AFP
On Dec. 17, 2018, at exactly 10:58 a.m., the Philippines was turned into one shrieking archipelago, as Steve Harvey — very deliberately and surely this time — proclaimed "Philippines!" on the microphone as he announced the winner of the much-coveted Miss Universe 2018 crown in glittering pageant rites in Bangkok, Thailand.
From posh suites in Raffles Makati, to office cubicles, to neighborhood beauty salons; from flight attendants to parking attendants, the Philippines was a nation of eyes glued to the TV screen as Miss Universe-Philippines Catriona Gray conquered the universe. She was red hot, like her gown, the color of red siling labuyo and hot lava that her Philippine hometown (Albay) is known for.
She simply slayed it with her Venus-like proportions, her beauty, her intelligence, her confidence and composure. Her now iconic slo-mo revved up her chances at victory, and from then on, there was no stopping the driven Filipina.
"This girl's on fire!" Miss Universe 2015 Pia Wurtzbach said in her Instagram account.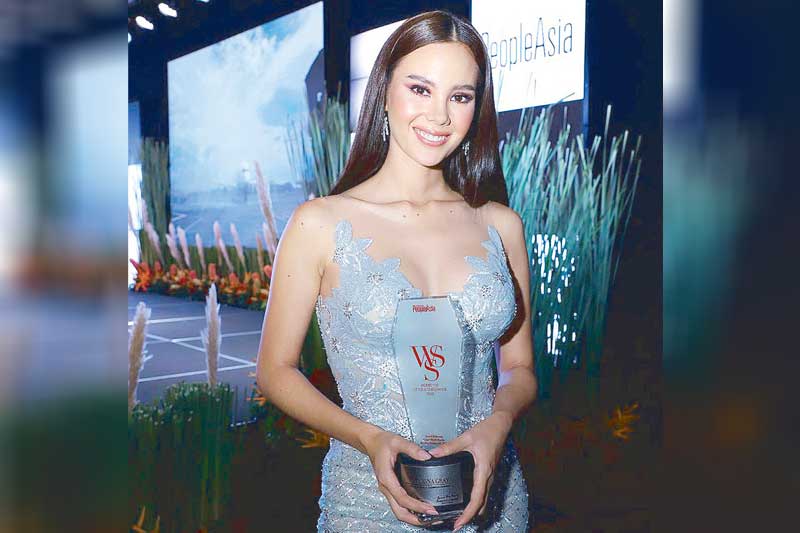 Catriona is one of PeopleAsia magazine's Women of Style and Substance 2018 awardees. Photo by Renjie Tolentino courtesy of PeopleAsia
"And that walk…how could anyone forget that walk?" gushed the third Filipino Miss Universe.
An ecstatic Catriona, whose IG followers more than doubled to 2.6 million after her exciting win, said in a post, "Where do I even begin? Lord God, I lift everything up to you — to glorify and honor you. Philippines, what an amazing honor it has been to carry your name across my chest and to embody you in all aspects. I may now carry the sash of Miss Universe, but I'll forever be your Miss Philippines."
* * *
As one of the millennials in the office pointed out, the Miss Universe 2018 beauty pageant "brought the country together."
A politically divided nation suddenly only saw red — Catriona's red. There were no yellows, blues, greens or oranges. Everybody got together to root for one team, Team Philippines.
And when it came down to the wire, with five finalists left, fate had her standing in the middle. And Ms. Gray was in red! (She revealed that when she was 13, her mom told her, "Honey, I dreamt of you winning Miss Universe in a red dress.") The four other finalists flanking her were in shades of gray, nude and silver. Though the other finalists were stunning in their own right, a mother's dream made Catriona Gray wear red, and a dream came true that night in vivid color.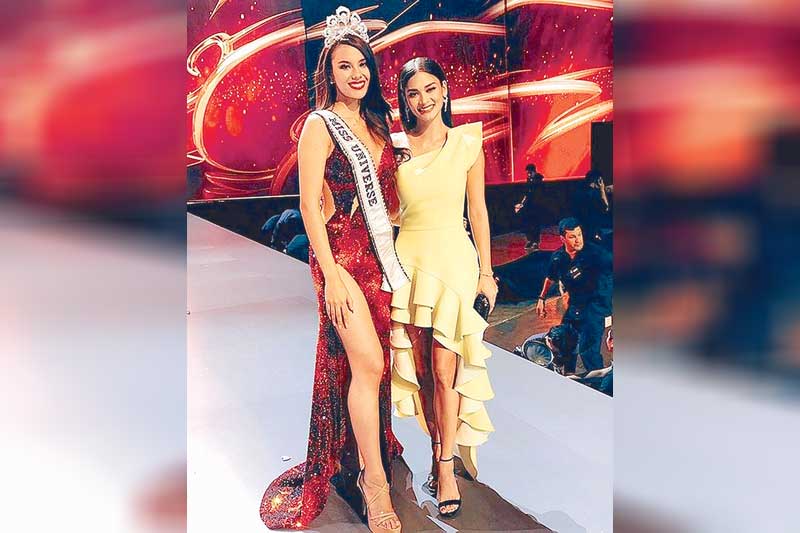 Miss Universe 2018 Catriona Gray and Miss Universe 2015 Pia Wurtzbach. Photo from Pia Wurtzbach's Instagram account (www.instagram.com/piawurtzbach)
And when there were just three of them standing onstage, Catriona proved that the head that would wear the crown wasn't empty.
The first to be called to answer the final question, with no time to gather her wits or catch her breath from all that was going on, Catriona was asked, "What is the most important lesson you've learned in your life and how would you apply it to your time as Miss Universe?"
Without a moment's hesitation, she answered, "I work a lot in the slums of Tondo, Manila and the life there is very...it's poor and it's very sad. I've always taught myself to look for the beauty in it, to look in the beauty of the faces of the children and to be grateful. And I would bring this aspect as a Miss Universe to see situations with a silver lining, and to assess where I could give something, where I could provide something as a spokesperson. And this, I think, if I could teach also people to be grateful, we could have an amazing world where negativity could not grow and foster, and children will have a smile on their faces. Thank you."
She also has spunk.
In an interview with Büm Tenorio Jr. for PeopleAsia magazine, which chose her as one of its Women of Style and Substance 2018, Catriona said, "I was very ambitious as a child and I still am. My mom saw that. She also saw that I was a perfectionist because I am. I really invest myself into everything I do, which also means I need to decide on everything I do."
No wonder. From the moment she decided on competing for Miss Universe Philippines, Catriona worked on owning the Miss Universe crown as well. She consulted Dr. Aivee Aguilar Teo for her beauty regimen and among the noninvasive treatments recommended by the doctor was the Vixen Facial Luxury Treatment for her face and the Vixen Body for her figure. And a vixen she was, indeed.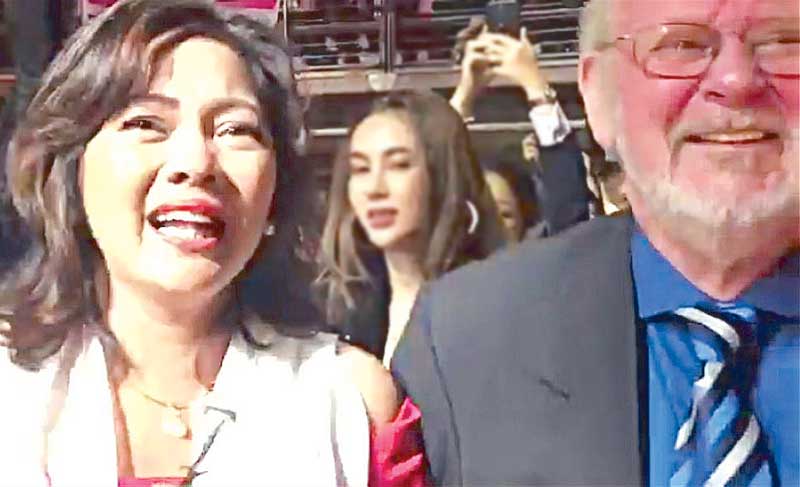 Catriona's parents, Normita and Ian Gray, rejoice after Catriona was named Miss Universe 2018. Screenshot from Dyan Castillejo's Instagram account (www.instagram.com/dyancastillejo)
Catriona recalled to PeopleAsia that she was taught by her mother Normita Magnayon Gray, an accountant, that "If it is worth doing, it is worth doing well."
Slo-mo and all.
* * *
I think the Miss Universe beauty pageant 2018 stood out because most of the contestants seemed like bright girls who happened to be beautiful and statuesque as well. Each had a cause, an advocacy — from fighting TB to child marriages, to discrimination.
Miss Spain Angela Ponce is a transgender, and she was the only other one aside from Miss Universe 2017 Demi-Leigh Nel-Peters and Catriona who got to walk solo onstage all the way.
The pageant also shows how much more inclusive the world is now, when a black woman represents Great Britain, and a half-white woman surnamed Gray represents the Philippines.
It wouldn't be a stretch to think that the Miss Universe beauty pageant, though primarily a beauty contest, isn't skin deep.
Though beauty contests will always have their critics, and though I'm hoping that in future contests, the slits stop at thigh level and the cleavages don't dip to the navel, beauty pageants do serve a purpose.
For the Philippines, they make people surge behind their flag sans bloodshed; they make them spill into the streets with arms raised in victory, not with fists clenched; they make people cheer for one cause, and shriek in unison, in excelsis — not in anger.
Catriona Gray, you shocked and ohhh'd.
(You may e-mail me at joanneraeramirez@yahoo.com. Follow me on Instagram @joanneraeramirez.)