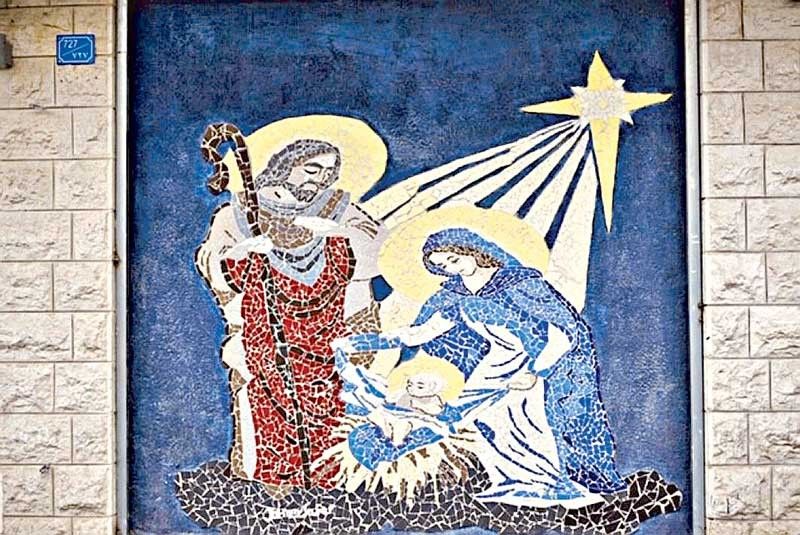 A mural on a street in Bethlehem depicting the birth of Jesus in this city in the central West Bank, about 10 kilometers south of Jerusalem in Israel.
Photo by Michael Siy
Let the Light shine through
Our lives today are crowded. Overcrowded. Loaded with appointments, consumed by hours on Facebook or IG, caught in socials, trapped by traffic. Being busy is a sign or productivity, and productivity is a blessing. But the collateral damages of a productive life can erase the blessing that made it possible in the first place. So, before one cancels out the other, make time and make room.
Make room for stillness.
Make room for quiet.
Make room for more blessings.
Make room for the light to shine through the choked days of our lives.
* * *
Over the weekend, I decided to personally clean out the refrigerator in our house, which I believe is symbolic of one's desire to rid oneself of the excesses, the rotten, the forgotten, the useless, the space fillers, in one's life.
This exercise, which is cathartic, takes time, effort, concentration and discernment. Discernment — I kid thee not.
The first to go were the rotten, which is easy to "discern" in their plastic containers. Blue cheese is somehow palatable when bought in the deli but when cheese turns blue in your refrigerator, better trust the deli instead. Aside from getting rid of the rotten, ask yourselves how you allowed it to reach that point — whether it's milk or friendship. So either you love it, you leave it, or you destroy it. Don't let anything fester.
Next to land in the trash bins (we dutifully segregate trash) are those that have outlived their shelf lives. Not quite putrid yet, but months over their expiration date. These are usually the bottled or canned stuff. An exercise to remind us that we, too, have our shelf lives. The longer we make ourselves relevant, the more carefully we take care of our health, the longer we stay on the shelf.
Next to be discarded are the useless. Leftovers that no creative genius can recycle anymore, fried food that's been reheated as often as the cock crows in a week (one's body is not a trash bin, so don't force yourself to eat leftovers when they're already as hard as your leather belt). Sometimes, it is hard to let go of a box of Valentine's chocolates sitting pretty in your ref, but if it's more than a year old…you may not enjoy your next Valentine's due to gastroenteritis.
After sorting through the contents of my refrigerator and cleaning the shelves and bins, I had an alleluia moment. The light behind the shelves shone through and there was dazzling empty space. Empty space that was ready for more blessings.
When you make space in your crowded life for more blessings and surprises, they somehow multiply. Actually, the blessings might already have been there, but you had no room for them.
* * *
The refrigerator may be a cold (pun intended) comparison to our own warm bodies, but it is close to home.
De-cluttering our lives makes room for the light of Jesus to shine through. We have to find time, space and energy to rid ourselves of what is corrosive, rotten, useless, overstaying, so that we will have much needed space for those which bring us closer to our full potential. Emptying ourselves of pride, self-entitlement, envy makes room for temptation — temptation to do good. There are so many empty spaces to fill and feel in ourselves, why not fill them with feel-good thoughts and intentions? Better yet, fill them with prayer.
Nowadays, I don't anymore think that occasionally doing nothing is a waste of time. I don't practice Zen, but I feel that stillness and the absence of a preoccupation are cleansing and detoxifying.
* * *
This holiday season, we are all in a rush. In a rush to shop to buy and wrap gifts, fulfill all social and sosyal obligations, fulfill work and business deadlines. We are all so caught up in preparing for the birthday of Jesus we didn't forget the celebration, but we forgot the significance of it. Nothing wrong with the trimmings, and the lights and the décor (which I find myself posing in front of like a child in Disneyland) — festivity is part of Christ's birth.
Just don't forget to make room — a big room — for the Messiah whose birthday it is we are celebrating.
I am sharing excerpts from a prayer, "Make room for Emmanuel," by Joyce Rupp that was read during the Christmas party of the Assumption Alumnae Association. "Emmanuel" is a Hebrew name that means "Messiah" or "God with us."
* * *
When I become overly engaged in life's activities and allow them to crowd out space for essential prayer and reflection, help me make room for you in my heart, Emmanuel.
When the pain of a world weary with war and violence threatens my hope and diminishes my belief in the goodness of humanity, help me make room for you in my heart, Emmanuel.
When I am asked to forgive another's failings or to let go of old hurts that cling stubbornly to my aggrieved self, help me make room for you in my heart, Emmanuel.
When I give undue attention to myself, or when excessive preoccupation with my own schedule tempts me to ignore the needs of others, help me make room for you in my heart, Emmanuel.
When jealously or resentment of another's good fortune takes away from my gratitude for all I have been given, help me make room for you in my heart, Emmanuel.
When another's religion, skin, color, sexual orientation, or personal beliefs differ from my own, help me make room for you in my heart, Emmanuel.
When the heartache and distress of those dear to me saddens my spirit and suffocates my desire to bring joy to others, help me make room for you in my heart, Emmanuel.
When peace seems far away from deeper self, and crushing distress pays daily visits to my body, mind, or spirit, help me make room for you in my heart, Emmanuel.
When the day is done and I look over the hours that have passed before I rest my head on the pillow of sleep, help me make room for you in my heart, Emmanuel.
When I join friends and family to celebrate the gift of your birth in human form and gather to remember your boundless love, help me make room for you in my heart, Emmanuel…
(You may e-mail me at joanneraeramirez@yahoo.com. Follow me on Instagram @joanneraeramirez.)