With (from left) Office of Sen. Bam Aquino senior political officer Norman Cualteros, Commission on Higher Education Commissioner J. Prospero de Vera III, Prof. Nieves Confesor, lawyer Gilberto Teodoro, Philippine Air Force commanding general Lt. Gen. Galileo Gerard Kintanar Jr., lawyer Siegfred Mison, Philippine Air Force vice commander Maj. Gen. Jose Tanjuan Jr., chief of air staff Maj. Gen. Allen Paredes and Air Force strategy management office Col. Ronie Petinglay.
Almost every kid wants to be a pilot or an astronaut.
Well, an astronaut nowadays may not seem that aspirational as before (perhaps Avenger or Jedi Knight would be more in tune with today's children and teens).
But almost every child back then wanted to take to the skies and fly an airplane.
Such fantasies were kicked up a notch when the aspiration is more for combat duty- — a fighter pilot in the air force.
And many a wall was adorned with posters of the latest fighter jets and bombers or even classic World War II planes.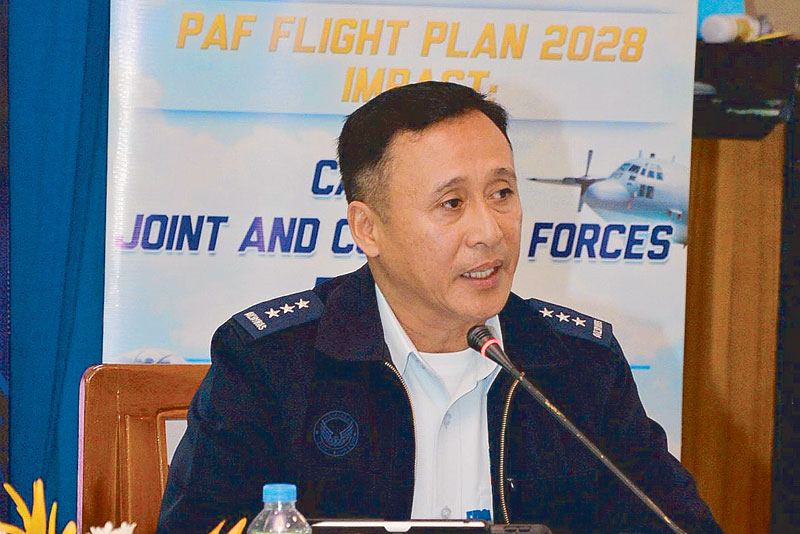 Lt. Gen. Galileo Gerard Kintanar Jr.
Who would have missed Top Gun back in 1986 with Tom Cruise a.k.a. Maverick, Kelly McGillis, and one bad-ass Grumman Tomcat F-14.
Maverick, I understand, will return to the big screen in Top Gun 2 in 2020.
Top Gun was followed by another fighter plane movie in the same year, Iron Eagle, which featured the venerable General Dynamics F-16 Fighting Falcon.
These movies, and others around them, whetted the appetites of erstwhile fly boys and fly girls to enlist in the air service branch of the armed forces.
It was this nostalgia, this recall of a boyhood dream that, in some way, made me accept the invitation to be part of the Philippine Air Force (PAF) Flight Plan 2028 Multi-Sectoral Governance Council or MSGC.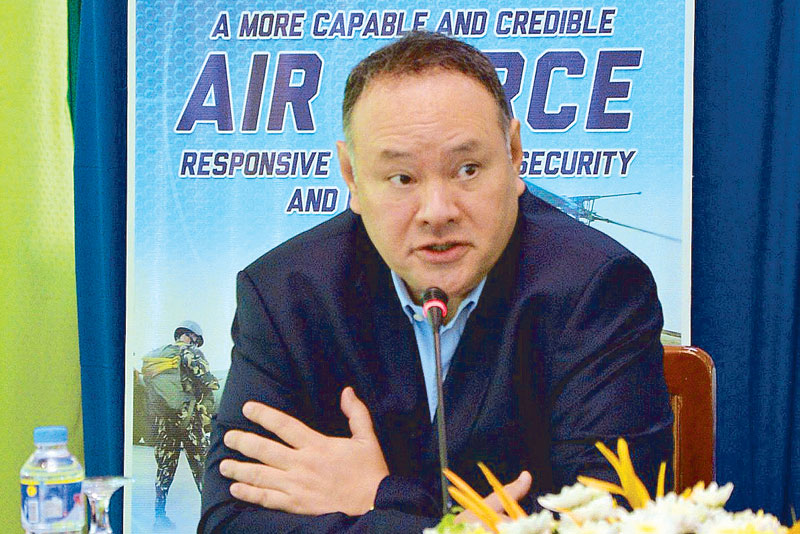 Gilberto Teodoro.
PAF Flight Plan 2028 is a 14-year plan strategic plan that was formulated along with the other transformational roadmaps in the major services of the Armed Forces of the Philippines (AFP).
It, in itself, is a hallmark of the commitment that the PAF has towards transformation or change, founded on the guiding principles of good governance and performance excellence.
Its vision was to have a professional and competent Air Force responsive to national security and development.
Its mission was to organize, train, equip, maintain and provide forces to conduct prompt and sustained air operations to accomplish the AFP mission.
Flight Plan 2028 was launched with the assistance of the Institute for Solidarity in Asia (ISA), a non-stock, non-profit organization, which utilizes the Performance Governance System (PGS) Framework.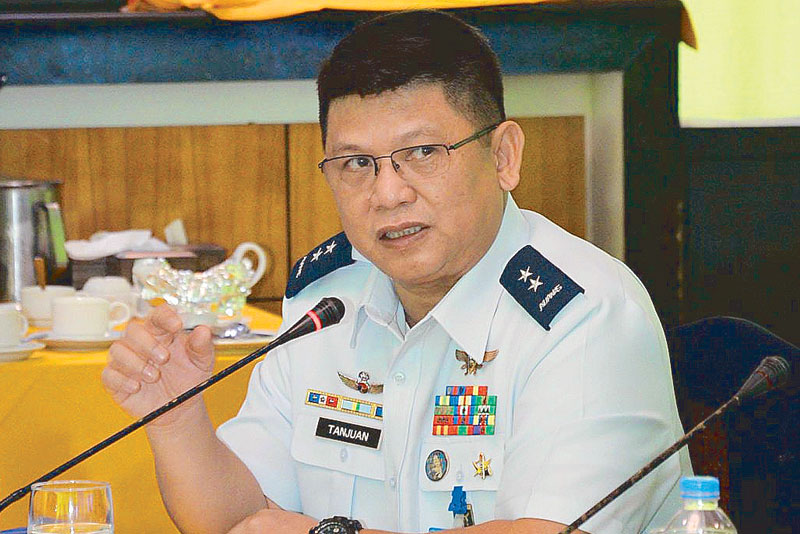 Maj. Gen. Jose Tanjuan Jr.
PGS enables the organization to be transparent by reporting on performance gains and focuses on programs and projects that can continue beyond leadership changes of the PAF Command.
One of the hallmarks in compliance with the PGS was the creation of a PAF MSGC, an advisory board composed of various professionals from different sectors of society.
The MSGC functions to promote the Flight Plan and to provide the organization with expert advice, especially with regard to the execution of the strategy.
The MSGC provides the PAF fresh and salient views on how change initiatives will be carried out.
More importantly, the MSGC is an instrumental organization that shall align internal thrusts of the PAF with the external realities.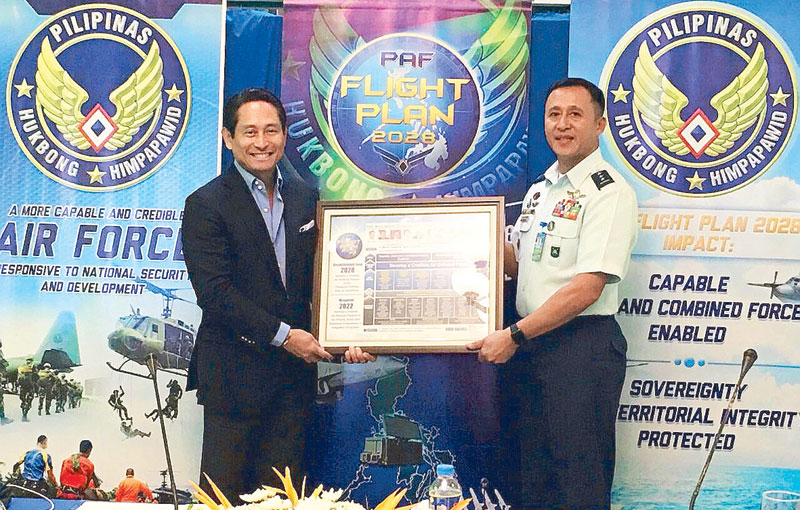 With Lt. Gen. Galileo Gerard Kintanar Jr.
The current members of the MSGC include Senators Loren Legarda and Bam Aquino, Budget Undersecretary Tina Rose Canda, Commission on Higher Education Commissioner Prospero de Vera III, former Labor secretary Prof. Nieves Confesor, former Immigration commissioner and current Philippine Airlines SVP for legal and corporate communications lawyer Siegfred Mison, FINEX EVP and Ayala Corp. executive Ronald Goseco and myself.
The MSGC is chaired by former Defense secretary Gilberto Teodoro.
The PAF, under the current command of AFP's Lt. Gen. Galileo Kintanar, has taken great strides in achieving its Flight Plan 2028.
With the support of the MSGC, it hopes to soar even higher, riding "on the wings of love."