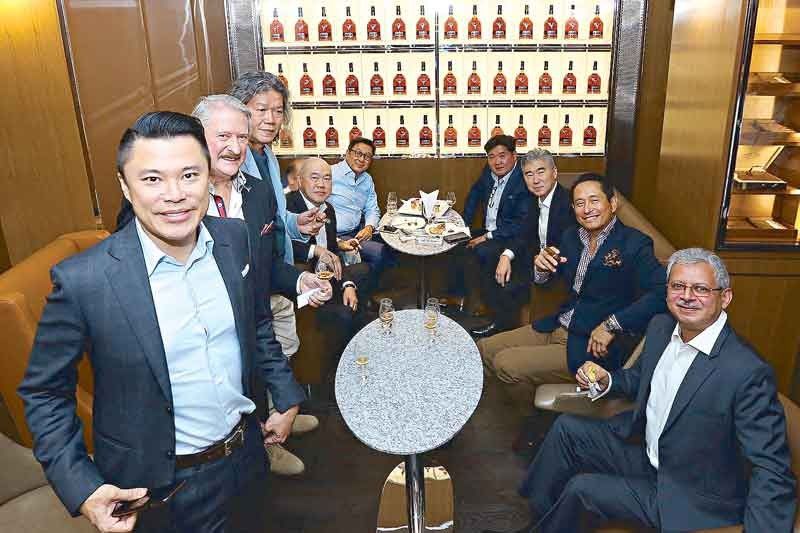 (From left) Alliance Global Group CEO Kevin Tan, Richard Paterson, La Casa Cubana managing director Jimmy Ng, CATS Motors president Felix Ang, AC Industrial Technology Holdings Inc. president and CEO Arthur Tan, SSI Group president Anton Huang, US Ambassador Sung Kim, the author and Indian Ambassador Jaideep Mazumdar.
Legend has it that in 1263 in Scotland, Colin of Kintail, chief of the Clan Mackenzie, saved King Alexander III from being impaled by a charging stag, the only one among many in the King's party who acted in bravery.
In his gratitude, King Alexander awarded Colin of Kintail with the lands of Eilean Donan; the motto Luceo Non Uro, which translates to mean "I Shine Not Burn;" and the right to bear a 12-pointed Royal Stag as the clan's crest. This is the 12-pointed Royal Stag that adorns every bottle of Dalmore today, from the time the Mackenzie brothers, Andrew and Charles, acquired the Dalmore distillery from Alexander Matheson in 1867.
I was fortunate to be among the few invited to the soft opening of the Dalmore Cigar Lounge at Uptown Bonifacio in Taguig, just beside the flagship store of the world's most definitive luxury single malt whiskey.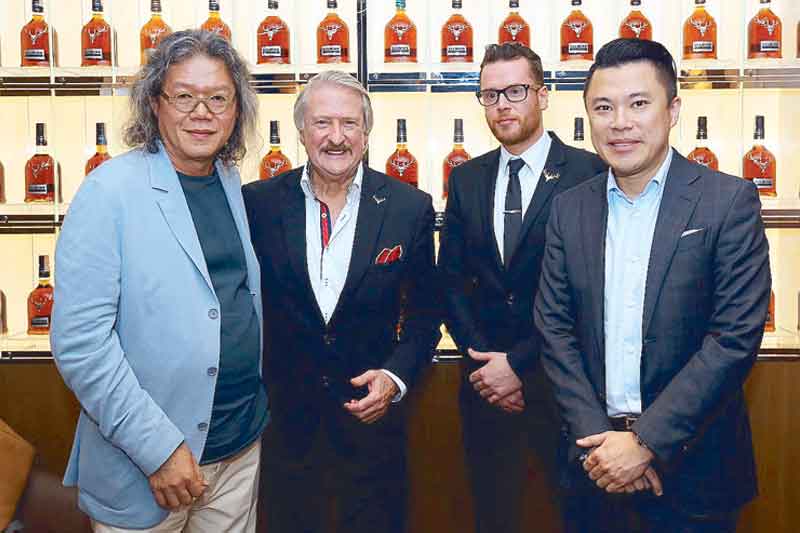 (From left) Jimmy Ng, Richard Paterson, Dalmore resident whiskey expert Adam Knox and Kevin Tan.
Indeed, all of us who were there have been enjoying our whiskey and cigars for years (was there any other way to fully enjoy one without the other?), and we rushed from an official function in Malacañang, not only because we did not want to keep our hosts waiting, but also because, after a long day, one yearns for the kind of escape a good cigar and excellent single malt whiskey can indubitably give. And such gracious hosts they were -— the amiable Winston Co, president of Emperador Distillers Inc. and the young, dynamic Kevin Tan, the new CEO of the Alliance Global Group Inc.
Kevin is, of course, the son of Andrew Tan, the quintessential billonaire-tycoon of Megaworld and Emperador fame that acquired Dalmore in 2014, a rather outstanding feat by a Filipino. Stepping into the cigar lounge — slated to open this September — one is immediately embraced by the smell of fine leather, and the arresting and unmistakable aroma of delicious Cuban cigars. Your eyes then feast on the beautiful Dalmore bottles filled with liquid gold.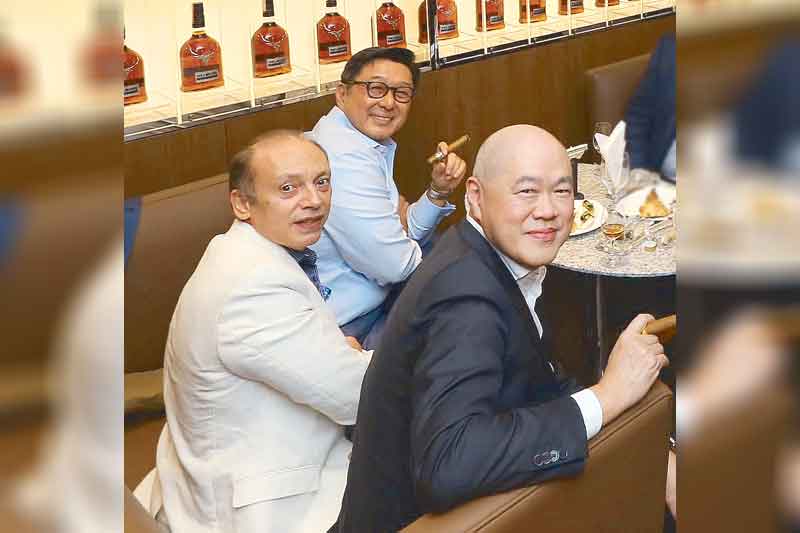 Morrocan Ambassador Mohammed Rida El Fassi, Arthur Tan and Felix Ang.
Dalmore Single Malt Whiskey is considered the liquid gold of boutique spirits, and has its distillery in the north of Inverness, Scotland, where it has been for the past 177 years or so.
It is the most revered and one of the most expensive single malt whiskey in the world, and any opportunity to partake of this "elixir for the gods" is always an opportunity worth taking without hesitation. And then, there was also "The Nose."
Richard Paterson, Dalmore's very own top-notch whiskey blender, a celebrity in his own right and one of the most iconic figures in the Scotch whiskey world who recently celebrated his 50th anniversary in the industry.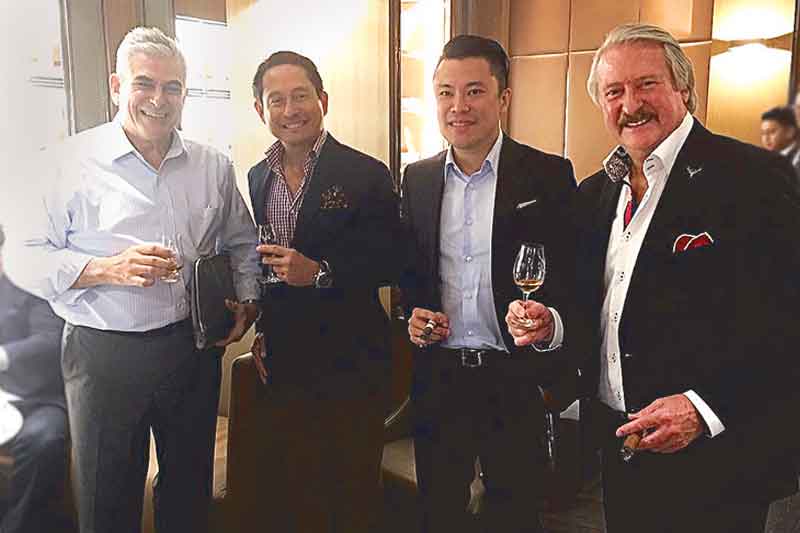 (From left) Ayala Corp. chair Jaime Augusto Zobel De Ayala, the author, Kevin Tan and Richard Paterson.
Richard was on hand at the soft opening to make guests try the different Dalmore blends, explain the history and notes behind such blends, and teach all of us how to drink Scotch whiskey properly. Yes, Virginia, there is a proper way to appreciate Scotch whiskey.
One distinct bottle he made us try was the rare Dalmore 25 Year Old, a pinnacle from the Dalmore Principal Collection, where only 3,000 bottles are available globally each year.
This particular blend was aged in American white oak ex-bourbon casks before being divided into hand-sourced sweet Palomino Fino sherry butts and first-fill bourbon casks.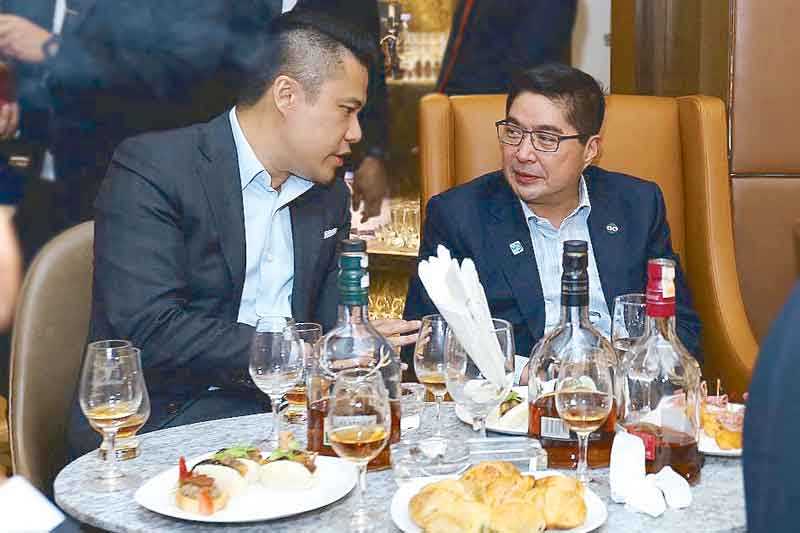 Kevin Tan and Universal Robina chair Lance Gokongwei.
According to Paterson, the result of the maturation process is "a wonderful palate of orange peel, chocolate truffles, and spiced gingerbread." I could go on and on about the exquisite collections and blends that Dalmore has for single malt and cigar lovers everywhere, but the proof of the pudding, as it is said, is in the eating, or, in this case, the drinking. So, best to succumb to your preferred libation at the cigar lounge and adjacent flagship store.
Dalmore is fine liquor that shines and not burns.
Cheers!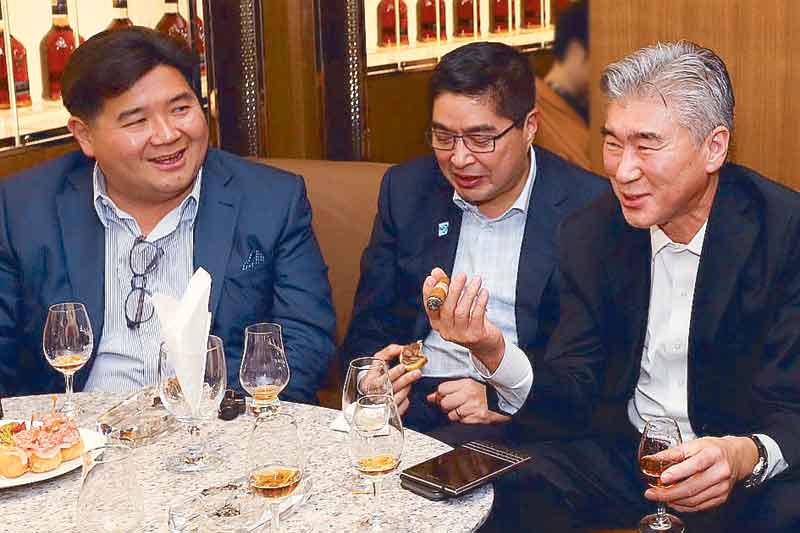 Anton Huang, Lance Gokongwei and Ambassador Sung Kim.