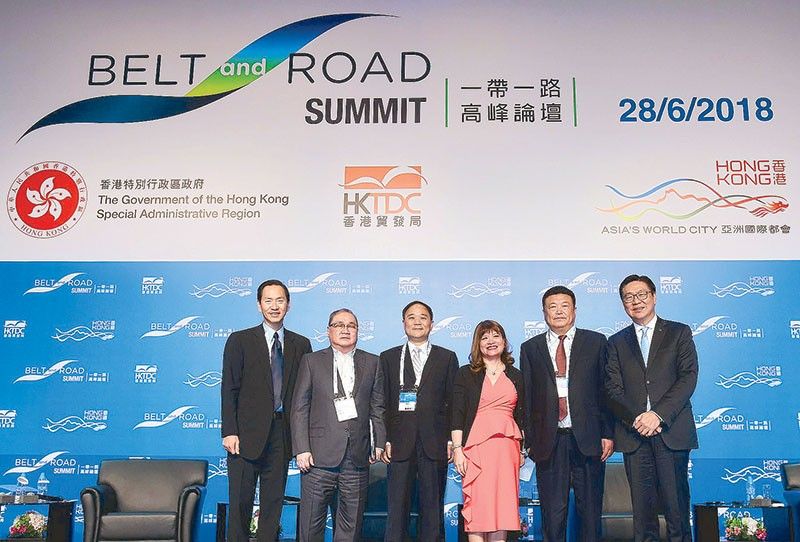 (From left) Panel chair and Asia Financial Holdings Limited president Bernard Charnwut Chan, Metro Pacific Investments Corp. chairman Manuel V. Pangilinan, All-China Federation of Industry and Commerce vice chairman and Zhejiang Geely Holding Group chairman Li Shufu, Indonesian Chamber of Commerce and Industry vice chairperson and Sintesa Group CEO Shinta Widjaja Kamdani, China Communications Construction Group chairman Liu Qitao and MTR Corp. Limited chairman Prof. Frederick Ma Si-hang.
In history, we have learned of certain routes or trade paths that crisscrossed each other over land throughout Europe and Asia, and later on over sea.
Routes over land eventually became known, in the 19th century, as Silk Roads, while routes over both land and sea made up what was eventually known as Silk Routes. The term Silk Road and Silk Route was attributed to Baron Ferdinand von Richthofen, a German traveler and scientist, who was describing ancient trading routes in his writings. These routes, of course, allowed commerce and enhanced cultural exchange, but also facilitated domination.
These ancient routes came about primarily because of trade with China.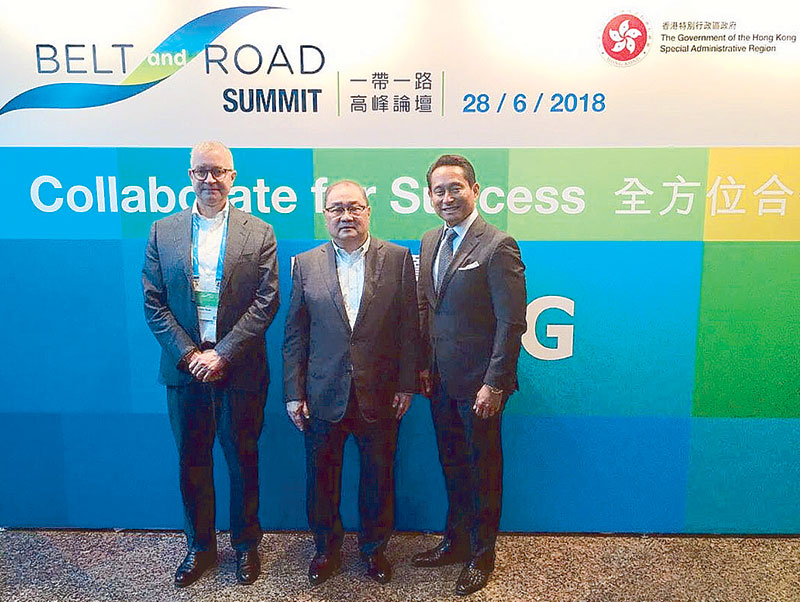 With First Pacific Company Ltd. group chief investor relations and sustainability officer and group corporate communications EVP John Ryan and Manuel V. Pangilinan.
It is these routes that China wishes to retrace and revive with its Belt and Road Initiative (BRI), what President Xi Jinping calls "the project of the century."
Also known as the Silk Road Economic Belt and the 21st-Century Maritime Silk Road, it was introduced by President Xi Jinping in visits to Central and Southeast Asia.
In the same year, Chinese Premier Li Keqiang emphasized the need to build the BRI as more oriented towards ASEAN.
According to the State Council of the People's Republic of China, accelerating the building of the BRI can "help promote the economic prosperity of the countries along the Belt and Road and regional economic cooperation, strengthen exchanges and mutual learning between different civilizations, and promote world peace and development."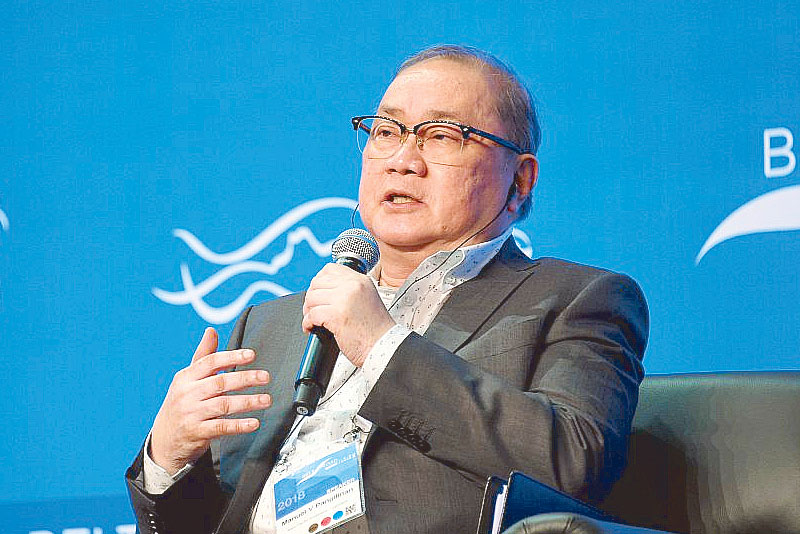 Manuel V. Pangilinan.
This year, a Belt and Road Summit was held in Hong Kong as organized by the government of the Hong Kong Special Administrative Region and the Hong Kong Trade Development Council.
It sought to bring together senior government officials, representatives of international institutions, business leaders and industry experts from countries along and beyond the Belt and Road to exchange views on multilateral cooperation and explore new business opportunities arising from the BRI.
First Pacific Company Limited managing director and CEO Manuel V. Pangilinan was invited in his capacity as chairman of the board of Metro Pacific Investments Corp.
First Pacific has extensive reach across Southeast Asia with investments in public utilities like telecommunications, water, power, and infrastructure, as well as in natural resources, food and agriculture, media and broadcasting, and hospital and medical care.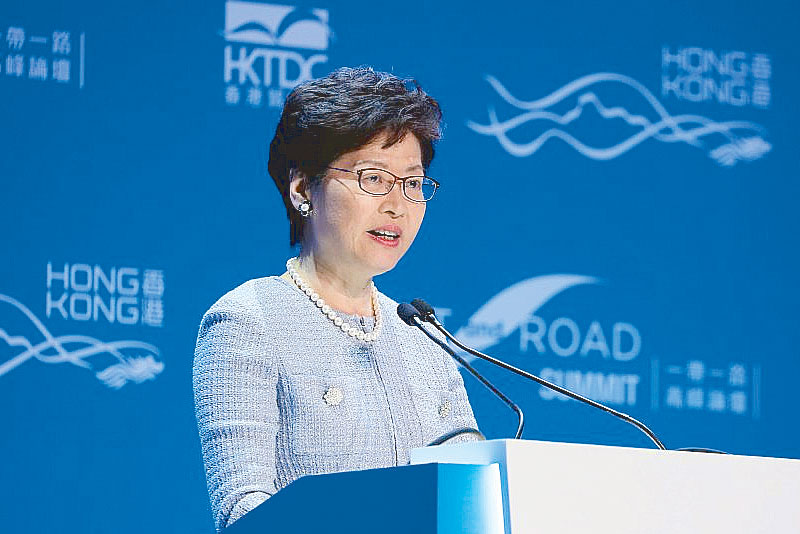 Hong Kong Special Administrative Region chief executive Carrie Lam.
MVP was invited as one of the speakers in the panel discussion on Action through Collaboration: Case Studies on Signature Belt and Road Projects.
Other members of the panel discussion included Liu Qitao, chairman of the China Communications Construction Group; Li Shufu, vice chairman of the All-China Federation of Industry and Commerce, and chairman of the Zhejiang Geely Holdings Group; Prof. Frederick Ma Si-hang, chairman of MTR Corp. Limited; and Shinta Widjaja Kamdani, vice chairperson of the Indonesian Chamber of Commerce and Industry, and CEO of the Sintesa Group.
MVP was the only Filipino invited to speak at this event.
Everything about the BRI is about collaboration, especially with China.
The Philippines is one of the countries found along the Belt and Road.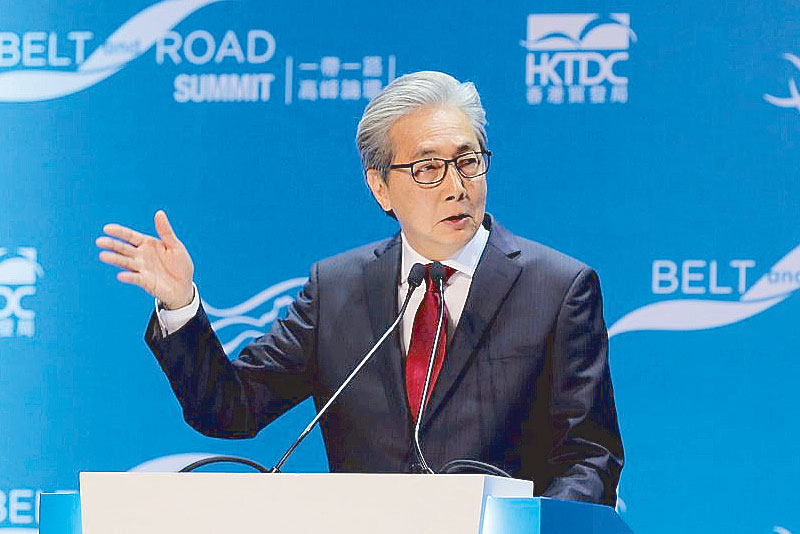 Thailand Deputy Prime Minister Dr. Somkid Jatusripitak.
If we can replicate portions of what so far had been accomplished in the BRI, it would be a resounding success; if done with the help of China, that would contribute tremendously to the success of BRI in the country.
In its quest for a more independent foreign policy, relations with China improved under the Duterte administration
Mutual cooperation and assistance between China and the Philippines would go a long way in improving the infrastructure of the country under the current Build, Build, Build program.
All in all, around 5,000 participants from 55 countries and regions attended the Summit, with more than 80 government and business leaders sharing their views on the development of the BRI and on new opportunities in different industries.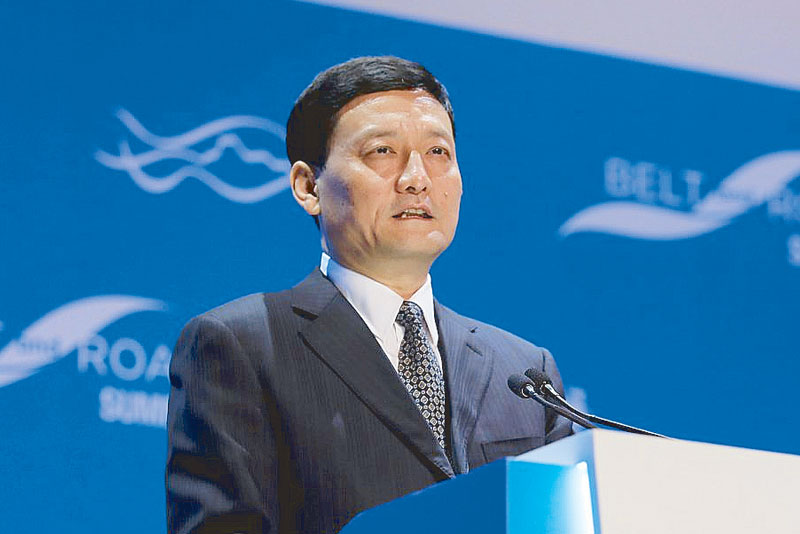 People's Republic of China's State-owned Assets Supervision and Administration Commission of the State Council chairman Xiao Yaqing.
Not all are in agreement. Others worry about the danger of countries falling into the quagmire of a debt trap and the possible security risk of a single route dominated and effectively controlled by China.
Only time can tell whether this revival of the Silk Routes would be a success or not.
With the kind of outlook and discussion that prevailed in the Summit, perhaps that time would come sooner than we think.