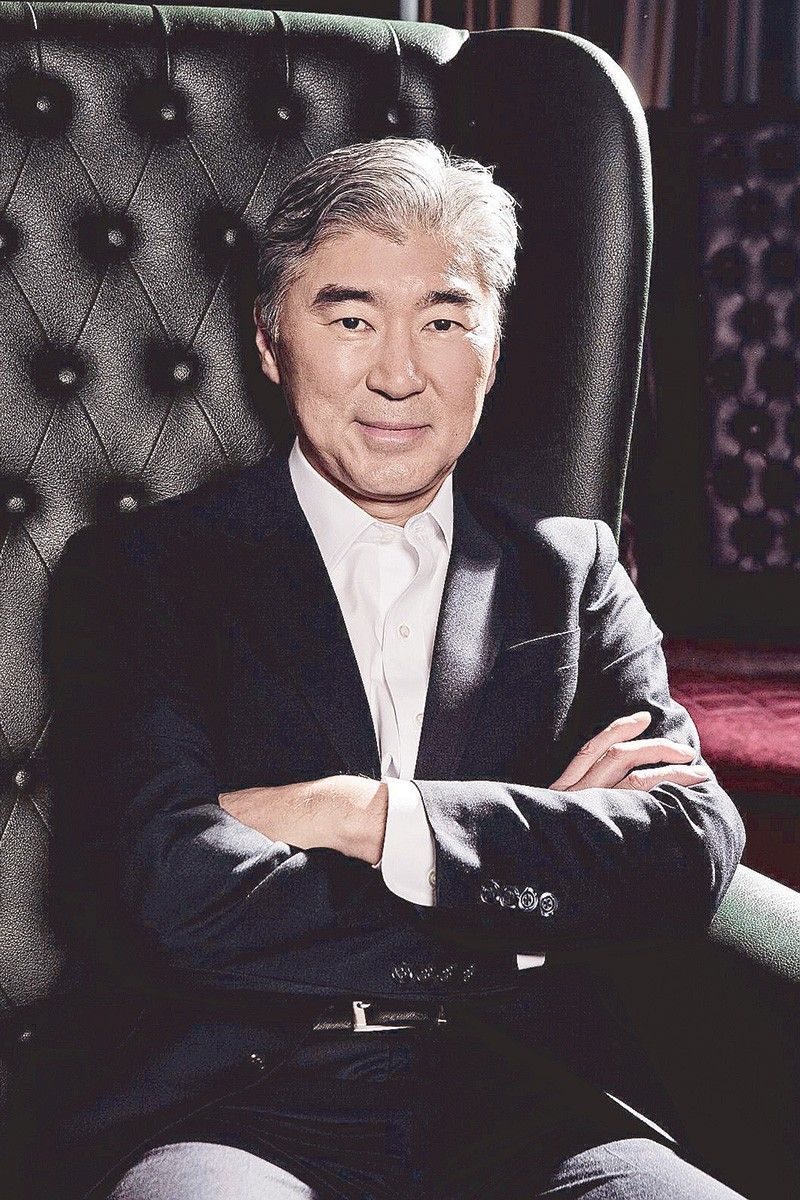 US Ambassador Sung Kim.
Photo by Mau Aguasin courtesy of PEOPLEASIA magazine
US Ambassador Sung Kim: The quintessential diplomat
Tall, handsome and charming, US Ambassador to the Philippines Sung Kim has, unsurprisingly, grown quite popular in the social and diplomatic circles of Manila ever since he arrived in late 2016. But behind this Korean-born diplomat's winning smile is a track record that truly makes him matter.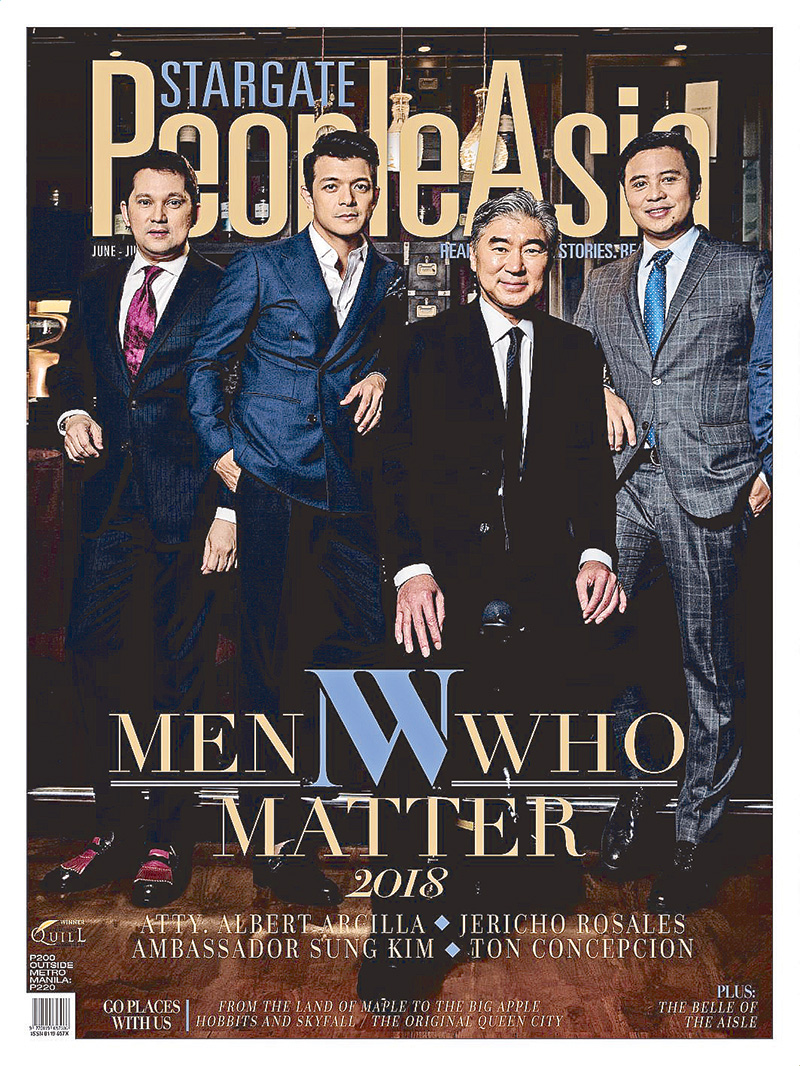 With three decades of government service, two ambassadorships and innumerable diplomatic achievements to his name, Kim tops PeopleAsia's "Men Who Matter" list for 2018. The veteran diplomat was once dubbed by former Secretary of State John Kerry as "the George Clooney of the Foreign Service," for winning "just about every honor that the State Department gives, and many of them he has won more than twice."
In the PeopleAsia June-July 2018 article, Kim chronicles his journey from being born to a diplomat father in South Korea, spending his boyhood in Tokyo, and then moving to Los Angeles as a teenager, where he later worked as a deputy district attorney in the LA County District Attorney's Office. In 1988, however, Kim entered the US Diplomatic Service, starting his career as a vice-consul in Hong Kong. Kim has since been appointed as US Ambassador to South Korea from 2011 to 2014, and to the Philippines in November 2016.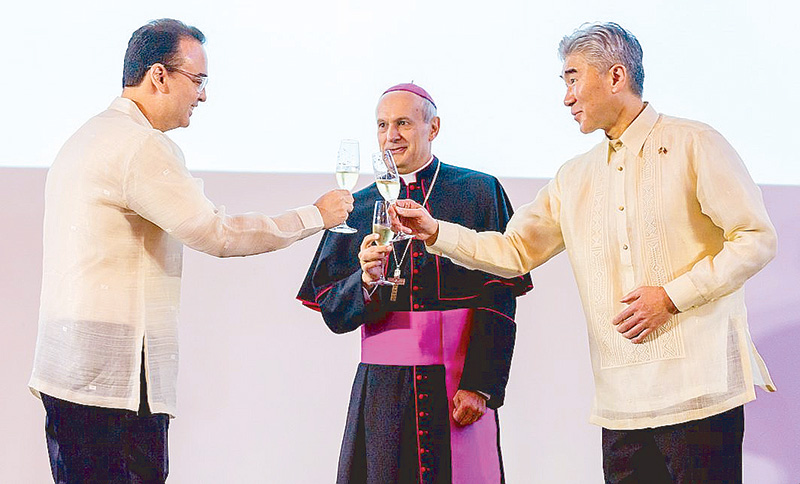 Foreign Affairs Secretary Alan Peter Cayetano, Papal Nuncio Gabriele Giordano Caccia and Ambassador Sung Kim lead the ceremonial toast.
Kim, who was once appointed as Special Representative for North Korea Policy with the rank of ambassador, also played a crucial role in laying the groundwork for the historic June 12 meeting of US President Donald Trump and North Korean leader Kim Jong-Un. "It's very exciting to support preparations for that historic occasion. It's the first time a sitting US President met with a North Korean leader and it's very meaningful," says Kim.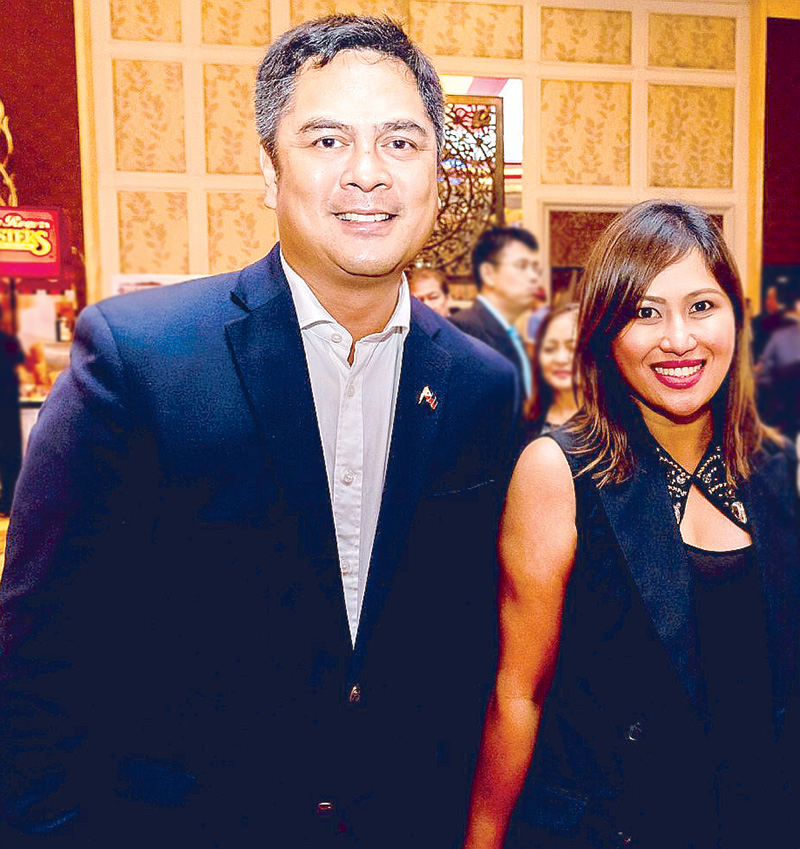 Presidential Communications Operations Office Secretary Martin Andanar and wife Alelee.
In fact, sources say the US envoy to the Philippines has earned "rock star" status in DC because of his role in the US' unprecedented strides in diplomacy with North Korea.
The ambassador also revealed that the Philippines remains to be one of the United States' most valued allies in the world, noting that companies such as Texas Instruments is the largest exporter in the Philippines, while Convergys is the biggest employer in the country today. More than 300,000 expats are also living in the Philippines, while over four million Filipino-Americans are working, living and settling in the US. "We're very proud of the fact that we not only have a long history of alliance, but that we have a very robust economic activity here in the Philippines," he says.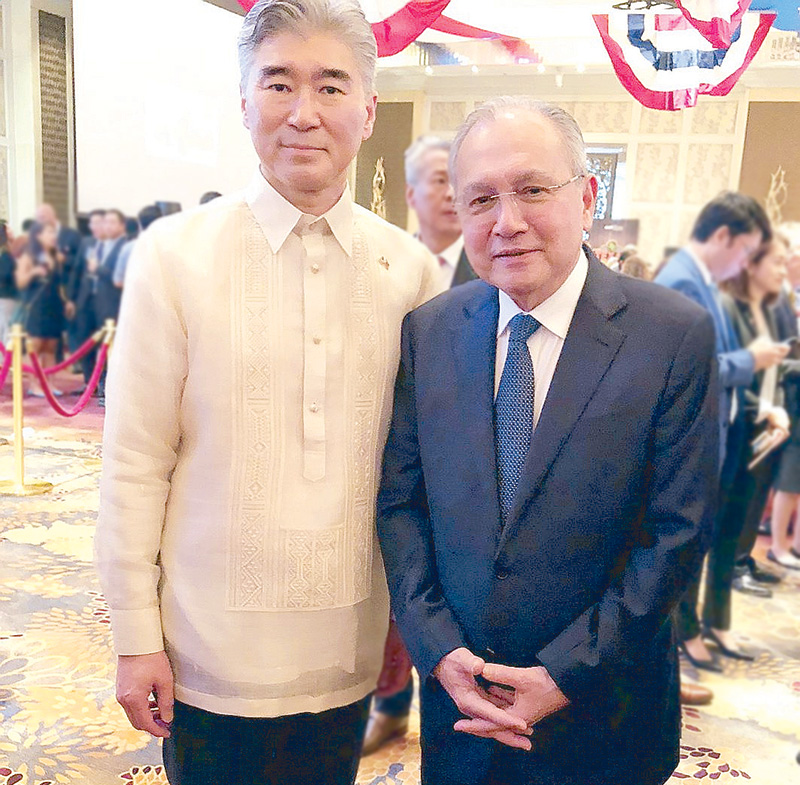 With Philippine Ambassador to the US Babe Romualdez.
Outside of work, Kim is husband to the elegant Jae Eun, and doting father to two daughters. Asked if he's as tough a dad as he is a diplomat, Kim says, "I often joke that dealing with teenage daughters is much harder than North Korea. I mean, the negotiating part."
For the PeopleAsia photo shoot at the Makati Diamond Residences, Ambassador Kim arrived five minutes early, gamely and patiently sat at the grooming table of makeup artist Kleng Oning for some touch-up before the klieg lights of photographer Mau Aguasin. Once before the cameras, the diplomat was very cooperative and afterwards, obliged with a couple of selfies, something he said he has gotten to enjoy in Manila.
***
Looking dapper in a barong Tagalog, Ambassador and Mrs. Kim welcomed close to a thousand guests that filled up the Rizal Ballroom of the Makati Shangri-La on the eve of July 4. "Uncle Sam" and "Lady Liberty" helped him welcome guests, including Philippine government officials, diplomats, top businessmen and members of the American community in the Philippines.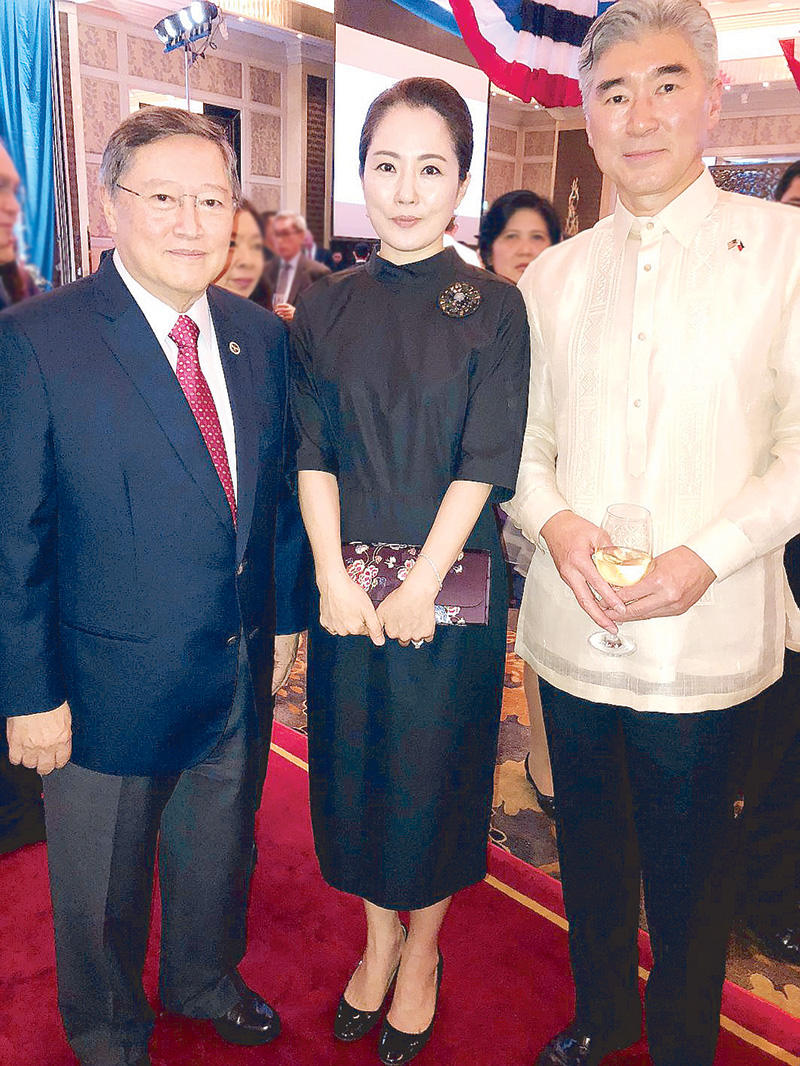 Finance Secretary Sonny Dominguez with Ambassador Sung Kim and wife Jae Eun.
"I have been in the Philippines about a year and a half now. And what I have discovered is that our two countries' relationship is indeed very special. Built on deep personal, economic, and security ties, our partnership and alliance remain incredibly strong. And there is tremendous potential for further growth. In fact, I believe there is no limit to what our two countries can accomplish together," Ambassador Kim told guests at the celebration.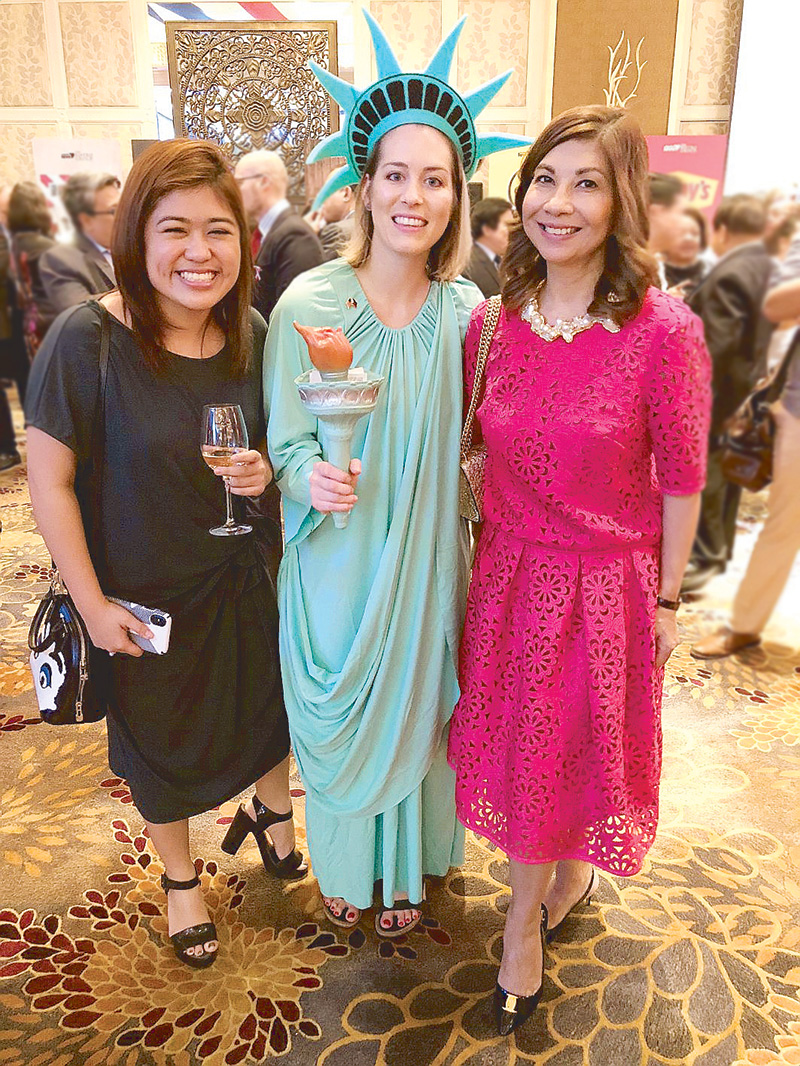 DPWH's Anna Mae Lamentillo, Lady Liberty and the author.
The event was a "must-go" for the movers and shakers of Philippine society that cars formed a beeline toward the Shangri-La driveway.
After the party, guests went home with a copy of PeopleAsia magazine (with Ambassador Kim on the cover as one of the magazine's "Men Who Matter") and American chocolates.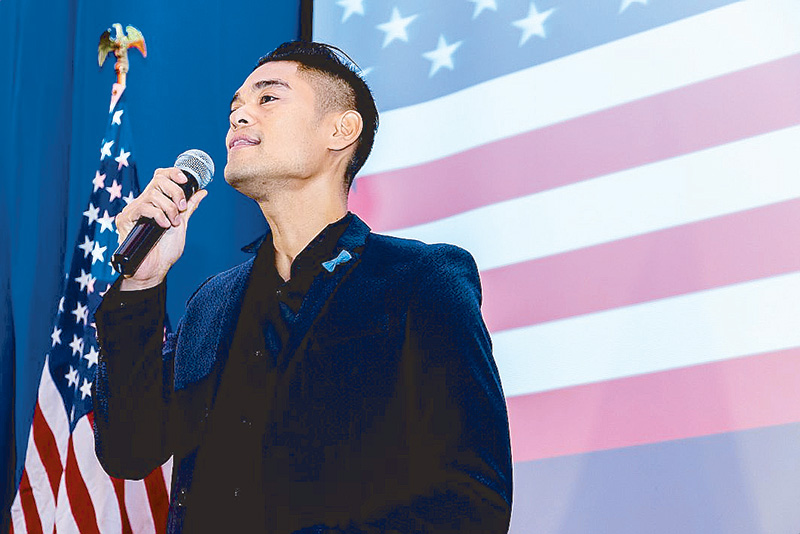 Filipino-American R&B singer Jay R sings the US national anthem.
Come to think of it, the American celebration was held in a ballroom named after the Philippine national hero, Jose Rizal, in a hotel whose name represented the dream of all diplomats: a perfect world, an earthly paradise.
After all, Ambassador Kim himself is diplomacy personified, a top American diplomat who has proven that though you may love the land of your birth, you can also pledge allegiance to the country that has given you the opportunity to make this world a safer, better place to live in — for all.