A tale of two (Japanese) cities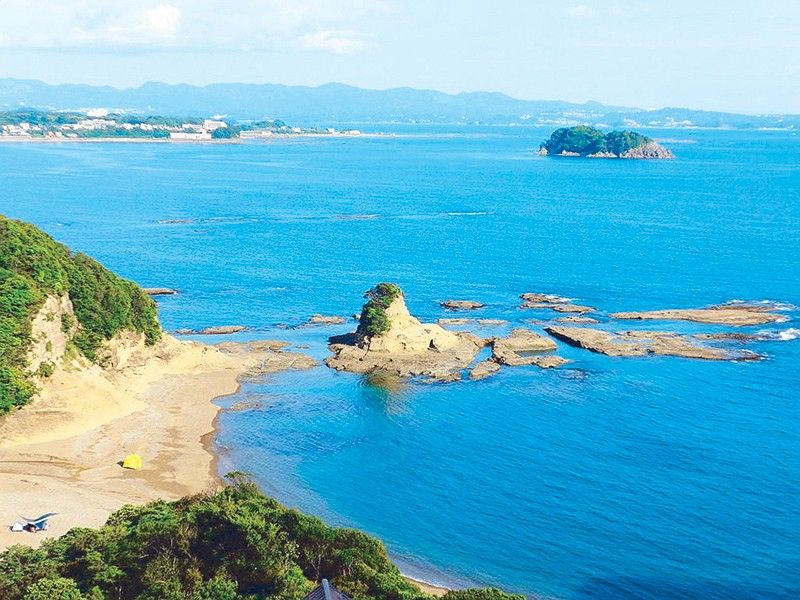 This trip was my third to Osaka but I was still excited since I had many more things to see, including Universal Studios and its much-talked about Harry Potter ride.
I'd been to Osaka's neighbors Miyama and Kyoto but Wakayama was a new destination for me. Carol Cua of Horizon Travel & Tours, a frequent visitor of Japan, organized a two-city tour.
When we arrived at Kansai International Airport via Philippine Airlines, we went straight to dinner. After my fill of all-I-could-eat Japanese beef, our group checked in at Daiwa Royal Hotel D-City Osaka (www.daiwaroyalhotel.jp/higashitemma/), which just opened in May. The Africa-themed hotel, located in a quiet area in Osaka, is clean, has an onsen (Japanese bath) and is quite near the train and subway stations.
Wakayama was the agenda for the day. Wakayama is a prefecture of Japan on the Kii Peninsula in the Kansai region on Honsh? island. Famed travel book Lonely Planet announced that Japan's Kii Peninsula is fifth place in the Best in Travel 2018 Top 10 Regions category.
Kii Peninsula — made up of the prefectures of Wakayama, Mie and Nara as well as the southern part of Osaka Prefecture — is home to the sacred sites and pilgrimage routes of the Kii Mountain Range, a UNESCO World Heritage Site. It includes the Kumano Kodo pilgrimage trail and Mt. Koya, a huge temple settlement considered the center of Shingon Buddhism.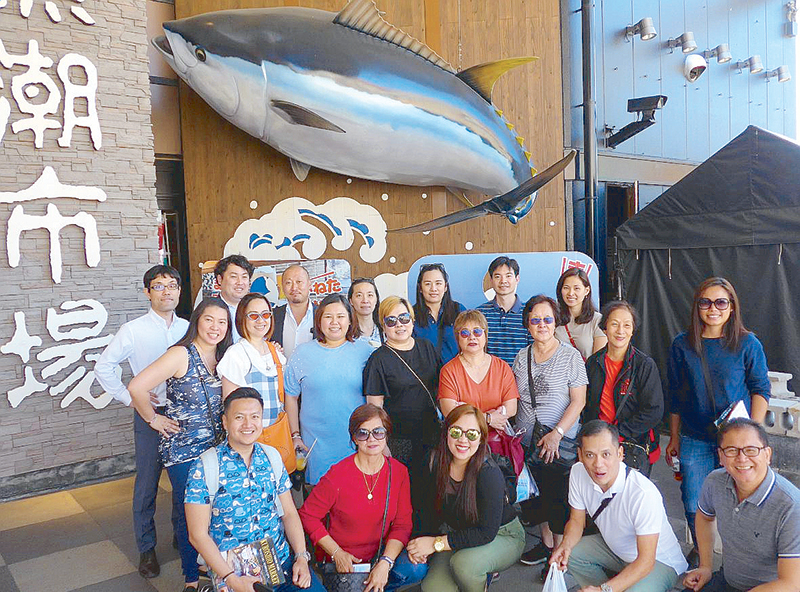 (First row, from left) Circuit Travel & Tours' JC Cailles Lo, Adams Travel Express' Amparo Rosario Mina, Philippine Airlines' Chariz Mavel Granados, Traveltrix Co.'s Albert Bejar II and Air Space Travel's Ed Alea; (second row, from left) Central Travel & Tours' Alnie Sy, Everyday Travel Corp.'s Gene Gan, Caroll Anne Cua, Horizon Travel & Tours' Carolyn Cua, Mulan Travel Service's Lily Ching, Golden World Travel & Tours' Judy Letran, One Mariae Travel's Olivia Espeso and The Poor Traveler's Astrid Alvarez; (third row, from left) Wakayama Marina City's Hiroshi Eguchi, Daiwa Royal Hotel's Ryota Enomoto, E-Tours Japan's Shu Ando, GoTravel Philippines' Katherine Co, I Love Travel & Tours' Cyndee Wong, Filman Travel Center's Johann Tan and MTTS Travel Services' Aline Wong.
Wakayama is also the birthplace of plum wine and soy sauce. We first visited Nakano BC (www.japansake.or.jp/tourism/contents/en/wakayama/1111.html ), a sake and plum wine factory. The factory has a beautiful Japanese garden with swans in its pond. There, we learned how to make our own plum wine (we were told it would be ready in a year), which we all took home as a souvenir.
Soy sauce is said to have originated in Wakayama some 750 years ago. So, we visited Yuasa Soy Sauce Co., where we learned more about making this commodity found all over the world. We even tried several types of its award-winning soy sauce (my favorite was the smoked soy sauce) and even tried the soy sauce soft serve ice cream!
Our group had lunch at Wakayama's Kuroshio Market, which is smaller and cheaper than Tokyo's Tsukiji Market and Osaka's Kuromon Market. A tuna slicing show is scheduled at Kuroshio Market daily and is a highlight for tourists.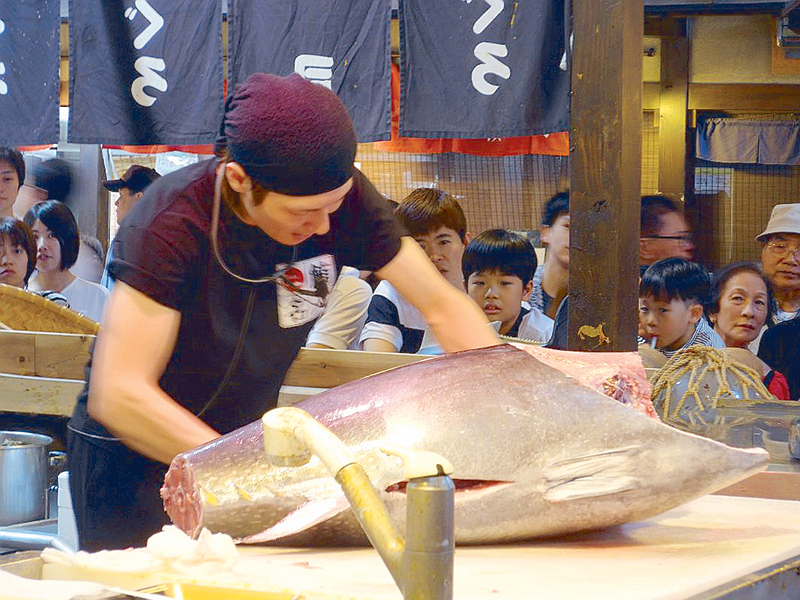 A daily tuna slicing show is scheduled at Kuroshio Market.
Getting to the hotel early was a good idea as we checked in to Kishu Minabe Royal Hotel (www.daiwaresort.jp/en/minabe/index.html/) and had time to watch Wakayama's famed sunset and use both the indoor and outdoor onsen facilities in the hotel. We all wore our yukata (light cotton kimono) for a lavish dinner prepared by the hotel that included lobster sashimi and about eight courses of the finest seafood caught in the coastline of Wakayama.
The next day, we dropped by Rinku Premium Outlets, which was on the way to Osaka. These outlets have shops such as Gap, Coach, Dolce & Gabbana, Kate Spade, Banana Republic and much more.
Then, we headed to Osaka's famous Kuromon Market for lunch. I have always enjoyed shopping and eating in this market where I had my fill of sushi, sashimi, grilled seafood and Japanese beef. We took a 20-minute Osaka Water Bus cruise, a different way to see Osaka. One can board from the Osaka Castle and get off near Shinsaibashi, a great place to shop. This is also next to Dotonbori where there are tons of restaurants as well as the 24-hour store Don Quijote — a favorite among Filipinos where one can buy almost anything.
Finally, it was time for my first visit to Universal Studios (www.usj.co.jp/e/). We went straight to the Harry Potter ride where the wait time could sometimes be over two hours. It was a magical simulated 4D ride (yes, there are parts where one can get sprayed with water), which has improved since the 3D glasses worn until early this year are no longer necessary. It was easily the best simulated ride I have ever experienced.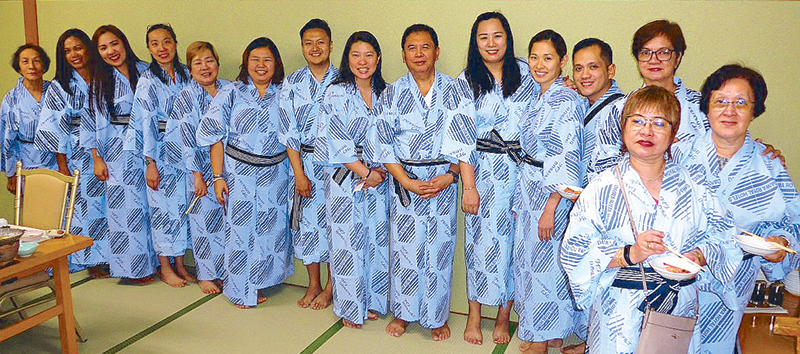 Turning Japanese. (From left) Olivia Espeso, Astrid Alvarez, Chariz Mavel Granados, Katherine Co, Carolyn Cua, Caroll Anne Cua, JC Cailles Lo, Alnie Sy, Ed Alea, Cyndee Wong, Aline Wong, Albert Bejar II, Amparo Rosario Mina, Lily Ching and Judy Letran.
We then went to the second most popular attraction in the theme park — the Despicable Me Minion Mayhem. This 4D simulated ride was anti-climactic after the Harry Potter experience -— so bear in mind that Harry Potter should be done last!
Other movie-themed attractions included Jaws, Backdraft, Spiderman and Jurassic Park that now features one of the scariest rides I have ever seen — The Flying Dinosaur. Here, riders are suspended on the prone position where the railing is behind them, giving them the feel of flying. It is a ride I would never do!
We stayed on until the night parade, during which various floats go around the park showcasing characters and scenes from the movies Harry Potter, Jurassic Park and Despicable Me.
On this trip, we were given a free day. Some went to Kyoto and some, including myself, stayed in Osaka. Whenever I am in Osaka, I never fail to visit my friend Kuniyoshi Okamoto who manages my favorite Matsusaka M chain of restaurants (www.matsusaka-projects.com/english/). The Matsusaka beef Kuniyoshi's restaurants serve is top quality and goes perfectly well with bacon garlic rice. Kuni, as he is fondly called, is very popular with Filipinos and even proudly wears a Filipino flag on his lapel daily. This time, I tried Matsusaka M's sukiyaki place and again, I walked out of it very satisfied. You must try his restaurants when in Osaka!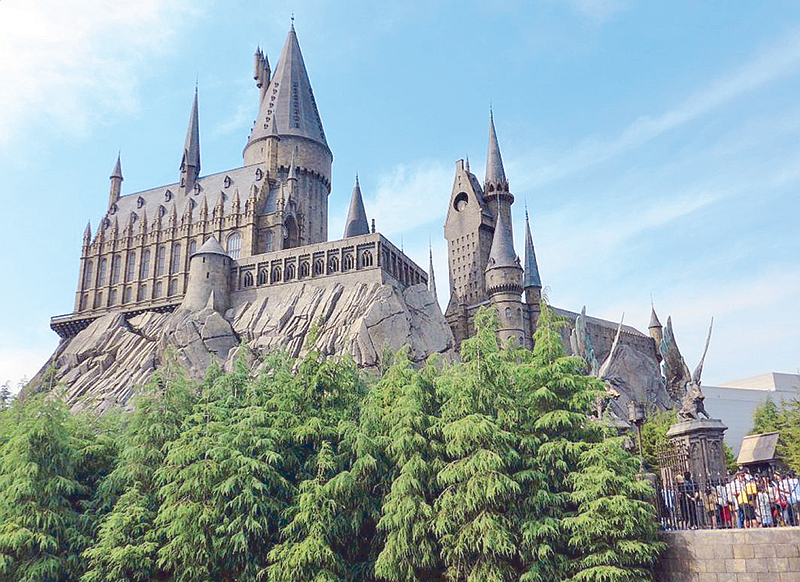 Hogwarts School of Witchcraft and Wizardry at Universal Studios Osaka.
It was a short but very memorable trip to two wonderful cities of Osaka and Wakayama in Japan. I have been reading up on Wakayama and there is so much more to do and see in this undiscovered part of Japan. I'm sure I'll be back in Japan sooner than I know.
(Horizon Travel & Tours main branch is located at 490 Potenciana Mansion, Sta. Monica St., Ermita, Manila. For inquiries, call 521-2586 and 0998-8577017 or e-mail info_main@horizontravel.ph. Its Binondo branch is located at 345 San Vicente cor. T. Pinpin St., Binondo, Manila. For inquiries, call 310-2308 to 09 and 0917-8198628 or e-mail info_binondo@horizontravel.ph.)
(Follow me on Instagram @pepperteehankee.)