Closing the 'gap' in PGH
The yawning gap between rich and poor in the Philippines is felt most acutely in healthcare, where the latter feel the inequity of life. Philippine General Hospital, a teaching hospital where most of the country's poor flock to for medical care, boasts world-class doctors. And yet its cramped free wards and deteriorating buildings need the ICU as well.
For instance, since most of PGH's patients are the poorest of the poor, some travelling from outside Metro Manila, their companions sleep either under their beds or on sleeping mats laid out on the sidewalks of Taft Avenue. They would rather sleep on a carton mat on the street than spend for their fare to the province, only to return the next day to check on their loved ones. In the Philippines, especially when the patient is a child, one companion is never enough for a 24-hour shift. Especially when the patient is in the ICU.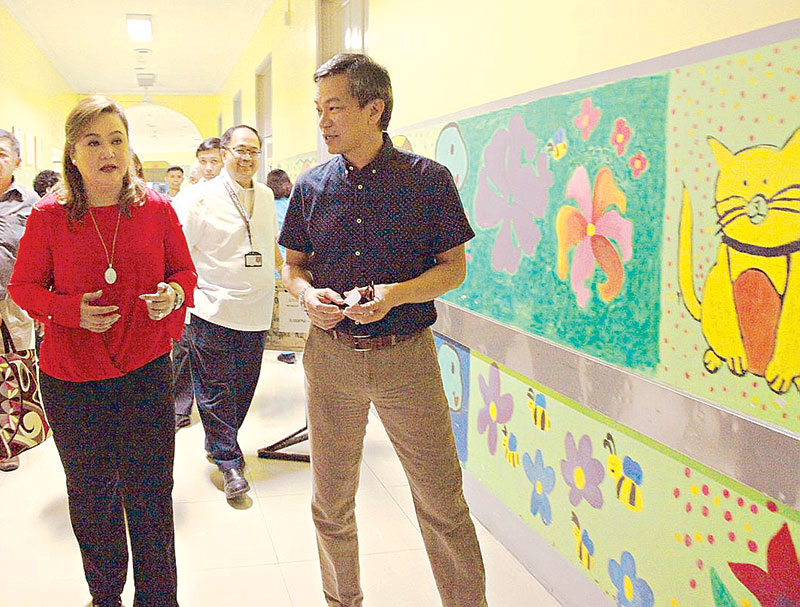 Alice Eduardo with Dr. Gerardo Legaspi at the children's ward of PGH. Photo by Bening Batuigas
On an average year, about 600,000 patients pass through the hospital's halls, "the poorest of the poor," according to its director, Dr. Gerardo "Gap" Legaspi, who was appointed in 2016. "I know of several doctors in PGH who reach into their own pockets to help defray the costs of medicines for their poor patients, realizing that their skills must be complemented by medicine — and compassion."
However, even if doctors reach deep into their pockets to help their patients buy medicines — and food — they cannot do much about the hospital's physical surroundings. The PGH was built just 11 years after the death of Jose Rizal. It celebrated its centennial in 2007, 100 years since the US government passed a law establishing it. According to its published history, the hospital has seen the worst of tropical epidemics during its early existence and the worst of the war in the 1940s. It is one of the very few Philippine hospitals that remained open all throughout the war. At present, the hospital has a bed capacity of 1,500 and around 4,000 employees.
The PGH has survived the war, but not the ravages of time and the poverty afflicting most of the nation.
* * *
Construction magnate Alice Eduardo attained success by going into a field that not many women ventured into. By dint of hard work, a savvy business acumen, and a methodical mind that envisioned projects even before they were on the drawing board, she built virtually all the foundations of the Entertainment City, several power plants, bridges and flyovers, earning the moniker "Woman of Steel."
She feels her success was given to her so she can share its fruits. "Every day, I count my blessings and I try to make my blessings count."
Fr. Rocky Evangelista, whose Tuloy Foundation is supported by Alice, once wrote the latter: "One of the greatest gifts the Lord bestows on a person is the sense of gratitude to Him when that person finds joy and fulfillment in sharing time, talent and treasure to the less fortunate, especially poor and deprived children...without expecting anything in return. I feel God has given you this gift and I pray you hold on to it."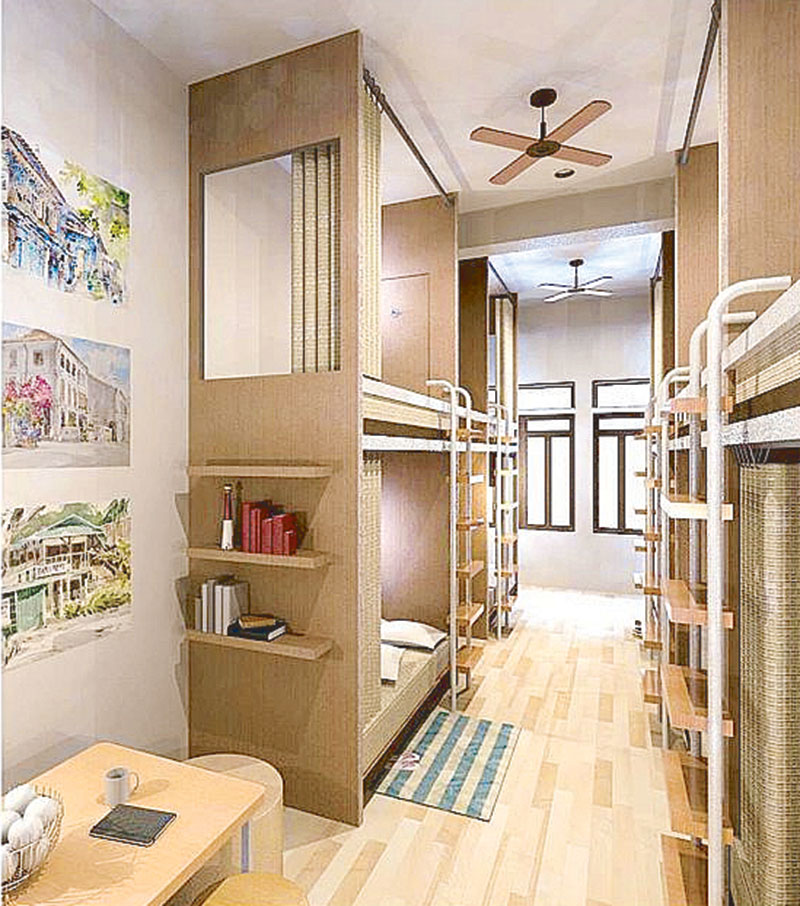 Proposed dorm renovation in the former nurses' home.
Alice doesn't trumpet her charities, but she consented to sharing the story of her PGH donation (she earlier donated an air-conditioned ward for children with cancer, and according to Gap Legaspi, this has reduced deaths by 70 percent since the sick children do not have to stay in the same ward with other patients) because she learned from Gap that it has spawned many other similar donations. Gap told Alice that her eight-figure donation will go to the construction of a patients' relatives dormitory. It will be housed in the former nurses' home within the PGH compound, which was turned into a female residents' dorm but was not properly maintained inside and out.
The building, almost as old as PGH itself, boasts high ceilings and a colonial feel.
Gap dug up old photos of the building and the architect of the project will restore its façade to how it looked originally. The rooms in the dorms will be modernized, and will be managed by a professional so that all relatives of charity patients can get a fair chance to lodge there.
According to Gap, a well-built dorm will cost P40 million. "But definitely we will make our charity patients feel privileged."
Gap said studies show that a clean and pleasing environment helps patients heal.
"There is scientific evidence that patients are indeed affected by their surroundings. We should also try to alleviate their feeling of helplessness," Gap says.
* * *
Dr. Gap Legaspi's involvement in the upgrading of PGH was sparked in 2009 when an international intern rotator from Stuttgart, Germany "shadowed" him at the Philippine General Hospital for two months and rotated in the hospital's Emergency Room as well.
"He impressed me as a deeply insightful doctor and I valued his opinion. So, at the end of his rotation I asked him what impressed him the most with his stay in PGH.
"Apologetically, after asking if he could be frank, he told me, 'Life is cheap in PGH.' I was stunned and the even more painful part of it was that it was true!" recalls Gap, who graduated in 1987 from the UP College of Medicine, where he was the outstanding graduate in clinical clerkship.
The German continued to tell Gap that in the ER of PGH, if a patient came in needing intervention and he had no money to buy or pay for what was needed, there was a big chance that patient would die.
"I was never the same since that time," admits Gap, who trained in neurosurgery at the PGH and at the Université Paris-Sud. "I told myself that no amount of neurosurgical prowess and achievement, which was my main goal at that time being someone in the peak of his practice, would solve this situation."
* * *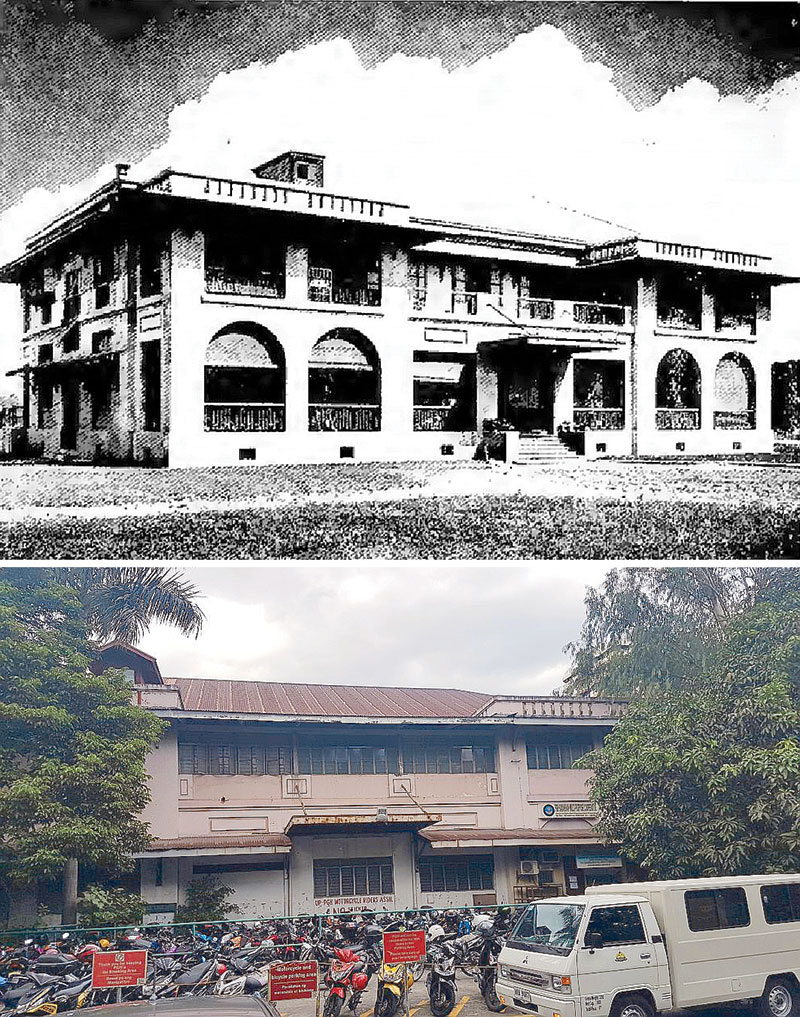 The former nurses' home within the PGH compound (above) was turned into a female residents' dorm (below) but wasn't maintained properly.
Alice met Dr. Gap Legaspi after she visited the children's ward, and she told him she wanted to help PGH even more, "no strings attached." She said she did not want building contracts in exchange for her help and told the neurosurgeon it was up to him to funnel her donation to the right project. Gap chose the patients' relatives dorm as the beneficiary of the donation. After a photo of him and Alice poring over the plans for the dorm was published in this paper, another donor called up to donate to the same project. A lady tycoon is also reportedly going to help in the rehabilitation of all the wards in the PGH compound.
Kindness is indeed infectious.
Alice, who remembers being scolded by a neighbor when she reached out for a guava from his tree from a branch that protruded to her family's property, says she believes God has made her successful so she can share the fruits of her success.
"I am such an ordinary person, but I was given an extraordinary opportunity to help others," she smiles. "I'm taking that opportunity as a blessing."
"I have always been inspired by Churchill who once said, 'We make a living with what we get. We make a life with what we give'," she concludes.
(You may e-mail me at [email protected].)