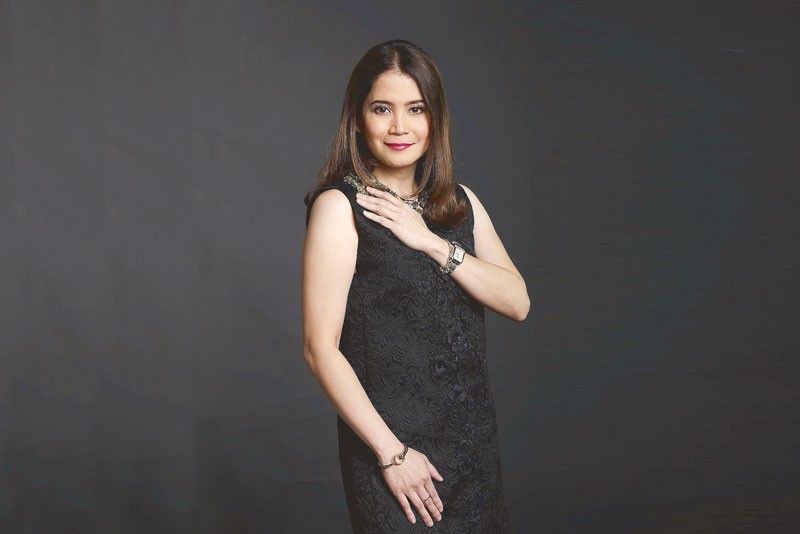 Newly appointed Tourism Secretary Berna Romulo Puyat says, 'My first priority as DOT Secretary would be the marching order of the President, which is to ensure that there is no corruption, and that everything is transparent in the department.'
Photo by Dix Perez courtesy of PeopleAsia magazine
Brainy, beautiful & down-to-earth
An economics professor at the University of the Philippines before she joined government (first as a consultant at the Presidential Management Staff, then as Undersecretary at the Department of Agriculture), Bernadette Romulo Puyat has always wanted to reach out to people — whether impressionable students, executives or farmers struggling to make a living.
The newly appointed Tourism Secretary, Berna feels her post as Agriculture Undersecretary prepared her for the world as it gave her a chance to see the people on the ground — literally.
"It's about shaking the hands that feed you, and understanding where your food comes from. When you see the love and passion they put into growing your food, you learn to be a more conscious, responsible consumer," she once told PeopleAsia magazine, which named her one of its "Women of Style and Substance" in 2017.
Widowed in 2010, and a mother of two, this third daughter of former senator and Foreign Affairs secretary Alberto Romulo and his wife Lovely felt down-to-earth at the DA.
"What I love about my job is that I've come to gain a deeper appreciation of my country — its beauty, its bounty, its diversity. We are so rich in resources; and our people are so warm and hardworking. I love that I'm part of a bigger community and that I'm given a role that allows me to bring all that I'm passionate about to the forefront. The time is ripe, and we're ready to make more connections and bridge the opportunities," she said then.
At the time, even her personal circumstances helped her connect with people she met.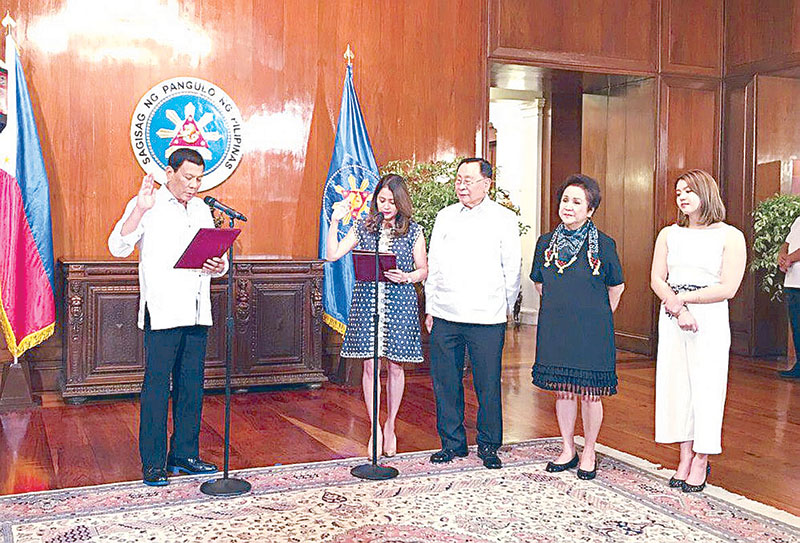 President Rodrigo Duterte swears in Tourism Secretary Berna Romulo Puyat. Also in photo are Berna's parents Alberto and Lovely Romulo and daughter Maia Puyat.
"At that time, around 2010, my husband Dave passed away. We had been together for 16 years," she shared with PeopleAsia. "The irony of it all was when I first started talking to female farmers, and when they found out I was a widow, all of a sudden, they could relate to me."
"They knew that I could understand what they're going through, as mothers who work to feed their children and put their kids in school. I couldn't even believe that the worst thing that happened in my life would help me connect with the farmers."
So when President Duterte offered her the job of Tourism Secretary, Berna, an alumna of both UP and the Assumption Convent (she and Sen. Grace Poe belong to the same high school batch), believed it was more than just an honor and a privilege.
"I think my experience as a DA Undersecretary for close to 12 years was a great factor in accepting the post. During my farm visits, I was able to travel all over the country and see how beautiful our country is. I know I can do so much in my new post given the existing programs and potential tourism opportunities that our country has to offer."
***
In the following interview, we get to know more about the beautiful and brainy Berna:
Joanne Rae Ramirez (JRR): What are your immediate plans for the DOT?
Berna Romulo Puyat (BRP): My first priority as DOT Secretary would be the marching order of the President, which is to ensure that there is no corruption, and that everything is transparent in the department. Everything will go through the proper process.
Second would be the promotion of farm tourism, which is close to my heart, being an Undersecretary at the Department of Agriculture prior to my new appointment. We have been working with the DOT for a few years already for Madrid Fusion Manila, wherein we promote various food and ingredients from all over the country, and the DA and DOT have an existing partnership on farm tourism.
Third would be the review of our existing tourism programs/strategies and see how we can improve them.

XBerna feels her post as Agriculture Undersecretary prepared her for the world as it gave her a chance to see the people on the ground. Photos from Berna Romulo Puyat's Facebook page
JRR: What difference do you hope to make for the country?
BRP: I hope to be able to continue contributing to rural development through the promotion of farm tourism, as well as our regional cuisine and ingredients. With the growing popularity of Filipino food worldwide, I think it is an opportune time for us to promote our local food. Aside from increasing tourist arrivals, I hope that the promotion of farm tourism through experiential activities (planting/harvesting their own food, etc.) will increase awareness on the contributions of our farmers and fisher folk in feeding the nation, and hopefully spur economic activities in the countryside.
JRR: What are the personal qualities you bring to your new job?
BRP: I believe that my enthusiasm for everything local would be a great advantage to my new job. As DOT Secretary, it is important that you believe in the beauty of the country and its potentials since you are selling the Philippines to the world. I hope to be able to attract more foreign and local tourists to explore our country and influence them to patronize our local sights and products.
JRR: Lastly, but most importantly, what did you learn from your illustrious father and your talented mother that will guide you in your new job and the mission you have in life?
BRP: Live a simple life, treat everyone with respect, and guard your reputation with your life.