Heavenly comfort food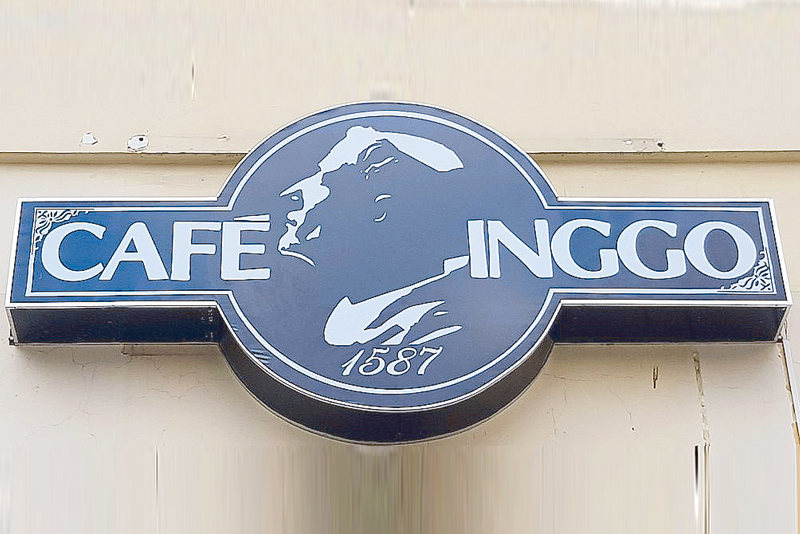 Vic Alcuaz is a multi-specialty man. He is a hospitality headhunter, trainer, consultant, adviser for the Center for Culinary Arts (CCA) and Asian School of Hospitality Arts, independent producer, lifetime member of the Association of Human Resources Managers in the Hospitality Industry, author, and founder of Filipino Hoteliers Worldwide on Facebook and LinkedIn.
Vic also just opened a café inside the Santo Domingo Church compound in Quezon City called Café Inggo 1587.
The Dominican priests wanted a café that would suit the area where it is situated — in a compound with the Santo Domingo Convent and National Shrine of Our Lady of the Rosary. There were several big-name chains that offered to lease the place but they wanted something they could call their own. The priests approached Vic and asked him to open the café for them, and they would not take "no" for an answer.
The café's name "Inggo" is a popular nickname for someone named Domingo and it was in 1587 when the first 15 Dominicans arrived in the Philippines and started their missions in the country. Hence the name Café Inggo 1587.
I was lucky to be invited to the café to taste the food, which I really enjoyed. It was Filipino and Spanish comfort food with no frills. The café's chef Willy Domingo is a well-respected culinary expert in the country and was the sous chef and part of the opening team of Harana restaurant in EDSA Shangri-La Hotel.
The café serves breakfast, lunch and dinner. Some of its bestsellers include Chicken Galantina ala Inggo, a version of the hearty and flavorful fabada, my favorite Pinaasimang lechon kawali and beef stew. Adobo and Bacalao ala Vizcaina are also available.
For appetizer, there is a deli platter with a sampler of fabada, tapa and tocino. Halo-halo and Apple Strudel are popular for dessert but the café will soon offer bibingka and puto bumbong, too. Even the alcoholic brews served there have an input from the Dominican friars!
The café is also a curio place of sorts. There are 27 pen-and-ink sketches of Catholic churches in the Philippines by artist Alex Uy. Two sketches in this collection were churches built by the Dominicans — the St. Ferdinand Cathedral in Ilagan and the San Matias Church in Tumauini, both in the province of Isabela.
There are also 50 century-old books on display and two books in this collection were written by two Dominican saints, St. Thomas Aquinas and St. Catherine of Sienna. Aside from this, over 50 Coca-Cola bottles from Vic's collection are also displayed since he collected Coke bottles from when he was flying with Philippine Airlines since 1975.
The café is quite busy all day long, including during merienda. Do give it a try for comfort food and classics.
(Café Inggo 1587 is open daily from 6 a.m. to 9 p.m. It is located inside the Santo Domingo Church compound at Biak na Bato corner Quezon Avenue, Quezon City. For inquiries and reservations, call 0915-8071017.)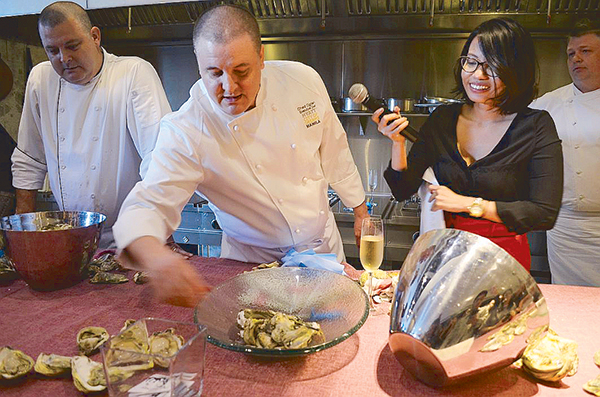 Hyatt City of Dreams Manila F&B director chef Chad Ogden counts the oysters he shucked.
Spotlight on sustainable seafood
New World Makati Hotel executive chef Robert Davis successfully defended his title as "Master Oyster Shucker" for third year in row in the hotel's annual oyster shucking competition. The annual activity is held every year, together with Meliomar Inc., in support of the Sustainable Seafood Movement.
In a friendly competition, chefs from different hotels shucked as many oysters as they could in three minutes. This year's contenders included New World Manila Bay's chef James Williams, S&L Fine Foods' Philip Golding and Hyatt City of Dreams Manila's Chad Ogden.
Meliomar Inc. general manager Christian Schmidradner also gave an informative talk about how the world's seafood is diminishing at an alarming rate and why sustainably caught seafood is the solution.
Guests enjoyed not only freshly shucked oysters from Aklan but other sustainable seafood as well. They also had a chance to win gift certificates for lunch or dinner at the New World Hotel by guessing the total weight of the shucked oysters by the four chefs and posting the best Instagram photo of the event.
New World Makati Hotel highlights sustainably and ethically-farmed seafood in its Café 1228 and Jasmine restaurant for the whole month of March.
(For more information and reservations, call 811-6888. Visit www.facebook.com/NewWorldMakatiHotel and @newworldmakati on Twitter and Instagram.)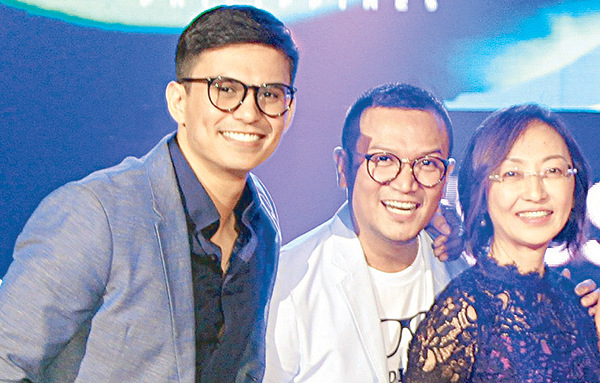 Tom Rodriguez, Dr. Kyle Galias and Dr. Emelita Roleda.
30 years & beyond
Essilor, one of the world's leading ophthalmic optics company (and the brand of lenses I use for all my eyeglasses), celebrated its 30th year with a party at Valkyrie in BGC.
Present at the event to welcome partners and friends were Essilor Philippines general manager Dr. Emelita Roleda, regional vice president for ASEAN and Korea Kathy Park, general manager for commercial Kyle Galias and marketing manager Jinky Navo.
Celebrity endorsers Piolo Pascual and Tom Rodriguez joined the Essilor team during the champagne toast. Piolo serenaded guests with Can't Take my Eyes off You, a very apt song for the event.
Some of the company's flagship brands include Varilux, Crizal, Xperio and OptifogTM.
(For more information, visit www.essilor.com.ph. and @EssilorPH on Facebook, Twitter and Instagram.)
(Follow me on Instagram @pepperteehankee.)