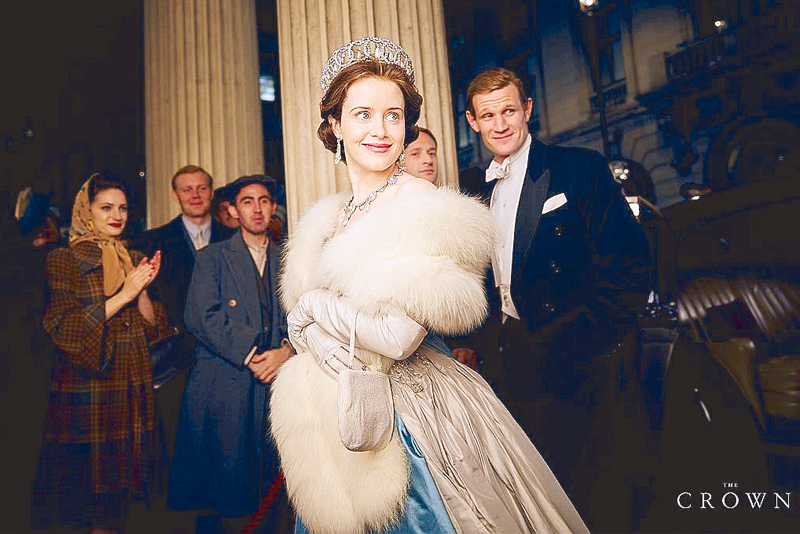 Claire Foy as Queen Elizabeth II in The Crown. Photo from www.facebook.com/TheCrownNetflix
PEOPLE
-
Joanne Rae M. Ramirez
(The Philippine Star) - January 18, 2018 - 12:00am
Last week was as British as I could get — watching The Crown on Netflix daily and completing two seasons; meeting British Ambassador Daniel Pruce at a reception he hosted for the media; and then capping my week by having a selfie with Brooklyn Beckham, eldest son of British A-listers David and Victoria, and the newest Bench model.
All in a week. Brilliant.
My son Chino gifted me with a subscription to Netflix last Christmas, and I devoured The Crown like I would scones with clotted cream.
The Crown, as Deputy British Ambassador to the Philippines Nigel Boud told me, is "well researched." Writer Peter Morgan tells the story of the British Crown, with Queen Elizabeth II its centerpiece, on the cornerstone of facts but with the curlicues, twists and turns of a telenovela. He draws vivid pictures of all the main characters, delves into their childhood, their traumas, their joys and triumphs so that one gets a clear picture of each character, even with its warts, its moles. One sees where each character draws inspiration, courage, rebelliousness, happiness and strength from. As they say in the Philippines, "may pinanghuhugutan." Loosely translated, it means each character has a deep well from which to draw his character from.
Queen Elizabeth II, as portrayed in The Crown (by Claire Foy of the most expressive blue eyes), ate duty for breakfast the minute her father King George VI ascended into the British throne. Duty was her constant companion since then — something her father knew from the start that's why he wept, instead of leapt, upon learning he would inherit the crown from his brother King Edward VIII (who gave up the crown for love). He wept for the inevitable burdens his daughters Elizabeth and Margaret would bear as the next heir and spare to the throne.
Anyway, if there is anything or anyone other than her husband Prince Philip that Elizabeth was more faithful to since her coronation, it was to The Crown. She has had some 12 prime ministers (including Sir Winston Churchill and Margaret Thatcher) since her coronation, and she has outlived some of them.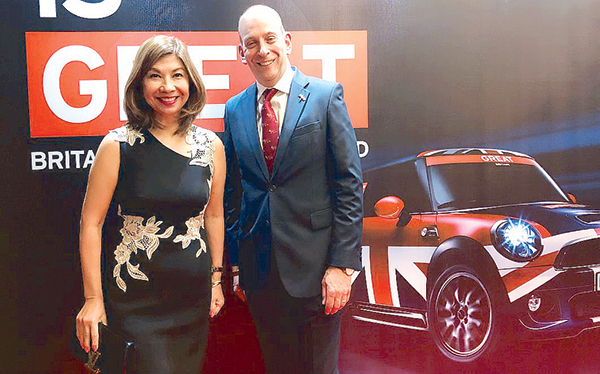 The author with British Ambassador Daniel Pruce.
For all the responsibilities that she has had since becoming Queen, Elizabeth II's life is hardly bloody enviable. As the world's longest reigning monarch, she has lived through many transitions, many eras, many mindsets. From World War II to the War over the Falklands to Afghanistan. From rejecting an American divorcee as a suitable member of the royal family in the '50s to accepting one now with much fondness. Times have changed as erratically as the seasons in the time of climate change, and Elizabeth has had to stay the course.
"Stability," says the Deputy British Ambassador, "is what the Queen has given her people."
Prime Ministers come and go, but with Queen Elizabeth's familiar face on stamps and Embassy halls, one gets the feeling that she is the majority of the Brits' comfort zone, the granny they turn to on Christmas Day to assure them that all is really bloody fine, and even bloody boring.
***
Elizabeth's fidelity to duty was tested in the case of her sister, Princess Margaret. In the series, their father King George made the sisters promise to look out for each other the minute he learned he was going to be king. As is public knowledge, Princess Margaret fell in love with a divorced man, Capt. Peter Townsend. And though ate (big sister) Elizabeth gave her word that bunso (youngest sibling) could marry after a grace period, ate was contradicted by officials of the Church of England. It was too soon, they said, after the divorce and abdication of King Edward. Margaret's marriage to a divorced man would rock The Crown.
And Elizabeth, who was just the age of today's millennial, had this heartbreaking dilemma: whether to honor her promise to her Papa to take care of her little sister, or to honor her oath as Queen.
There was one instance in the Netflix series (which has so far seen two seasons) where she bowed down to the wishes of a member of the family: to her husband Prince Philip, when it came to the choice of school for their first born Charles.
Because of the hugot from his childhood, Philip insisted on Gordonstoun, which was founded by German educator Kurt Hahn. It was depicted as pretty stringent, raising boys to be tough as nails (their early morning ritual as shown in The Crown included running barefoot in winter weather to bathe in icy cold water in a bath house meters away from their dorm). It got to a point where the Queen had to beg her husband to make Charles transfer to a different boarding school, Eton, as the boy reportedly described Gordonstoun as "hell." But Philip stood his ground, and history shows that he prevailed over his wife on this one. History also shows that when it was his turn to decide on where to send his own boys William and Harry to school, Charles chose Eton.
(I guess that whether you're a crowned head or a commoner, choosing your sons' school is very much a man thing. In my own family, my husband decreed that our son go to his alma mater, the Ateneo de Manila, even if the boy had to rise at dawn to catch the schoolbus from Makati to Quezon City. But we have no regrets.)
The characterization of Prince Philip is the most riveting. The man and the actor who portrays him (Matt Smith) have the most challenging of roles. How to be husband to the Queen, before which all her subjects bow, and behind whom one must walk? How to hold on to their reported agreement that in their marriage, they would be equals?
Philip is a Greek prince who has lived in exile since he was a baby. He knew what he was getting into when he married Princess Elizabeth in 1947 ("You are my job") and despite the waves that have buffeted The Crown, their life and marriage, they have been together for over 70 years now.
On May 19, Queen Elizabeth and Prince Philip will witness their grandson Prince Harry take a biracial American divorcee Meghan Markle as his bride, and they seem very happy to do so.
Times have changed. By changing with the times but remaining true to the core values of The Crown, Queen Elizabeth has endured. And though the lines between fact and fiction may sometimes blur in the Netflix series, The Crown seems to have received a nod from the Queen, who reportedly watches it with her youngest son Prince Edward.
Every queen of the home who also happens to have a career should watch The Crown. Some of Queen Elizabeth's struggles are ours, too, I kid thee not. Like us, the Queen, too, took maternity leaves.
Long live the queens of this world, and long live those who treat their wives and mothers like one.