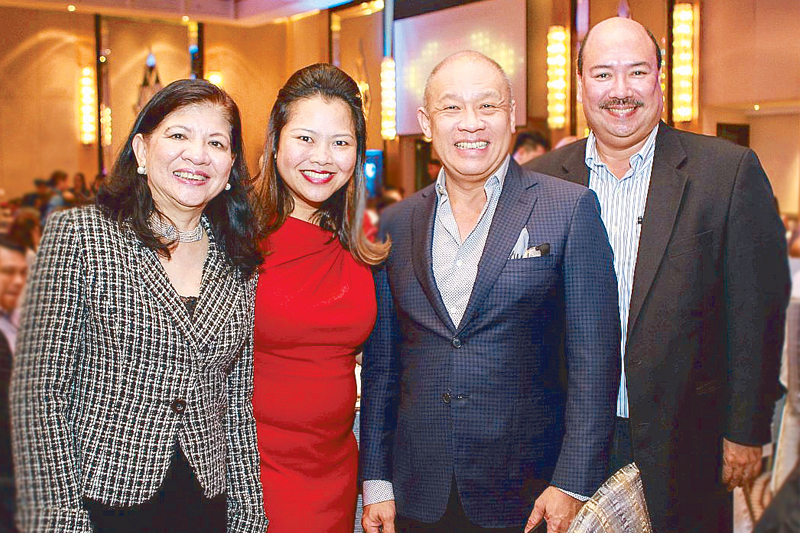 (From left) Ayala Rewards Circle (ARC) president and GM Maria Angelica Rapadas, COO Patricia Manhit, Globe Telecom president and CEO Ernest Cu and ARC vice chairman John Philip Orbeta.
Ayala Group says 'thank you' with sensational dinner
John Philip Orbeta, vice chairman of the Ayala Rewards Circle (ARC), recalls one holiday he and his wife Yvette spent with her side of the family, the Pardos, in Singapore. Faced with a dizzying array of options for dinner, during which he wanted to impress his in-laws, he called up the ARC concierge for suggestions.
"Sir, why not dinner on a boat on the Singapore River as you watch the fireworks?" was the suggestion. "We can arrange everything for you." Suffice it to say the family was impressed with JP's good taste, and JP's problem now is how to top that memorable dinner, thanks to the alert and creative ARC concierge.
Ayala Rewards Circle is the Ayala Group's exclusive recognition and appreciation program for its most valued clients. It is the country's first and only multi-industry appreciation program designed from the ground up to offer a unique customer experience that no other rewards program can lay claim to, with depth of service at its core.
In celebration of its fourth year, ARC held an exclusive event for its most valued members at the Fairmont Makati. The thanksgiving event, dubbed "Le Quattro Sensazioni," or The Four Sensations, was a night to remember as members enjoyed a one-of-a-kind gastronomical and musical event, truly an experience of the senses.
"At ARC, we strive to give our members unique and exclusive customer experiences," said Maria Angelica Rapadas, president and general manager of ARC. "We wanted to show our appreciation to our members, while at the same time continuing to provide the Ayala experience they've come to expect."
The thanksgiving dinner was hosted by ARC so it could personally meet and celebrate with select members deemed most engaged in the program — members who are customers of either three or all four of the Ayala participating companies; members who frequently avail themselves of ARC promos and respond to ARC's communications; and members who participated in ARC's research initiatives.
It was an evening of impeccable entertainment as guests were treated to the music of one of the country's top musical talents. The CompanY, Asia's premier vocal harmony group, ensured that the evening's entertainment was both artistic and intelligent. Their soothing vocal harmonies was a feast for the ears.
The food was a gastronomic delight — a one-off dégustation courtesy of Mirèio in Raffles Makati. It was a sumptuous three-course meal made to elevate the palate.
Mirèio is a Provencal-inspired brasserie dining experience unique to Manila. Pronounced "mee-reyo," the refreshingly new dining destination takes its cue from the rich traditions of the French countryside. Even if you've never visited the South of France, Mirèio's cuisine brings a certain nostalgia of farm house kitchens and seaside cafes.
It was a special night as ARC was also able to bring in several Ayala leaders to personally thank their most valued clients for their loyalty and continued support. A testament to how much ARC and Ayala valued their clients and members.
Rapadas noted that the thanksgiving dinner goes beyond celebrating four years and giving thanks, it is an affirmation of ARC's promise of a premium and enriching customer experience. "While ARC members enjoy discounts and promos, they also enjoy traveling, fine dining, special events, and world-class customer service. We are committed to listening to our members, knowing what they want, and offering them experiences that they will truly enjoy that also tie into their lifestyles," she added. * (You may e-mail me at joanneraeramirez@yahoo.com.)