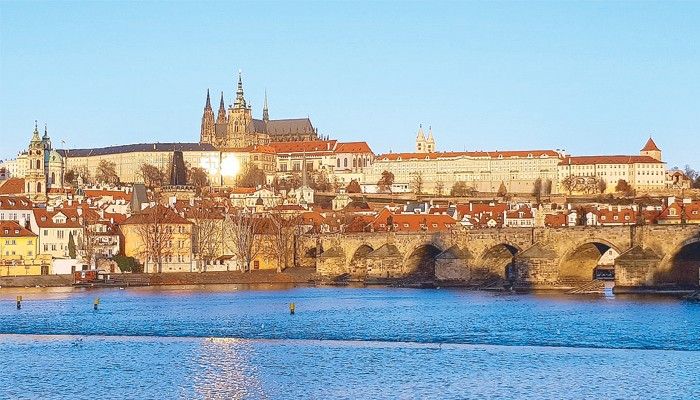 A view of the Prague Castle and the Charles Bridge.
(Conclusion)
After our three glorious days in Poland, our group took a short flight headed to the last leg of our Central Europe journey — Czech Republic. It was 18 years ago when I last visited this country so I was excited to once again experience its sights and sounds.
Upon arrival at the Prague airport, we were immediately transported to Karlovy Vary, also known as Carlsbad, the second most visited spot in the Czech Republic (after Prague). This town boasts imposing colonnades, exclusive spa buildings and a wonderful layout in the heart of a forested valley.
The spa town is the best known part of the West Bohemian Spa Triangle. This is where some of the most prominent figures from the European artistic and cultural circles have indulged in treatments.
Our hotel in Karlovy Vary, The Hotel Imperial, looks like a chateau on a hill. It is famous for its high-standard accommodations and spa treatments. The hotel recently received the Czech Republic Leading Spa Resort prestige award.
Karlovy Vary is a picture-perfect town. People are seen there carrying unique ceramic mugs with built-in straw while going around the area to drink the mineral-rich water from fountains that are found all over town. Water from these fountains varies in temperature.
After our group strolled around town and visited quaint shops, we went to the unique Karlovy Vary Christmas House, a small Christmas village that is open all-year round. Found there were different Christmas décor and displays, and one of the largest teddy bear collections in the world!
Dinner followed at Grandhotel Pupp, which was made even more famous by the James Bond movie Casino Royale. The grand hotel also hosts the Karlovy Vary International Film Festival and boasts a suite where Ludwig Van Beethoven reportedly stayed.
Treasures of Prague
We truly enjoyed Karlovy Vary but after a leisurely stroll around the stunning town, it was time for us to be mesmerized by Prague, around 110 kilometers away.
Prague, the capital of the Czech Republic, was as beautiful as the last time I saw it. It was lunchtime when we arrived there so we had our first meal at the art deco Café Imperial, an architectural gem since 1914.
After lunch, we walked around Prague with our ever reliable and amazing chief tour guide Enver Ungen, who had accompanied us all around Central Europe for 10 days. It was then his turn to show us around his country.
Prague's historic center, built between 11th and 18th centuries, is a UNESCO World Heritage Site. Its Old Town Square, where the beautiful Christmas market was held, was filled with people who were seen shopping and eating traditional Czech food. I had my fill of trdelnik (a charcoal-grilled, rolled Czech cake with cinnamon and sugar) and roasted wild chestnuts.
The Prague Christmas market is huge and has been chosen as the best Christmas market in Europe for the past few years. The best souvenir to buy there are the nail files made of Bohemian crystal as they last long!
While at the Old Town Square, we visited the 600-year-old Prague orloj, the famous astronomical clock that has an hourly mechanical performance, which tourists and locals alike enjoy.
We then headed to the opulent Mirror Chapel in the ancient Jesuit college of Klementium for the Advent and Christmas Concert. We stumbled upon another less crowded Christmas market, where we also shopped. Then we had dinner at the famous Francouzská Restaurace Art Nouveau that is situated in another beautiful building — the Municipal House of Prague.
The next morning, our group took a morning stroll to see the other parts of Prague, which included the Church of the Infant Jesus of Prague, St. Nicholas Church and the John Lennon Wall, named after the former Beatle who drew on that wall. Unfortunately, Lennon's original drawing is now covered as tourists constantly paint on the wall. It's also a must to visit the Charles Bridge, probably the most beautiful bridge in the world. Each statue on this magnificent bridge is as ornate as I remembered them to be.
We also visited the Baroque art museum in Schwarzenberg Palace, a part of the Prague Castle panorama. This early renaissance building is known for its facade that is decorated elaborately with sgraffito. It now serves as an exhibition space for the National Gallery. The great Czech painter Karel Skreta has several works in there, too.
We were awed by the famous Prague Castle, the largest ancient castle in the world according to the Guinness Book of World Records. Near the castle was the St. Vitus Cathedral, one of the most beautiful cathedrals in Europe.
In that area, I ate my last klobasa (Czech sausage) before we had lunch at the Pálffy Palace Restaurant located at the second floor of the Pálffy Palace, one of the most famous baroque buildings in Prague. There, visitors can enjoy the comfortable terrace with a stunning view of Prague Castle during summer.
The last stop of our trip was at Fashion Arena outlet near the airport. Filipinos will enjoy shopping there with discounted rates from brands like Calvin Klein, Ralph Lauren, Adidas, Barbour, Karl Lagerfeld, Le Creuset and Lindt chocolates.
I felt quite sad upon arriving at Václav Havel Airport as I wanted to stay longer in Czech Republic, a country I fell in love with once again. Inside the airport, I bought some klobasa and Czech vodka to bring home.
Upon reaching Istanbul for our connecting flight to Manila, I checked out the huge and beautiful Turkish Airlines lounge. I munched on some of the delicious food there before heading to the duty free to buy baklava and Turkish coffee. Then, it was again the most wonderful ride back to Manila on Turkish Airlines with great food, efficient staff and, of course, Wi-Fi on board!
Overall, it was a magical 11-day journey to Hungary, Slovakia, Poland and Czech Republic. Going to Central Europe during the Christmas season was memorable, indeed, but I cannot wait to revisit these amazing places again. Perhaps, during summer this year?
(This Central European trip was organized by the Tourism Boards of Poland, Slovakia, the Czech Republic and Hungary. For more information, visit www.gotohungary.com, www.slovakia.travel, www.poland.travel and www.czechtourism.com. Check out www.turkishairlines.com.)
Quick links:
• The Hotel Imperial: www.spa-hotel-imperial.cz/en/
• Karlovy Vary Christmas House: www.vanocnidum.cz/
• Grandhotel Pupp: www.pupp.cz/en/
• Café Imperial: www.cafeimperial.cz/en
• Klementium Mirror Chapel:
www.pragueticketoffice.com/venue/clementinum-mirror-chapel
• Francouzská Restaurace Art Nouveau: www.francouzskarestaurace.cz/
• Schwarzenberg Palace: www.ngprague.cz/schwarzenbersky-palac
• Pálffy Palace: www.palffy.cz/en
• Fashion Arena: www.fashion-arena.cz/en
(Follow me on Instagram @pepperteehankee.)