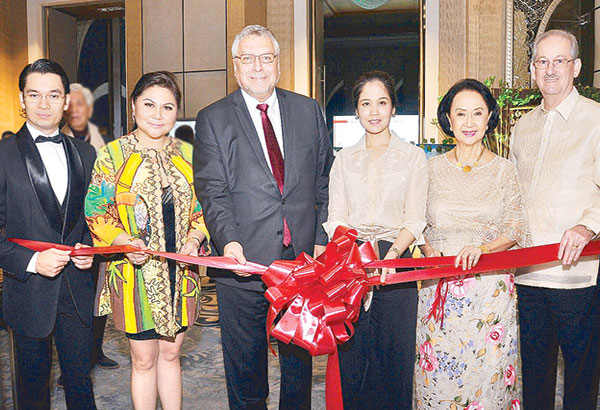 (From left) Triumphus Inc. co-founders David Ackerman and wife, Rotary Club of Makati Business District (RCMBD) charter president Mache Torres-Ackerman, Israeli Ambassador Effie Ben Matityau, climate change commissioner Vernice Victorio, Friends for Cultural Concerns of the Philippines president Nonie Basilio and Rotary International District 3830 governor Ed Afzelius lead the ribbon-cutting ceremony to formally open 'Walk the Talk.'
Walking their talk on the runway
The Rotary Club of Makati Business District (RCMBD), under the leadership of charter president and project chair Mache Torres-Ackerman and president Tess Castro, recently held "Walk the Talk," a climate change summit and eco-fashion show at Shangri-La at the Fort in Bonifacio Global City, Taguig.
"Walk the Talk" was co-presented by the Senate Spouses Foundation Inc. led by president Bing Pimentel (mother of Senate President Koko Pimentel).
The event gathered some of Manila's staunchest green advocates, namely Israeli Ambassador Effie Ben Matityau, climate change commissioner Vernice Victorio and University of the Philippines Diliman professor and UP Resilience executive director Dr. Alfredo Mahar Lagmay. Also present was philanthropist and I-LOVE Foundation founder Gina Lopez, who led stimulating discussions on the devastation and ill effects that climate change brought upon the world, and the steps humanity can take to reverse these consequences.
Guests were treated to a very inspiring eco-fashion show featuring the stunning designs of Patis Tesoro, Ditta Sandico and Ronaldo Arnaldo. There were also gowns and menswear made from sustainable materials by the inmates from the Correctional Institute of Women, proving that the justice system can be a driving force towards change not just in the lives of rehabilitating individuals but in the world as well.
All those who modeled were environmental philanthropists like David Ackerman and wife Mache, co-founders of Triumphus Inc., a major event sponsor.
The show was directed by Raymond Villanueva. Official makeup provider was BYS Cosmetics.
Congratulations to the Rotary Club of Makati Business District and the Senate Spouses Foundation, Inc. for a successful climate change summit and eco-fashion show!