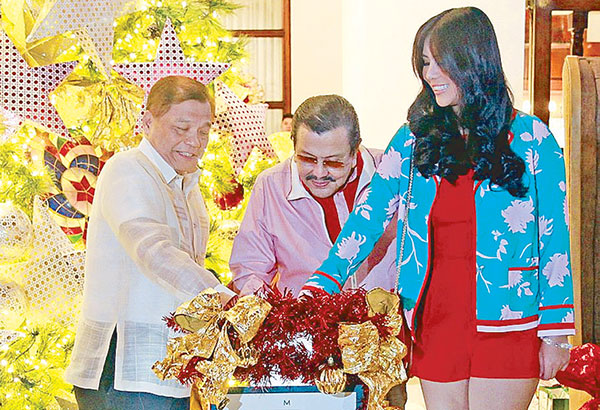 The Manila Hotel president and director Joey Lina, Manila City Mayor Joseph Estrada and model and beauty queen April Love Jordan lead the hotel's Christmas tree-lighting ceremony.
Year after year, we see Manila Hotel's Christmas tree-lighting ceremony and it just keeps getting better. This year's theme is Ang Ating Tanging Yaman (Our Treasured Heritage).
Floral architect and Manila Hotel style director Rachy Cuna installed Christmas décor that enhanced the interiors of the hotel. He used local materials in burnished gold, warm gray and white. A totally edible gingerbread Bahay na Bato welcomes guests into the hotel. The giant Christmas tree with Filipino design and other trees around the main lobby provide a festive spirit in the hotel.
Rachy said, "To bring out the essence of a truly Filipino Christmas is to highlight the very best of local materials, talent and products that beautify many other homes and commercial establishments around the world. Why not bring this sense of 'Filipino-ness' to the iconic heritage hotel by the bay and allow our foreign guests, returning overseas Filipinos and locals alike to feel the treasures of our heritage through our most celebrated holiday of the year?"
The program started with Manila Hotel president and director Joey Lina giving the welcome remarks and Manila Mayor Joseph Estrada lighting the giant tree along with model and beauty queen April Love Jordan.
The Centro Escolar University Choir sang beautiful Christmas carols. Meanwhile, children from the House of Refuge, the main beneficiary of the tree-lighting event, performed a special number for the guests. They were given presents after their performance.
The House of Refuge began when a group of individuals encountered street children who were abandoned, neglected or maltreated by their own families. This event started a halfway house in 1986, which gave shelter and provided the basic needs for street children. The house was named Bahay Kanlungan in 1990. Since its inception, the House of Refuge has served more than 1,000 children and in 2016, it has cared for 38 children ages 4 to 16 years old.
(For more information about the House of Refuge Foundation Inc., call Glady Bunao at 0906-4884776 or e-mail houseofrefugefoundationinc@gmail.com.)
Slim Inspires
Renowned Slim's Fashion & Arts School paid tribute to Salvacion Lim-Higgins, the school's founder, during the Best of Student Work 2017 exhibit held at the SM Megamall's Mega Fashion Hall recently. Also launched during the exhibit was the Salvacion Lim-Higgins Education Fund to provide scholarships to promising students.
The Slim Inspires exhibit is a joint project of Slim's Fashion & Arts School and SM. The exhibit showcased garments cut and sewn by dressmaking/patternmaking and draping students as part of their exams. Sketches conceptualized and drawn by fashion design students as well as hand-sewn barongs of the school's British bespoke tailoring course were also on display.
Slim's Fashion & Arts School was founded in Manila by Salvacion and her sister Purificacion Lim, who both wrote the highly technical lessons that continue to serve as a foundation for the school's curriculum today — a procedure that is known as the Slim's method. Graduates of the school who have become successful designers include their first graduate in 1961 Oskar Peralta, Joe Salazar, Cesar Gaupo, Oliver Tolentino, Michael Cinco, Ezra Santos and Joey Samson.
The event was also made possible by Swatch, SM Appliance Center, Skyworth Philippines Corp., Stationery at The SM Store and Faber Castell.
A royal afternoon tea
Following the successful Queen Marie Antoinette afternoon tea, Raffles Makati presented the second of its royal afternoon tea series at the Writers Bar featuring Queen Victoria. The third series, a Russian Imperial Afternoon Tea theme, will be introduced early next year.
Inspired by the great Victorian era, guests enjoyed a three-tier medley of sweet and savory British classics, which included a London Bridge Roll with crab and cress; Coronation Chicken with a recipe that was created in 1953 for the coronation of Queen Elizabeth II; vintage cheddar cheese tart; the age-old English tea sandwich with poached salmon, citrus cream cheese and dill; Victorian sponge cake filled with butter cream and raspberry jam named after Queen Victoria; truffle chocolates filled with gin and orange; traditional lemon tart; classic English toffee cupcake; and the popular Jammie Dodger — a British biscuit made from shortbread with flavored jam filling.
To add to the British experience, the Writers Bar hosted a series of private sales by Bits & Bobs that offered the quintessentially English teaware brand Wedgwood and other unique English brands.
Mila Lee, founder of Bits & Bobs, said, "We are now on our second year of bringing fine English goods to Manila. Wedgwood has always been aspirational as a brand and it is great to see Filipinos appreciate its craftsmanship and beauty now that it's available in Manila."
She added that she was thrilled working with Raffles' Royal Afternoon Tea series. "It feels good to see how the locals here are embracing the afternoon tea culture," she said.
Raffles Makati director of communications Monique Toda said, "Because of its illustrious heritage, Wedgwood was the perfect partner for this elegant tea series. Its collections perfectly matched the previous Marie Antoinette Afternoon Tea, the recent Queen Victoria Afternoon Tea and the Imperial Russian Afternoon Tea, which will start in February 2018." *
(The Writers Bar in Raffles will have a daily Christmas Afternoon Tea from 2:30 p.m. to 5 p.m., starting today until Dec. 31. For inquiries, call 555-9888 or e-mail dining.makati@fairmont.com. For more information on Wedgwood and Bits & Bobs, e-mail info@bitsandbobs.com.ph.)
(Follow me on Instagram @pepperteehankee.)
Certain photos taken by Pepper Teehankee on a Leica C Digital Camera