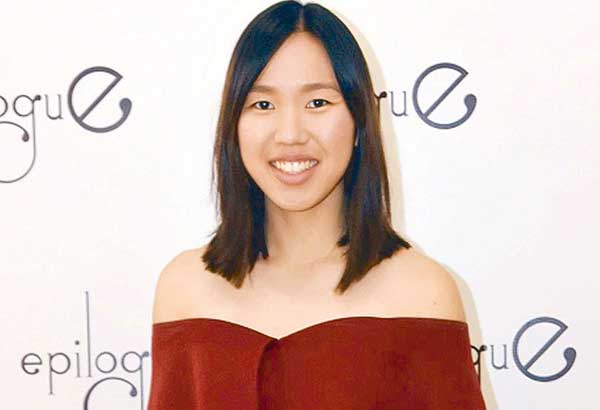 Epilogue president Alyanna Uy.
THE PEPPER MILL
-
Pepper Teehankee
(The Philippine Star) - September 4, 2017 - 4:00pm
Newly opened Epilogue Fine Bistro in S Maison at Conrad Manila in Pasay City takes diners on a gastronomical adventure with its seasoned Japanese chefs, each a master of his own craft.
Epilogue is firmly rooted in a Japanese principle called kodawari ­— one's dedication to craft and mastery. It has collaborated with Japanese chefs who seamlessly combine Western flair with Eastern discipline by continuing to practice kodawari even with their culinary experiences in different parts of the world to become the best in their chosen specialty.
Epilogue president Alyanna Uy said, "Each of our chefs has his own distinct specialization. We have pasta and steak masters, baker, pastry chef and French cuisine chef. By having different chefs who specialize in different things, we can guarantee that we'll serve you the best."
Head baker Tomohide Ono, a pastry chef for 20 years, is the man behind Epilogue's new bread and pastry recipes. Chef Hayato Mitsuhashi, who has a 14-year extensive training in various Italian restaurants in Japan and Indonesia, offers the best of Italian cuisine. Epilogue also has two outstanding chef directors — award-winning pastry chef Kenji Ishihara, who is responsible for the fine bistro's beautifully made desserts; and steak master chef Minoru Sorimachi, who makes excellent steaks and sides created to suit the Filipino palate. Chef Hiroyuki Meno honed and perfected his expertise in French cuisine by training in various Michelin-star restaurants.
Epilogue is a homegrown brand under the Food Revolution Group.
(Visit Epilogue at G/F S Maison, Conrad Manila, Ocean Drive, Mall of Asia, Pasay City. For more information, check out www.epilogue.ph.)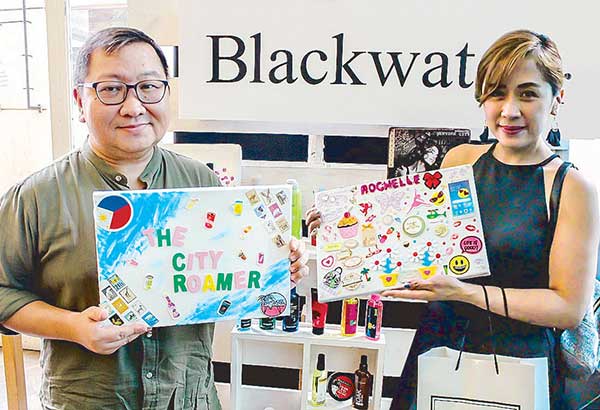 Alwin Aguirre and Rochelle Rivera show their mood board creations.
Art & Scents
Budding artists and do-it-yourself fans enjoyed an afternoon of creativity during Blackwater's Art and Scents event.
Brand manager Ivan Bañez said, "Blackwater's fragrances are very diverse to suit different personalities and lifestyles. What we want to do is for our guests to come in and experience self-discovery by engaging their senses — through art, where vision and touch come into play; and through scents, where their sense of smell guides them to their preferred product."
During the event, the brand's fragrance and grooming collections were displayed for guests to choose from. Then, using a wide selection of art materials that ranged from stickers and magazine cut-outs to watercolors and pencils, participants created their own mood boards with Blackwater scents as their inspiration. A graphologist was also present to interpret the guests' personalities through their handwriting.
(For more information, visit blackwater.com.ph, www.facebook.com/BlackwaterForMen and www.instagram.com/BlackwaterElite.)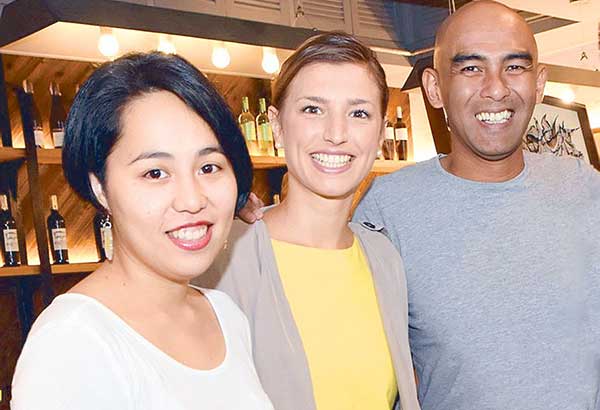 Ina Jardiolin with Lucia Glasmacher and Dale Diaz.
Breaking gender barriers
Artist Ina Jardiolin is set to break gender barriers with her second one-woman show Stretch(ed) Mark(ed), which will run from Sept. 10 to 25 at Kaida Contemporary Gallery in Quezon City.
The young Fine Arts graduate of the University of the Philippines expresses her views eloquently through her works, conveying her ideas that boundaries and limitations set by gender and/or sexual preferences are meaningless barriers.
In Stretch(ed) Mark(ed), the young artist probes into the scars that gender roles impose among us, how these obstructive assignments often mark each of us permanently.
"Every person has both feminine and masculine characteristics," Ina says and her paintings reflect this view. She prefers to show her subjects without hair, the usual gender indicator, and without the stereotypical shapes of the different sexes. Ina also honored Mother Nature by reusing and recycling discarded, found and unwanted objects from Marikina's shoemaking industry, like leather scraps and wooden lasts that have outlived their usefulness.
The use of both leather and shoe lasts pays homage to the artist's family background as Marikina shoemakers. Transforming the shoe lasts into art pieces is a gesture that honors her ancestors whose labors both nurtured the family and helped build local shoe industry. Leather, a pliant and resilient material, epitomizes the spirit that her family has stood by for generations.
(Kaida Contemporary Gallery is located at 45 Scout Madriñan, South Triangle, Quezon City.)
(Follow me on Instagram @pepperteehankee.)