THE PEPPER MILL
-
Pepper Teehankee
(The Philippine Star) - September 27, 2016 - 12:00am
Think like a champion and surely you will conquer the world.
That's what the new commercial of James Reid, one of today's hottest celebrities, is all about.
The TV commercial generated 4.1 million online views in just five days.
James is also a social media phenomenon — with millions of followers online, not counting the various fan accounts that his devoted followers set up. He is the other half of highly bankable love team JaDine, in which he is paired with his reel and real life partner Nadine Lustre.
James is on a winning streak and his steady career path is one that is marked by a succession of winning moves. Recently, he joined Anne Curtis and Derek Ramsay as an endorser of the canned tuna brand.
Becoming part of the Century Tuna family has certainly paid off for the young talented heartthrob. He is presently at his fittest — sculpted abs, toned muscles, firm biceps — which can be attributed to a rigorous fitness regimen and a proper diet consisting of good protein that Century Tuna can provide. The brand couldn't be any happier for having James in its roster of celebrity endorsers.
General manager Greg Banzon said, "James' story is truly inspiring. It speaks of transformation, the relentless desire to improve oneself. It's a winning formula that brings many positive lessons for everyone: perseverance, keeping the faith while staying humble and being true to oneself — qualities that make James a true role model."
James shared, "I liken it to a championship game. If you want to win, you naturally want to surround yourself with a teammate you can put your total faith into. That to me is Century Tuna, and I can't think of any other name that I'd trust to keep my body fit."
James continues to transform from a teen heartthrob to a more mature actor with the determination, the attitude and the body to conquer and win in the challenging world of show business.
Dunk for a smile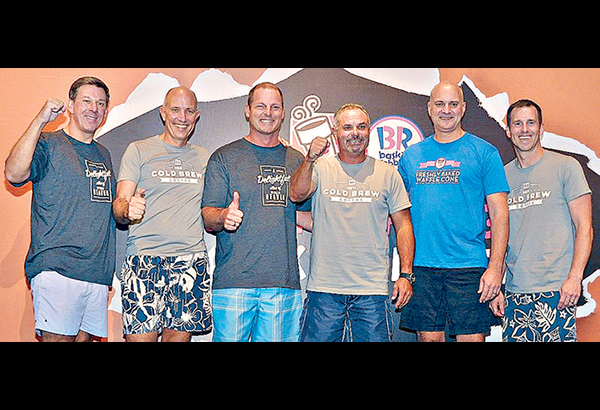 The Dunkin' Brands leadership team. (From left) Paul Reynish, VP international George McAllan, senior director for international operating systems Jeremy Biser, president Bill Mitchell, VP for international supply chain Pete Jensen and senior director for international marketing Mark Youngworth.
A total of 60 children will now be able to get life-changing cleft palate surgery as Dunkin' Donuts and Baskin-Robbins licensees across the region successfully held "Dunkin' Smile Tank," a fundraiser that generated $15,000, including a $5,000-donation from Dunkin' Brands Inc., the parent company of Dunkin' Donuts and Baskin-Robbins.
This activity reminded me so much of my childhood days when these dunk tanks were so popular. The fundraiser took place at the Dunkin' Donuts and Baskin-Robbins regional conference in Manila. Licensees from across the region made a donation to Operation Smile for the opportunity to throw a ball at a target to dunk a member of the Dunkin' Brands leadership team.
Dunkin' Brands International president Bill Mitchell said, "As part of our regional meeting in Manila, we felt it was important to find a way to give back to the communities we serve throughout the region. We decided to partner with Operation Smile as it's an organization that helps bring smiles to children across the region and is a cause that our licensees have supported over the years."
Over the past two years, Baskin-Robbins licensees have donated over $10,000 to Operation Smile, which is equivalent to 41 surgeries for children and young adults in need.
Baskin-Robbins Philippines vice president of marketing Nameeta Dargani said, "We're honored to continue our support to Operation Smile. This fundraiser demonstrates the generosity of the regional licensees, and the commitment to give back all the way up to the leadership level of the brands."
Operation Smile is an international medical charity that has provided hundreds of thousands of free surgeries for children and young adults in developing countries who are born with cleft lip, cleft palate or other facial deformities.
Operation Smile Philippines director of strategic partnerships Timothy Lu added, "The support we receive from our partners helps make the important work we do possible. This donation will help us fund additional life-changing surgeries that will give children the ability to smile and share their joy with the world."
(For more information or to make a donation, visit www.OperationSmile.org.ph.)
Luxury living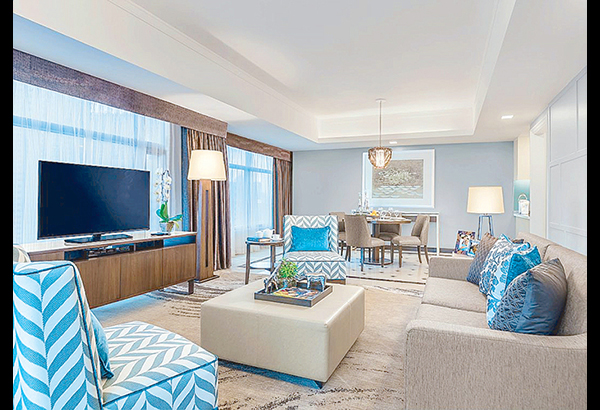 The new luxurious Ascott Makati suite.
Ascott Makati's grander and more luxurious suites were recently presented to select guests by The Ascott Limited, Philippines and Thailand regional general manager Arthur Gindap and Ascott Makati general manager Joanne Golong-Gomez.
Ascott Makati offers spacious and modern comforts for guests who work and live away from home. The newly-renovated suites set the benchmark in luxury living. Each residence features expansive living and dining areas, designer interiors, lavish fittings, fully-equipped modern kitchens, home entertainment systems and wireless Internet connection.
With the new suites comes change throughout the property. Ascott Makati also unveiled a new sophisticated lobby, the Executive Lounge, and a Cubbies playroom that caters to children of long-staying guests. For business needs, Regus at Ascott Makati operates serviced offices for lease, meeting rooms and a business center. To relax and recharge, Ascott Makati has a fully-equipped fitness center so that guests can maintain their health and fitness routine. Its new swimming pool is now open as well.
(Check out www.the-ascott.com.)
The ultimate street concept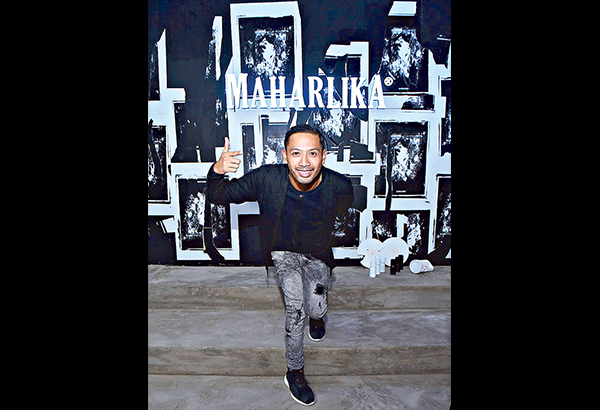 DJ Nix Damn P.
DJ Nix Damn P kicked off this year's Axe Black campaign at The Fort Strip with his pop-up concept store called Maharlika. Together with teammates Raymond Gutierrez, Mike Concepcion, Banjo Albano and Heidi Franco, Nix brought his Axe Tribe Concept to life, showcasing the epitome of a real man, which comes from his ancestral Filipino heritage.
Nix said, "The datus and the warriors, they're the very essence of Axe. One whiff, and you know a man's blood, sweat and tears. This is the concept we worked with for the store. For Maharlika, we created a modern cave, a lost paradise where you can walk into the secret culture of Axe Men."
The concept of the Axe Black campaign centers on the world of the understated Axe Black Man. Each ambassador is tasked to create a pop-up concept store that best embodies #LessEffortMoreStyle, as it immerses its customers to the Axe Black way of fashion, grooming and fragrance.
At the center of Nix Damn P's Maharlika stands the Axe tree, which served as a product display and scent diffuser. Nix added, "Our merchandise is a result of various collaborations with different creatives from different industries. It's a coming together of all these talents and local potential to offer something truly unique. We collaborated on apparel with brands like T.H.E. and Progress, as well as accessories with The Lost Nomad and Rastaclat. This camaraderie between artists and other creatives is the essence of street culture, and that's what I hoped to show."
Nix also had a string of local performers and DJs to provide entertainment to shoppers, bearing in mind that Maharlika is not just a pop-up store, but an experiential concept that people will remember.
Actor Arjo Atayde and blogger David Guison are the next Axe Black ambassadors, who will be executing their pop-up stores soon. Each is to come up with a concept and execute an on-ground outlet for three days, followed by an online version on Lazada. They will be judged based on whose store can successfully immerse people into the understated world of #LessEffortMoreStyle.
(For more information, visit www.axephilippines.com.)
(Follow me on Instagram @pepperteehankee.)