PEOPLE
-
Joanne Rae M. Ramirez
(The Philippine Star) - March 9, 2016 - 9:00am
On International Women's Day last Tuesday, the right of a woman petitioner to seek the presidency — despite being a foundling and despite once having held dual citizenship — was affirmed by the Supreme Court.
With a 9-6 vote, the Supreme Court said Sen. Grace Poe is eligible to run for President in May 2016 elections.
The night before, during a dinner at Milky Way restaurant in Makati, Grace was "really very calm," said her close friend and high school classmate Malu Gamboa.
"If it's meant for me, then I'll do it," Malu quoted Grace as saying.
"Otherwise, she felt there was never a need to die for the decision," pointed out Malu when asked to describe Grace's demeanor the night before the SC ruled on the disqualification case against her.
Grace has always stressed that even as a foundling, she has the right to run for President—just like any other natural-born citizens.
She said there was no "deliberate intent" on her part to mislead the electorate regarding her residency when she filled up her certificate of candidacy (COC) for senator.
According to published sources, Poe began to settle permanently in the Philippines on May 24, 2005. She enrolled her children in local schools in June 2005, purchased a property late 2005, constructed her family home in Quezon City in early 2006, and sold their US property, also in 2006.
SC Public Information Office Chief Theodore Te said the nine magistrates who voted in favor of Poe include Chief Justice Maria Lourdes Sereno, Associate Justices Presbitero Velasco Jr., Diosdado Peralta, Lucas Bersamin, Jose Perez, Jose Mendoza, Marvic Leonen, Alfredo Benjamin Caguioa and Francis Jardeleza.
On the other hand, Te said the six justices who upheld Poe's disqualification and denied the consolidated petitions were Associate Justices Antonio Carpio, Teresita De Castro, Arturo Brion, Mariano del Castillo, Bienvenido Reyes and Estela Perlas-Bernabe.
***
During the Go Negosyo Forum in December 2015, Grace expressed hope that she would find justice in the High Tribunal just like her father did 12 years ago.
"I'm comforted with the fact that we have a process and we will still go to the Supreme Court. I don't know if this is a good take pero mas tumatagal, tumatapang ka. Pag masyado kang binubugbog, mamamanas na rin ang mukha mo. But my prayer is — that though I become tougher, I will never lose my sensitivity to the needs of the needy."
She always said being a woman and a mother made her a more sensitive public servant.
"The time you're stuck in traffic, you know the time you waste — you think of your kids, the time you should be cooking your dinner...I surely sympathize with that because I'm a mother with young kids."
She also said women, though gentler by nature, have an innate courage. And they don't need to beat up people to get their message across and get things done — just one look will do it.
"Kayong may mga asawa, mga kapatid, mga ate. Alam ninyo namang ang mga babae ay malumanay lang pero may angking tapang at galing. Pero sa bawat kilos natin, hindi naman tayo mambubugbog, makuha ka sa tingin!"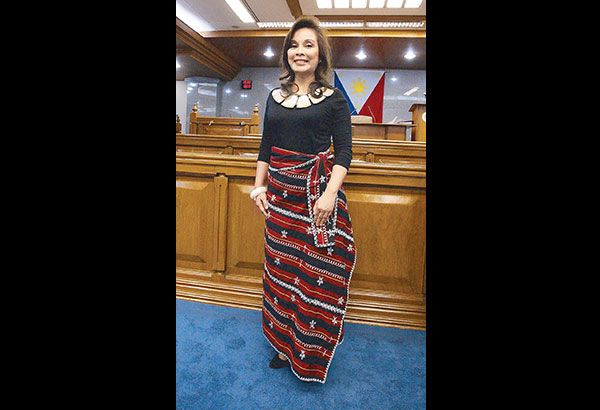 Sen. Loren Legarda. Photo by MANNY MARCELO
Legarda: Philippines can lead global fight to achieve gender equality
In observance of International Women's Day, Sen. Loren Legarda said on Tuesday that the Philippines can lead the global effort to achieve gender equality and women empowerment.
Legarda, who authored several of the country's laws on the protection of women's rights, said that the Philippines has been consistently at the top tier in the gender equality index, noting that in the Global Gender Gap Report by the World Economic Forum (WEF), the Philippines ranks first in Asia, and always at the Top 10 countries globally.
"We have crafted effective laws on gender equality and women empowerment, and the implementation of these policies are improving through the years. We know that there are still challenges and there are many Filipino women who are still victims of abuse and discrimination. But we are doing well compared to other nations, thus, we must build on our gains and continue to provide equal support to men and women," said Legarda.
Noting the 2016 theme for International Women's Day, "Planet 50-50 by 2030: Step It Up for Gender Equality," Legarda said that the Philippines can lead efforts to achieve the goals under the Sustainable Development Goals, particularly Goal No. 5 on gender equality, by the year 2030.
"We can share with other countries our best practices on women empowerment as well as our laws, which can be used as guide by other nations in crafting policies on gender equality," she explained.
The Philippines has a multitude of laws on the protection of women's rights, such as the Anti-Violence Against Women and Children Act, the Anti-Discrimination Against Women Act, the Women in Development and Nation Building Act, the Rape Victim Assistance and Protection Act and the Magna Carta of Women.
The Magna Carta of Women, which Legarda co-authored, ensures women are protected from violence and other crisis situations, represented and given role in community decision-making, given equal access to education and employment, and provided with access to comprehensive health services, among other provisions.
The senator also said that women should be engaged in disaster resilience and climate adaptation efforts as these are among the world's most pressing concerns today.
"We must invest in women, make them part of decision-making, as their development role is crucial in adapting to climate change and building community resilience to disasters. From the quiet but steady work they perform at their communities, women should move into the frontlines of delivering decisive action towards a sustainable and resilient planet," Legarda concluded.
(You may e-mail me at joanneraeramirez@yahoo.com.)