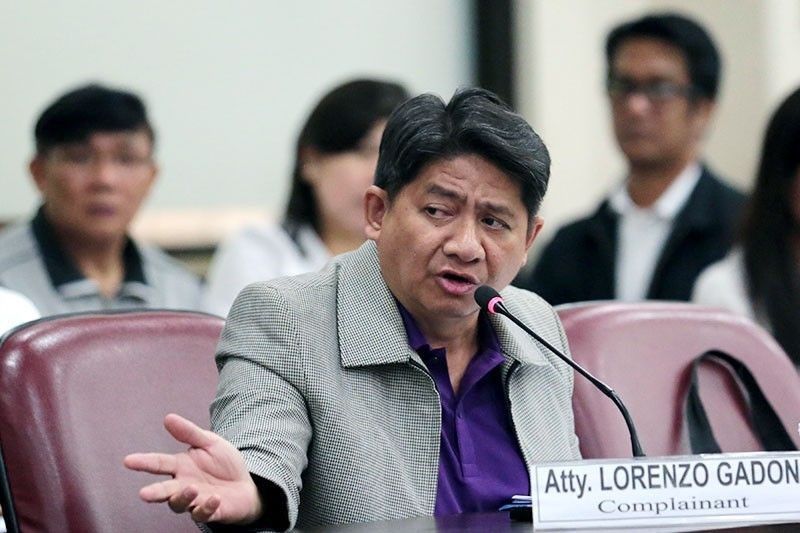 WATCH: Gadon hurls expletives, flashes middle finger at Sereno supporters
MANILA, Philippines — Lawyer Larry Gadon on Tuesday cursed and raised a middle finger at the supporters of Chief Justice Maria Lourdes Sereno, who picketed at the Supreme Court's compound in Baguio City.
The lawyer, who filed the impeachment complaint against Sereno at the House of Representatives, repeatedly called the Sereno's supporters "stupid" when he encountered them at the high court's Baguio compound hours before the oral arguments on a separate ouster petition that Solicitor General Jose Calida filed against the chief justice.
He also called someone a "son of a b****" in response to being called "stupid."
"They are stupid. It is very clear that Sereno committed violations and yet they're staging a rally," Gadon said.
The 14-member court, headed by Acting Chief Justice Antonio Carpio, is set to hold oral debates on the quo warranto petition at 2 p.m.
READ: Sereno: Someone is behind bids to oust me
According to the Code of Professional Responsibility for lawyers, "a lawyer shall not engage in conduct that adversely reflects on his fitness to practice law, nor shall he, whether in public or private life, behave in a scandalous manner to the discredit of the legal profession."