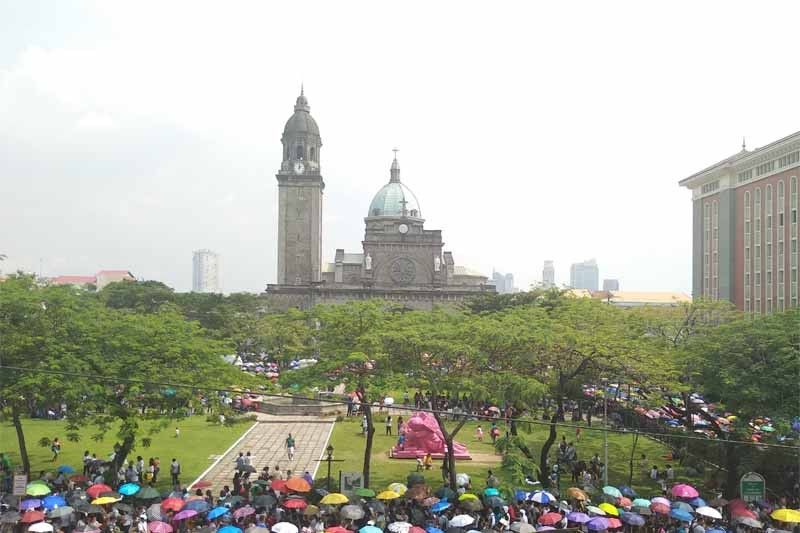 This Oct. 9, 2018 photo shows the devotees of Saint Padre Pio who visited the Manila Cathedral for the public veneration of the saint's heart relic.
Philstar.com/Efigenio Toledo IV
WATCH: Padre Pio's heart relic now at Manila Cathedral
MANILA, Philippines — After a brief overnight public veneration at the University of Santo Tomas, the "incorrupt" heart relic of Saint Padre Pio of Pietrelcina has arrived at the Manila Cathedral for a two-day devotees' adoration.
Padre Pio's relic arrived at the Manila Cathedral on Tuesday morning.
A mass was held before it was transferred to the left side of the iconic church, Christ of the King Chapel for the two-day veneration.
Manila Cathedral will be open for 24 hours from October 9 to October 11 morning before it will be brought to the Cebu Cathedral.
As of 1 p.m., the Manila Police District said an estimated 5,000 crowd already went to Manila Cathedral for the adoration of the well-loved saint.
The relic will be in the country until October 26, Friday. It would be send off with a motorcade.
LIST: Schedule of veneration of Padre Pio relic
Padre Pio was a Capuchin priest who bore the stigmata of Jesus Christ. Several miracles were attributed to the saint after he died on Sept. 23, 1968.
He became a saint in 2002.
RELATED: Public veneration of St. Padre Pio's relic in UST only 'overnight'