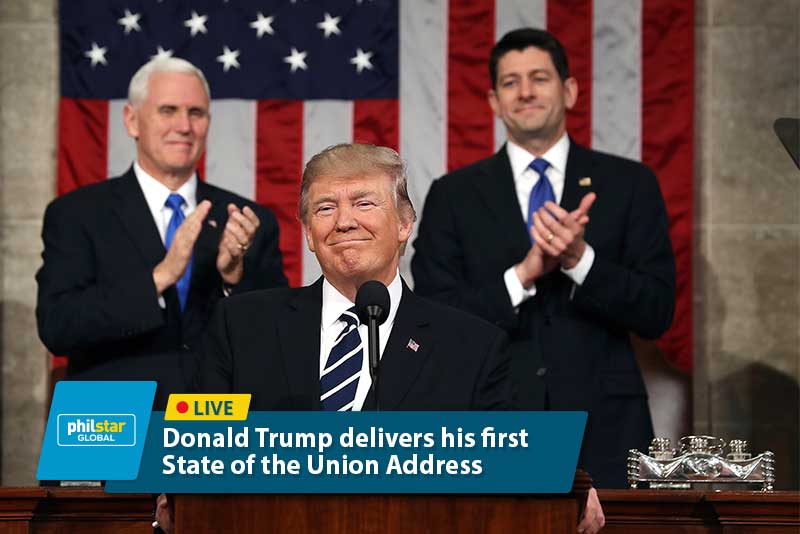 FILE - In this Feb. 28, 2017, photo, President Donald Trump, flanked by Vice President Mike Pence and House Speaker Paul Ryan of Wis., arrives on Capitol Hill in Washington, for his address to a joint session of Congress. No natural orator, Trump has nonetheless shown at times that he can deliver a powerful speech that effectively outlines his vision, strikes an emotional chord and moves commentators to declare that he, at last, looks presidential. And then the teleprompter gets turned off. Jim Lo Scalzo/Pool Image via AP, File
LIVE: Trump's State of the Union Address
American President Donald Trump will deliver his first State of the Union Address at 10 a.m. on Wednesday morning (Manila time).
President Donald Trump is declaring a "new American moment" in his State of the Union address — but his former campaign foe, Hillary Clinton, declared one first.
"This is our New American Moment," Trump will say, touting the state of the economy, according to excerpts released by the White House. "There has never been a better time to start living the American dream."
In a 2010 speech, then-Secretary of State Clinton told the Council on Foreign Relations that "a new American moment" was taking shape on the global stage, "a moment when our global leadership is essential, even if we must often lead in new ways."
It's hardly the first time Trump has appropriated a slogan. "Let's Make America Great Again" was popularized in 1980 by Ronald Reagan's presidential campaign. — Associated Press