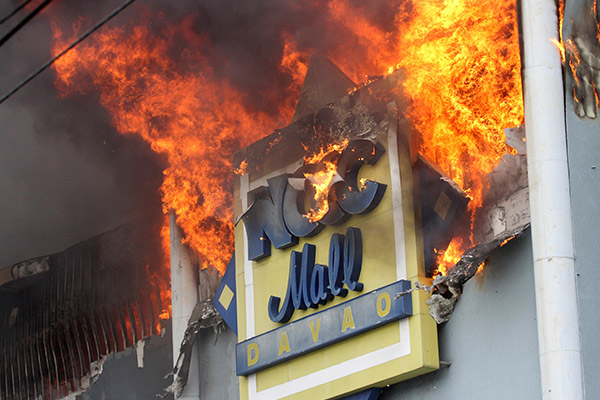 A fire rages on at a shopping mall Saturday, Dec. 23, 2017, Davao city, southern Philippines. As the fire continues to burn, an undetermined number of people are trapped inside, fire officials said. AP Photo/Manman Dejeto
WATCH: 38th casualty of Davao mall fire died trying to save trapped workers
(philstar.com) - December 28, 2017 - 1:10pm
MANILA, Philippines — The death toll from a fire that ravaged NCCC mall in Davao City has risen to 38 after the body of a mall safety officer was discovered.
Safety officer Melvin Gaa died
trying to rescue those trapped
in the blaze at the four-story NCCC mall on Saturday, the mall's spokesperson Thea Padua said Wednesday.
Gaa was able to rescue several call center workers of US-based market research firm SSI on the top floor of the building.
He safely exited the building but went inside again to try and save more people, Padua said. Gaa was a member of the NCCC Emergency Action Team.
President Rodrigo Duterte, who hails from Davao City, has vowed to get to the truth of the blaze. Labour groups charged that the high death toll was a sign safety rules were not met, a claim denied by the mall operators.
Padua said in a statement on Wednesday that "we categorically deny the allegations that we do not have enough fire exits, extinguishers, sprinklers and designated fire escapes. We have been fully compliant with the labor standards."
The cause of the blaze has still not been determined. — with AFP; Video by RP Ocampo