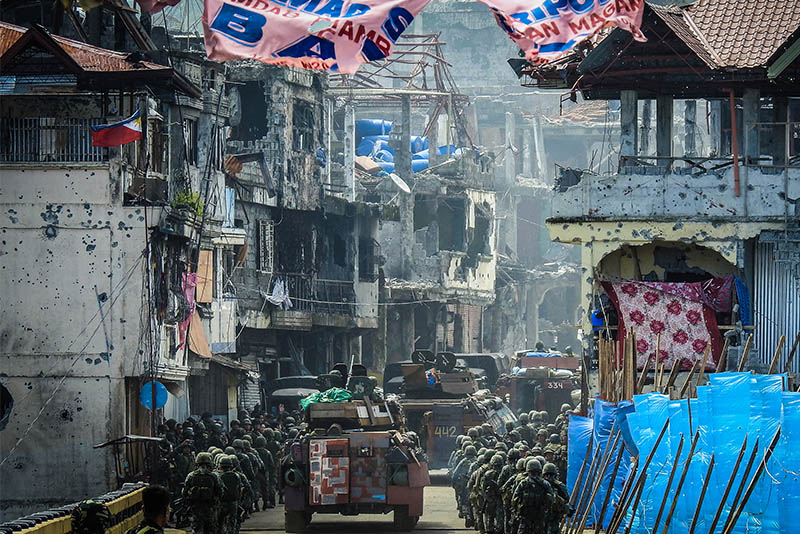 Philippine Marines, marching in formation alongside armored personnel carriers, head to the frontline past damaged buildings in the Mapandi area of Marawi on the southern island of Mindanao on Aug. 30, 2017. AFP/Ferdinandh Cabrera
WATCH: Duterte urges MILF, MNLF not to wage war if BBL fails to get Congress OK
(philstar.com) - December 18, 2017 - 3:37pm
MANILA, Philippines — President Rodrigo Duterte told Moro separatist groups not to declare war against the government in case Congress fails to pass the Bangsamoro Basic Law.
"To my brothers in MI, MN, let us continue talking because both of these entities are for peace. As to how wide the concession we will give is something which has to be discussed," the president said during the birthday celebration of Sen. Manny Pacquiao in General Santos City last Sunday.
"But if it does not hurdle Congress, do not draw your guns right away. We still can talk and maybe explore other areas. But I assure you that during my term, it will be addressed," he added.
The proposed BBL was bypassed during the previous administration partly because of the outrage over the Mamasapano clash, which claimed the lives of 44 police commandos and 17 MILF fighters in 2015.
The measure seeks to create a new Bangsamoro political entity with enhanced autonomy seen to bring lasting peace to troubled Mindanao.
Watch Duterte's request to the Moro Islamic Liberation Front and Moro National Liberation Front: