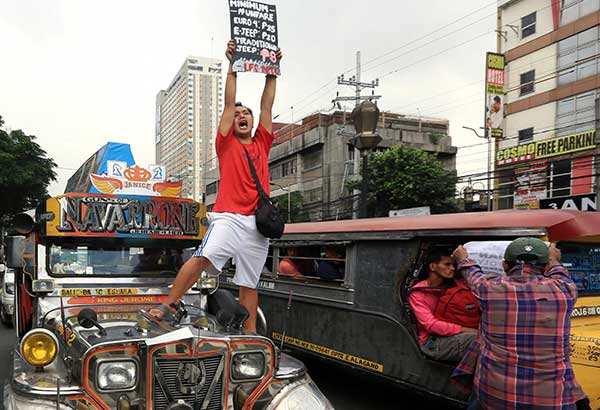 A member of the anti-jeepney phaseout coalition stands on a jeepney on España in Manila at the start of a two-day transport strike Monday.
WATCH: Duterte says jeepney drivers are committing rebellion
(philstar.com) - October 18, 2017 - 4:39am
President Rodrigo Duterte lashed out at jeepney drivers and transport groups saying they were "committing rebellion" following a two-day transportation strike that led to suspension of work in government offices and classes in schools.
More than 200,000 drivers and operators protested the modernization program of the government which entails the phase-out and replacement of jeeps that are 15 years or older saying this will result in huge amounts of debt for them.
Duterte accused the transportation group and other groups identified with the national democratic left of conspiring with the New People's Army, the armed wing of the Communist Party of the Philippines, which has been waging a rebellion since the 1969.
Duterte accuses transport group of conspiring...
by philstarnews
READ: Duterte says transport strike group 'committing a rebellion'