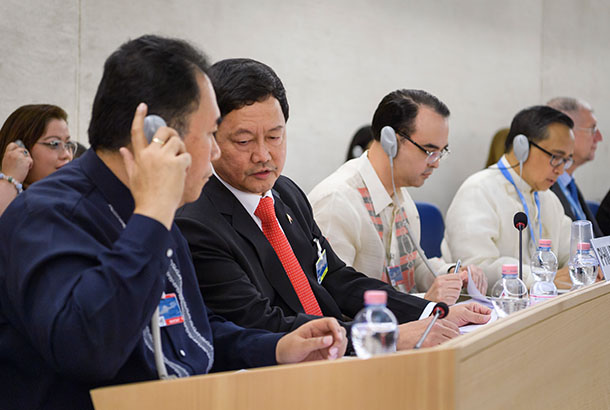 Head of the Philippines' delegation Menardo Guevarra (2nd L) listens to an assistant during the universal periodic review of the Philippines by the Office of the United Nations High Commissioner for Human Rights (OHCHR) on May 8, 2017 at the UN offices in Geneva. The Philippines' record is reviewed by the UN human rights council for the first time since the inauguration of President Rodrigo Duterte, who has been accused of massive violations in his so-called drug war. Fabrice Coffrini/AFP
WATCH: States' recommendations to the Philippines during the UPR
(philstar.com) - May 10, 2017 - 6:55am
MANILA, Philippines — The Philippines on Monday presented before the United Nations (UN) Human Rights Council (HRC) in Geneva, Switzerland on the country's human rights situation for the third cycle of the Universal Periodic Review (UPR).
READ: UPR: Fast facts on the UN review of Philippine human rights

The UPR is a unique mechanism created to improve the human rights situation of all the 193 UN member-states.

All member-states are reviewed every four years with 48 states assessed each year. This year is the third UPR for the Philippines since the mechanism was created on March 15, 2006.

The Philippines' first and second UPR reviews took place in April 2008 and May 2012, respectively.
READ: Cayetano uses restrictive EJK definition, experts say

During the review, states offered recommendations on how the Philippines could improve its human rights situation.

The country being reivewed can accept or note the recommendations but cannot reject them.
RELATED: Cayetano takes aim at Callamard before UN body | UN states ask Philippines to grant access to Callamard

Here are some of the recommendations raised by UN member-states to the Philippines.
— Video by Efigenio Toledo IV