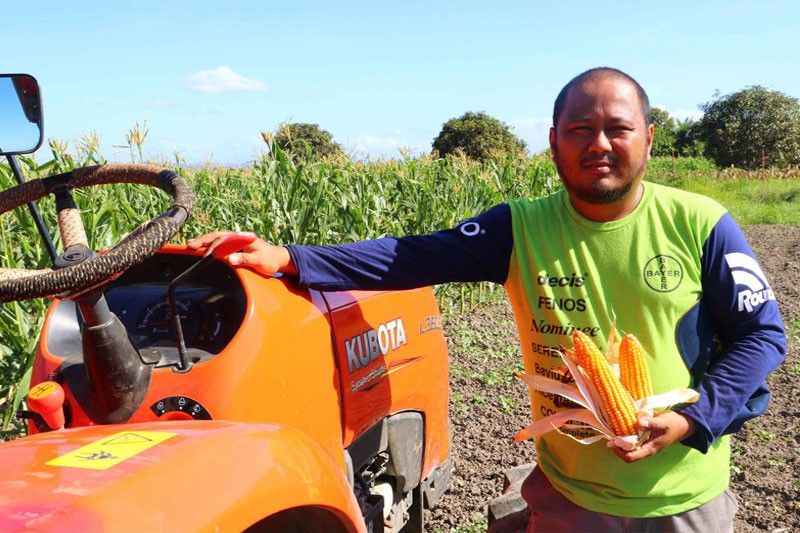 Former seafarer Melbert Fadrigo has made his family's rice and corn farm venture in Hamtic town, Antique profitable. Fadrigo's tale is what agricultural development and migration practitioners and analysts wish of overseas Filipino workers should they want to stem the economic wrath of the COVID-19 pandemic.
Landbank of the Philippines
Is agriculture 'salvation' for pandemic-hit OFWs?
ADELAIDE, AUSTRALIA (The Filipino Connection) — Preparing for a future besides earning incomes from Italy, and now handling the wrath of a pandemic, came five years ago for Gina Pomida-Delgado.
Gina rejoined her children Loanes and Diego back home in 2015, leaving her husband Roberto (not his real name) in his hotel job in Italy. This former 27-year overseas Filipino worker (OFW) in Italy came from a farming family, and Gina prodded Roberto to open businesses in the hometown of Borongan City, including a palay farm.
The profits from our palay venture, Delgado shares during a July 24 webinar, are "more than half of what we (are earning) in our other businesses."
The Delgado family had spread financial risks from relying solely from foreign remittances from Italy by mixing together previous and current overseas earnings (including Roberto's) and profits from farming and non-farming businesses.
But these farming incomes are now the Delgados' economic safety net. That's because Roberto got laid off by his hotel in Rome which he served for 21 years. A labor suit by Roberto and fellow Filipino hotel workers may be in the offing if he can't get his salary and benefits.
The ongoing pandemic is slashing the reliable remittance incomes and once-enduring foreign jobs and pension funds from overseas Filipinos. But in the search for alternatives to the dollar, the Covid-19 pandemic reawakened where bountiful yields can arise: from the land of green, bankrolled by harvests coming from across seas.
Agriculture is once an eyesore of an investment for overseas Filipinos and their families. But the pandemic had made food an essential need.
So analysts think Filipino migrant dollar-earners must seize the moment to make farm-related ventures match or outdo higher incomes from abroad, earnings which the coronavirus is now pruning.
Agriculture is a viable option for Filipino workers displaced and repatriated from job sites abroad, Director Maruja Asis of the Scalabrini Migration Center (SMC) in a July 24 webinar that her Catholic-run nonprofit hosted together with the Philippine Catholic hierarchy and the University of Hong Kong.
And the farm land and the fishpond may well be "the best investment for Filipinos" during this pandemic," rural development finance practitioner Marvi Dela Cruz adds.
"It is more profitable to engage in agricultural ventures now," said Dela Cruz, who heads the Tarlac Provincial Cooperatives and Enterprise Development Office (PCEDO).
"There are still no or very limited chances of importing food from neighboring countries that are also experiencing this pandemic," Dela Cruz adds.
'Localized' food security
Food security became relevant especially during the enhanced community quarantine (ECQ) last March to May. Since communities got locked down, food supplies passing by rural-to-urban agri-value chains got choked, and excess produce wasted.
Thus, economist Alvin Ang of the Ateneo de Manila University thinks localized farm ventures within the rural origins of Filipinos abroad may reap dividends for them during this pandemic.
Localized farm ventures may not require much capital and logistical expenses, Ang said, and these will "solve local food requirements and contribute to local food security."
This localized approach may help would-be OFW and non-OFW farm entrepreneurs to collar rural hometown markets, Ang adds. "And when there is excess produce from local production, then farmers can sell outside."
'Rooting' for agriculture
During normal times, Filipino migration-and-development policy makers and analysts had rooted for agriculture as a lucrative venture for dollar remittances.
Individual former and current overseas Filipinos across the country had responded. Some planted high value crops (HVCs) like green papayas (by a former construction worker in Saudi Arabia) and watermelons (by a former engineer formerly in Afghanistan, in Bongabon, Mindoro Oriental).
Some ex-OFWs even formed their own palay farmers cooperative (in Los Baños, Laguna to upscale their rice production) and a registered agricultural corporation (in Sarrat, Ilocos Norte to breed Boer goats from Australia).
The Department of Agriculture then took the chance of promoting agriculture as a business venture for overseas Filipinos. In 2013, then Agriculture Secretary Proceso Alcala and Labor Secretary Rosalinda Baldoz signed an inter-agency accord to promote agri-business ventures for returning and current overseas Filipinos.
DA, through a unit called the Agribusiness and Marketing Assistance Service (AMAS), had been promoting farming ventures through overseas road show visits since launching an "OFW Agriculture Business Investment Program" in 2017. That time, AMAS prodded overseas Filipinos to invest in cacao production by parking money in a cacao farm.
In 2016, former Agriculture Secretary Emmanuel Piñol had linked OFWs in Dubai, United Arab Emirates with the Don Bosco Multi-Purpose Cooperative in M'lang, North Cotabato to finance a 156 ha. farm for organic rice. The Dubai OFWs provided P20,000 loans per hectare to M'lang's organic farmers.
'Agri' not rewarding for OFWs?
But seasonal yields from agriculture do not easily entice Filipino dollar earners' risk appetites.
A fresh survey of 285 repatriated seafarers by Asis' research center showed that only 3.6% want to try out farming in the next three months.
This result may affirm 2017 findings of a study by SMC and the Organization for Economic Cooperation and Development (OECD). SMC and OECD found that households of returned OFWs see agriculture as "subsistence living rather than a business and investment opportunity," and they may "not likely invest in agriculture."
However, high yield from agriculture may depend on geography and crops planted. Surveys in Dingras town, Ilocos Norte's rice granary, show agricultural incomes make up 63.6% of OFW households' earnings. Meanwhile, given multiple cropping in Bansalan, Davao del Sur (rice, banana, corn, coconut, sugarcane and coffee), surveyed OFW households there have 42% of their household incomes coming from agriculture.
Overseas remittances by these OFW households comprise 23.6 and 28%, respectively for Dingras and Bansalan, a freshly-released study by the Japan International Cooperation Agency – Ogata Research Institute showed.
The Filipino Connection is the regional partner of Philstar.com.