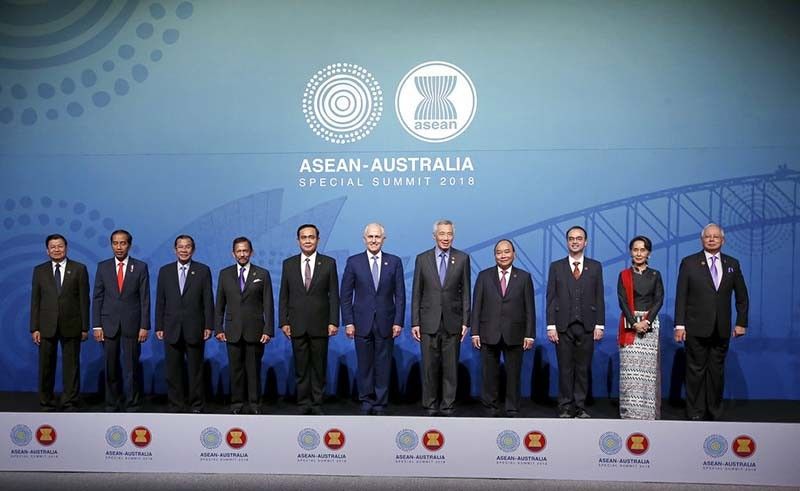 Leaders, from left to right; Prime Minister of Laos Thongloun Sisoulith, Indonesia's President Joko Widodo, Cambodia's Prime Minster Hun Sen, Brunei's Sultan Hassanal Bolkiah, Thailand's Prime Minister Prayuth Chanocha, Australia's Prime Minister Malcolm Turnbull, Singapore's Prime Minister Lee Hsien Loong, Vietnam's Prime Minister Nguyen Xuan Phuc, Philippines' Secretary of Foreign Affairs Alan Peter Cayetano, Myanmar's leader Aung San Suu Kyi, and Malaysia's Prime Minister Najib Razak, pose for a group photo at the Association of Southeast Asian Nations, ASEAN, special summit, in Sydney, Saturday, March 17, 2018. Australia is hosting leaders from the 10-country Association of Southeast Asian Nations during the 3-day special summit.
AP/Rick Rycroft
Commentary: What Philippines can get from ASEAN-Australia Special Summit
(Originally published on March 23, 2018) On March 17 to 18, the Australian Government welcomed the leaders of the ASEAN member states for its first-ever special summit to be held in Australia. While the significance of the ASEAN-Australia Special Summit cannot be discounted, it is puzzling that the meeting was not subject of a buzz.
More so, President Rodrigo Duterte skipped the special summit to attend the Philippine Military Academy graduation on March 18. As it was an opportunity for the president to have a dialogue with aspiring military officials, it was likewise of great consequence for the president to have attended the ASEAN-Australia as an indication of the country's commitment to further its security and diplomatic ties with Australia.
Significance of ASEAN to Australia
Australia became a dialogue partner of the ASEAN in 1974. The summit, which signified the increasingly close relations of ASEAN and Australia, was an opportunity for both parties alike to demonstrate the value of each other's cooperation and engagement.
Australia is among the major powers that have engaged with ASEAN as a bloc. Undeniably and as stated in Australia's 2017 Foreign Policy White Paper, the stakes of Australia in the Indo-Pacific which encompasses the member states of ASEAN, are quite high.
For a start, Australia envisions an Indo-Pacific region that adheres to a rules-based order, where all rights of states are recognized and respected and which would allow the free flow of trade, among others. With China's rise as the emerging power, power shifts have surfaced. In balancing China's growing clout, Australia depends on other major powers and even member states of the ASEAN.
As a regional bloc, ASEAN has become an anchor in the wider region. Even Australia's major pacific alliance, that is the United States has anchored its economic and security engagement in the Indo-Pacific. The foregoing clearly demonstrates Australia's multilateralism approach in addressing uncertainty and unpredictability in the changing world order.
What's in it for Philippines-Australia relations
While the Australia sees ASEAN as a partner in attaining security and cooperation within the region, the regional bloc has its limitations such as its impasse on certain issues. Such impasse or deadlock has raised concerns about a political divide.
It is in this regard that Australia finds significance and importance in engaging with the other like-minded democracies such as Japan, United States and India, which incidentally make up the "Quad". Australia's engagement with the three countries however, does not preclude it from working bilaterally with the Philippines.
Verily, the Philippines as a nation per se, and as a member of the ASEAN has an important role to play to promote and help sustain an open, inclusive and prosperous Indo-Pacific region, considering its strategic location. For a start, the Philippines can play a significant role by maximizing the benefits of cooperation among the four countries.
The Philippines and Australia are about to celebrate its 72 years of diplomatic relations. In November 2015, a Joint Declaration on Philippines-Australia Comprehensive Partnership was signed by both States which underlined the increasing depth of its relations. The bilateral relations covered economic engagement, trade and investment, and growing people-to-people links, among others.
The question arises as to when its diplomatic relations could evolve and elevate into a level of strategic partnership.
The Philippines can find inspiration at the recent establishment of a strategic partnership between Australia and Vietnam. Under such partnership, the cooperation between states with regard to political, economic, defense, intelligence and security, education, science and technologies and people to people links aspects, has been strengthened.
The potential of Australia-Philippine relations cannot be undermined. As the comprehensive partnership covers their shared interests, it would not be too difficult for the two countries to develop a plan of action or programs that could further promote cooperation.
The looming issue on maritime security could be an ideal springboard. While cognizant of the changing political dynamics in the region, Australia has maintained its neutrality by maintaining constructive ties with China but at the same time, has opposed the use of disputed features in the South China Sea for military purposes and reaffirmed its position that the ruling on the South China Sea dispute between Philippines and China is final and binding.
Interestingly, the "importance of non-militarization and the need to enhance mutual trust and confidence, exercise self-restraint in the conduct of activities and avoid actions that may complicate the situation" was likewise embodied in the Sydney Declaration.
The Philippines' mutual cooperation with Australia, among the other like-minded democracies, provides a credible deterrence against any security threat.
Moving forward
As shown in the Sydney Declaration, the ASEAN and Australia have "reaffirmed their support to enhance trade and investment as well as resisting all forms of protectionism to improve regional development and prosperity".
Likewise, they "have committed to a free and open market and have underlined the critical importance of the rules-based multilateral trading system."
Other key issues tackled involved security in cyberspace and regional cooperation to counter terrorism, among others.
The ASEAN and Australia should not lose sight however of other challenges that lie ahead, which might not have been included in the declaration.
Finally, pursuing a stronger ASEAN-Australia relationship should not preclude countries such as the Philippines from strengthening its bilateral relations with ASEAN dialogue partners.
Otherwise stated, the Philippines should take a two-prong approach, that is, cooperation among the member states of the ASEAN and at the same time, looking beyond the ASEAN, such as Australia, with the objective of engaging external powers, whether bilaterally or multilaterally in pursuit of its continued peace and prosperity.

—
Atty. Katrina Clemente-Lua is an executive director of independent think tank Stratbase ADR Institute.