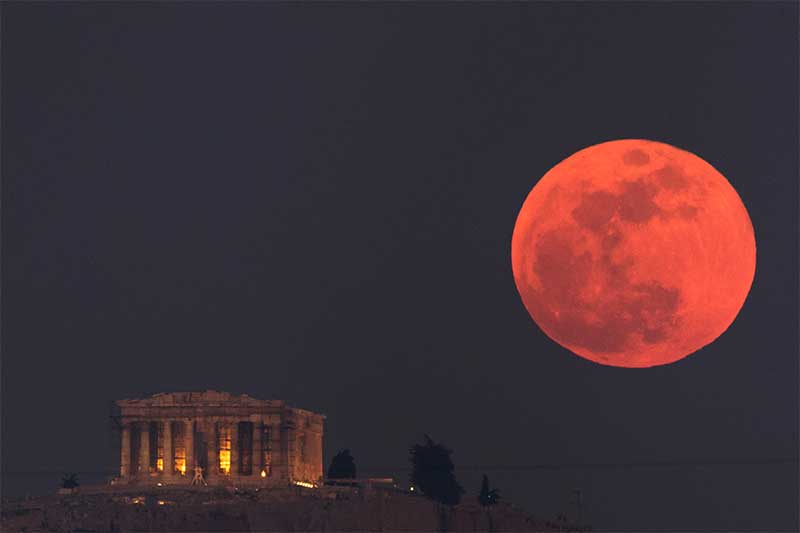 A super blue blood moon rises behind the 2,500-year-old Parthenon temple on the Acropolis of Athens, Greece, on Wednesday, Jan. 31, 2018. On Wednesday, much of the world will get to see not only a blue moon which is a supermoon, but also a lunar eclipse, all rolled into one celestial phenomenon. AP/Petros Giannakouris
In photos: Super blue blood moon wows the world
(philstar.com) - February 1, 2018 - 10:09am
MANILA, Philippines — For the first time in 35 years, the world caught a glimpse of a rare lunar trifecta, a combination of a total eclipse with a blue moon and super moon.
According to NASA, this combination will not happen again until 2037.
The eclipse was visible best in the western half of the U.S. and Canada before the moon sets early Wednesday morning, and across the Pacific into Asia as the moon rose Wednesday night into Thursday.
READ: Lunar Showstopper: 1st super blue blood moon in 35 years
"I'm calling it the Super Bowl of moons," lunar scientist Noah Petro said Monday from NASA's Goddard Space Flight Center in Greenbelt, Maryland.
The moon will actually be closest to Earth on Tuesday — just over 223,000 miles (359,000 kilometers). That's about 1,500 miles (2,400 kilometers) farther than the supermoon on Jan. 1. Midway through Wednesday's eclipse, the moon will be even farther away — 223,820 miles (360,200 kilometers) — but still within unofficial supermoon guidelines. — Associated Press
RELATED: #SuperBlueBloodMoon in photos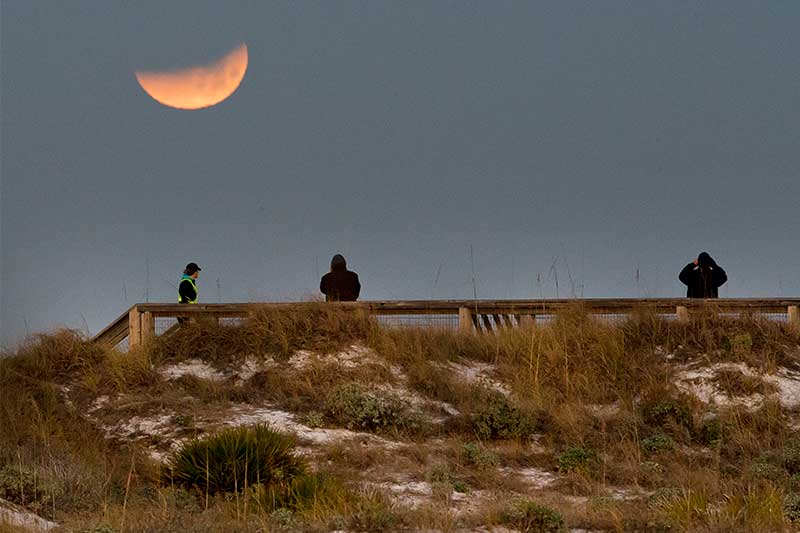 Beach goers admire the Super Blue Blood Moon as it sets early on Jan.31 over St. Andrews State Park in Panama City Beach, Fla. Patti Blake/News Herald via AP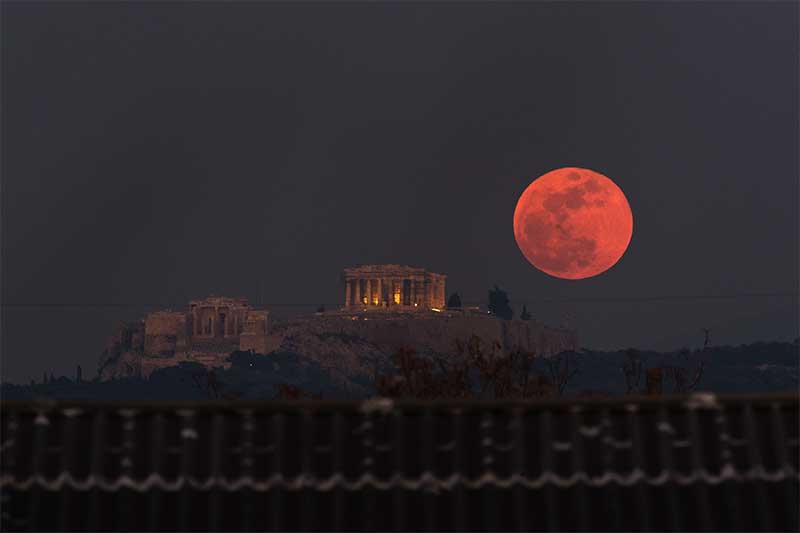 A super blue blood moon rises behind the 2,500-year-old Parthenon temple on the Acropolis of Athens, Greece, on Wednesday, Jan. 31, 2018. On Wednesday, much of the world will get to see not only a blue moon which is a supermoon, but also a lunar eclipse, all rolled into one celestial phenomenon. AP/Petros Giannakouris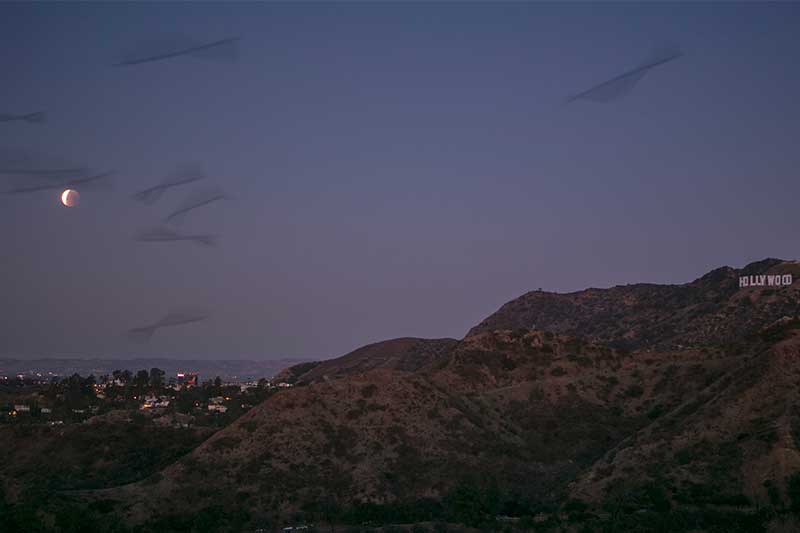 A flock of birds fly during a long camera exposure, as the super blue blood moon is seen setting behind the Hollywood hills in Los Angeles on Wednesday Jan. 31, 2018. The moon is putting on a rare cosmic show. It's the first time in 35 years a blue moon has synced up with a supermoon and a total lunar eclipse. NASA is calling it a lunar trifecta: the first super blue blood moon since 1982. That combination won't happen again until 2037. AP/Damian Dovarganes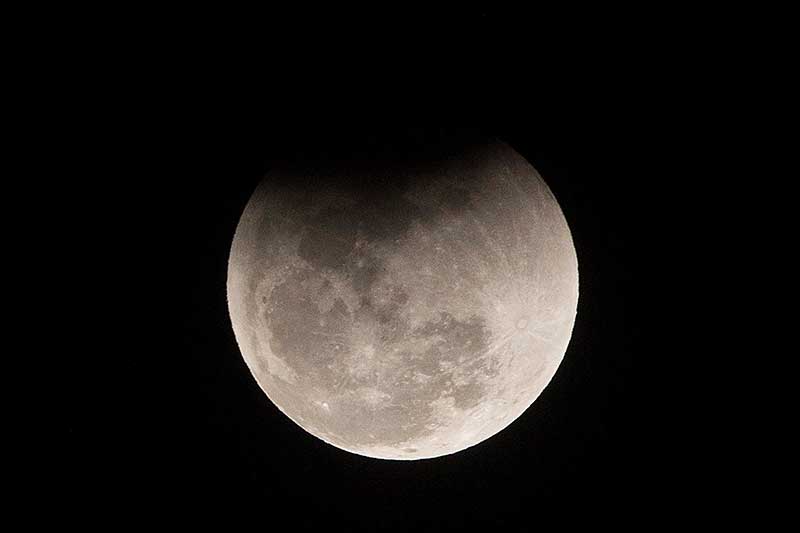 The moon passes into the earth's shadow during a lunar eclipse as seen in Gauhati, India, Wednesday, Jan. 31, 2018. The moon is putting on a rare cosmic show. It's the first time in 35 years a blue moon has synced up with a supermoon and a total lunar eclipse. NASA is calling it a lunar trifecta: the first super blue blood moon since 1982. That combination won't happen again until 2037. AP/Anupam Nath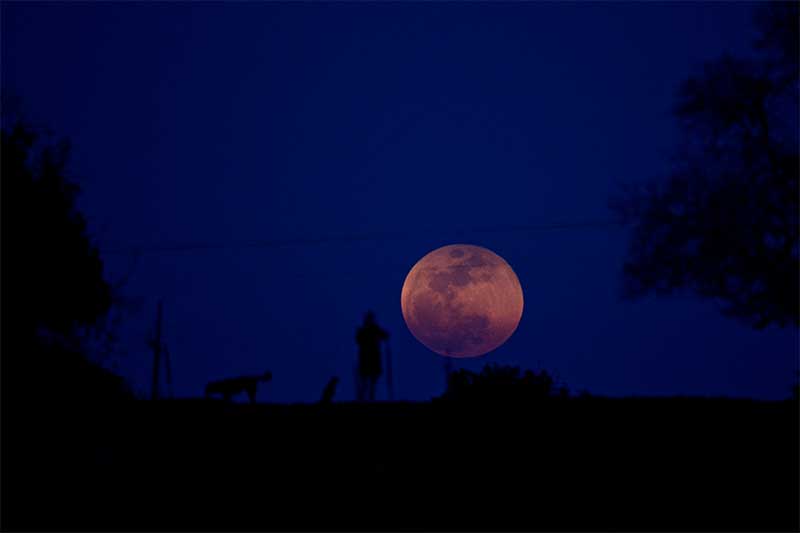 A person and a dog watch as the super blue blood moon rises over Michmoret, Israel, Wednesday, Jan. 31, 2018. On Wednesday, much of the world will get to see not only a blue moon which is a supermoon, but also a lunar eclipse, all rolled into one celestial phenomenon. AP/Ariel Schalit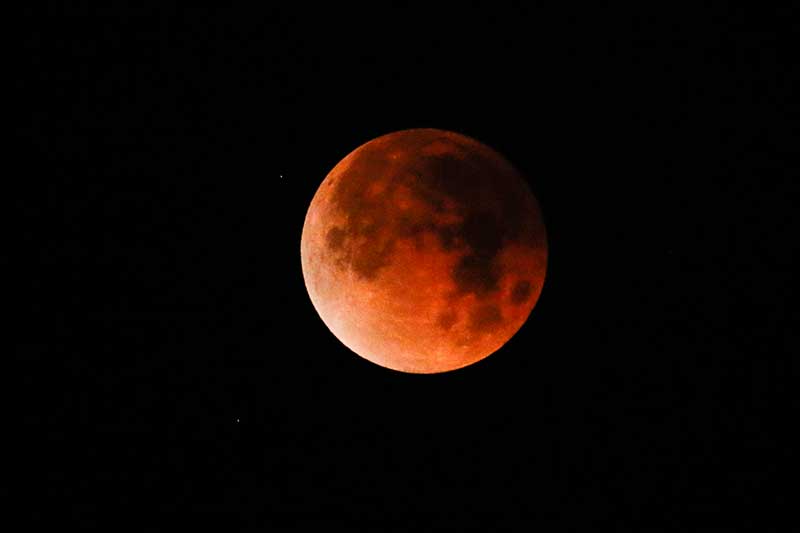 A rare celestial occurrence as a 'Super Blue Blood Moon' is seen at Santa Monica Beach in Santa Monica, Calf., Wednesday, Jan. 31, 2018. The moon is putting on a rare cosmic show. It's the first time in 35 years a blue moon has synced up with a supermoon and a total lunar eclipse. NASA is calling it a lunar trifecta: the first super blue blood moon since 1982. That combination won't happen again until 2037. AP/Ringo H.W. Chiu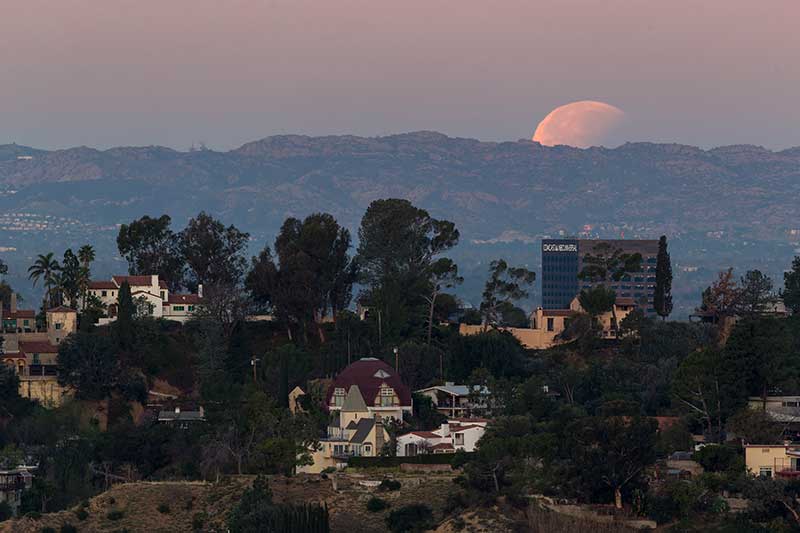 A super blue blood moon sets behind the Hollywood hills in Los Angeles on Wednesday Jan. 31, 2018. The moon is putting on a rare cosmic show. It's the first time in 35 years a blue moon has synced up with a supermoon and a total lunar eclipse. NASA is calling it a lunar trifecta: the first super blue blood moon since 1982. That combination won't happen again until 2037. AP/Damian Dovarganes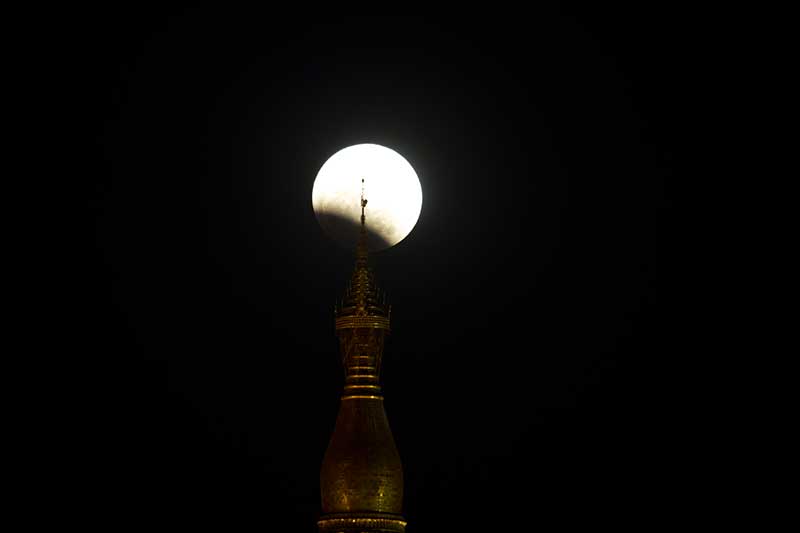 A lunar eclipse offering 'super blue blood moon' is seen from Naypyitaw, Myanmar, Wednesday, Jan. 31, 2018. On Wednesday, much of the world will get to see not only a blue moon which is a supermoon, but also a lunar eclipse, all rolled into one celestial phenomenon. AP/Aung Shine Oo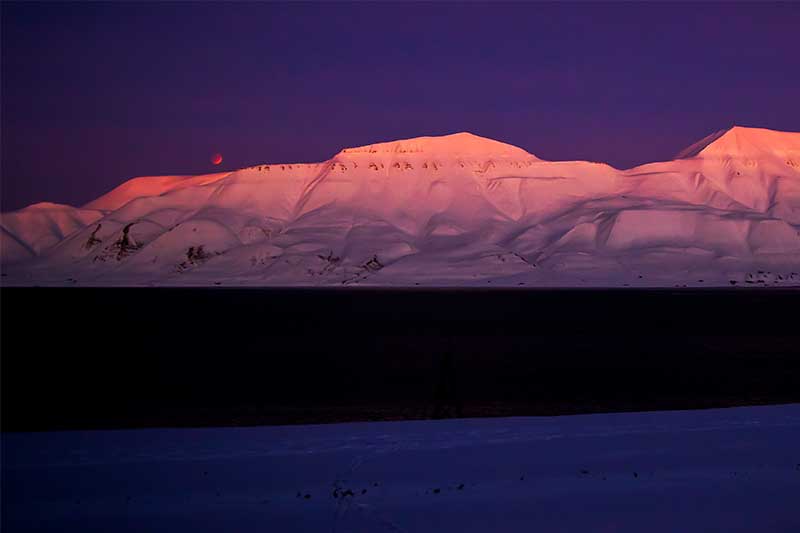 A super blue blood moon is seen from Longyearbyen, Norway, Wednesday Jan. 31, 2018. On Wednesday, much of the world will get to see not only a blue moon which is a supermoon, but also a lunar eclipse, all rolled into one celestial phenomenon. Heiko Junge/NTB scanpix via AP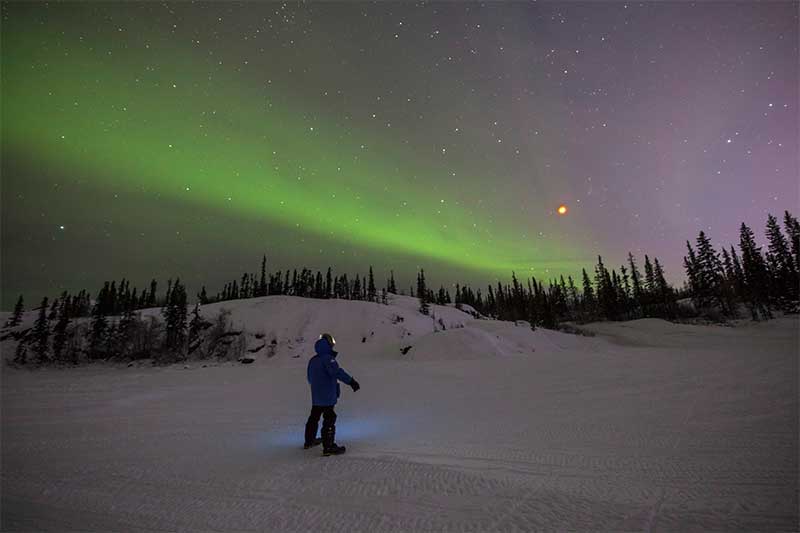 The eclipsing blood moon is pictured in the early morning sky in Yellowknife, Ontario, Wednesday, Jan. 31, 2018. Bill Braden/The Canadian Press via AP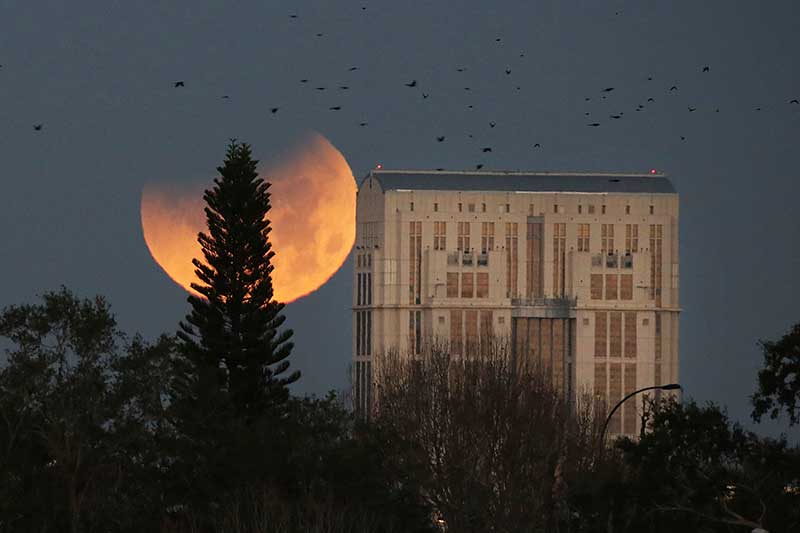 Birds take flight as a blue moon, supermoon and a total lunar eclipse sets behind the Orange County Courthouse in Orlando, Fla., on Wednesday, Jan. 31, 2018. A total lunar eclipse is also called a blood moon because of its red hue. Red Huber/Orlando Sentinel via AP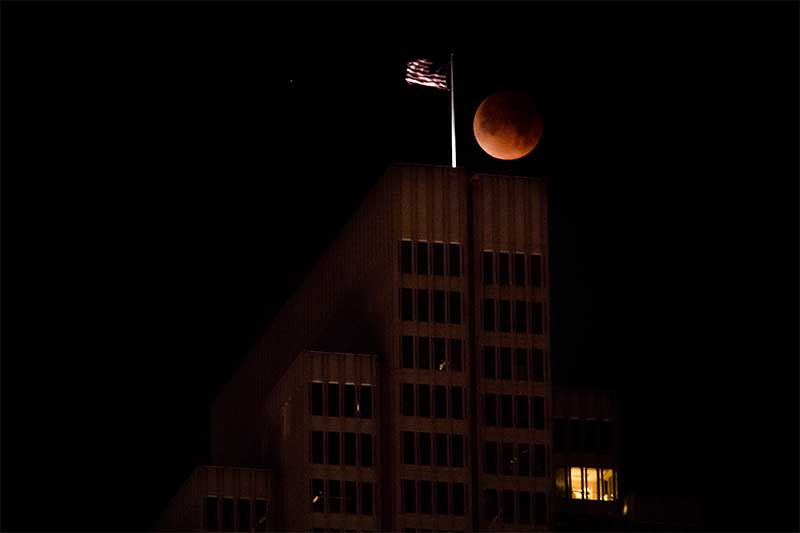 A partially-eclipsed super blue blood moon sets behind San Francisco's Embarcadero Center on Wednesday, Jan. 31, 2018, in San Francisco. It's the first time in 35 years a blue moon has synced up with a supermoon and a total lunar eclipse, also called a blood moon because of its red hue. AP/Noah Berger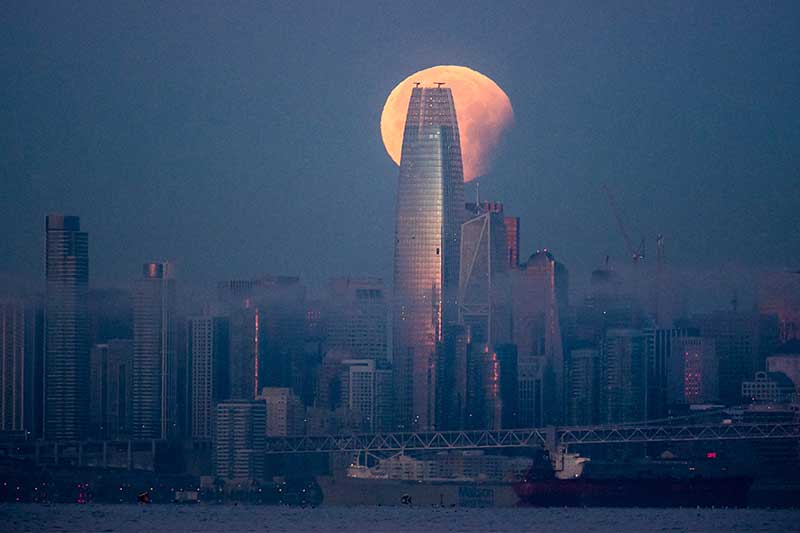 A partially-eclipsed super blue blood moon sets behind the Salesforce Tower on Wednesday, Jan. 31, 2018, in San Francisco. It's the first time in 35 years a blue moon has synced up with a supermoon and a total lunar eclipse, also called a blood moon because of its red hue. AP/Noah Berger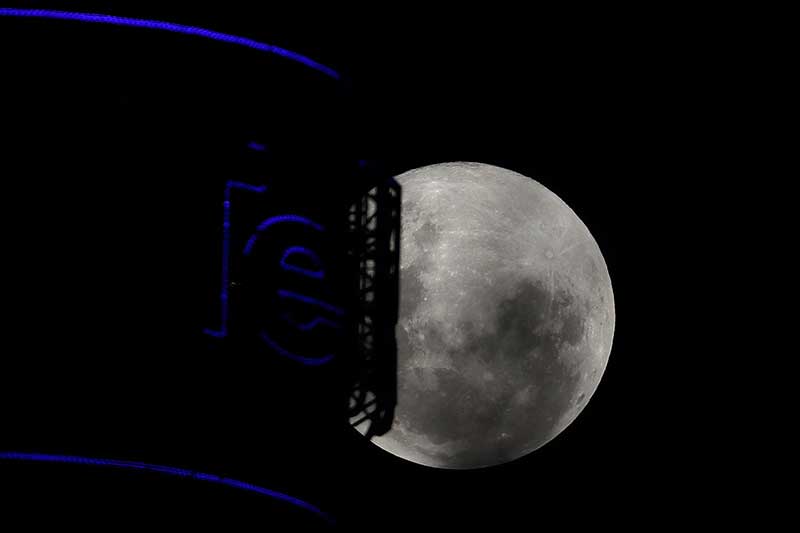 The moon passes into the earth's shadow during a lunar eclipse in Johannesburg, South Africa, Wednesday, Jan. 31, 2018. The moon is putting on a rare cosmic show. It's the first time in 35 years a blue moon has synced up with a supermoon and a total lunar eclipse. NASA is calling it a lunar trifecta: the first super blue blood moon since 1982. That combination won't happen again until 2037. AP/Themba Hadebe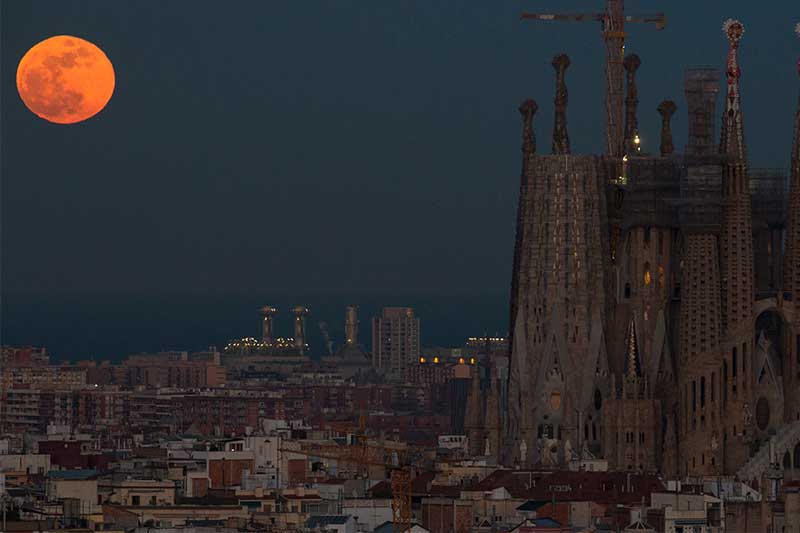 Barcelona's Sagrada Familia Basilica is backdropped by a super blue blood moon in Barcelona, Spain, Wednesday, Jan. 31, 2018. On Wednesday, much of the world will get to see not only a blue moon which is a supermoon, but also a lunar eclipse, all rolled into one celestial phenomenon. AP/Manu Fernandez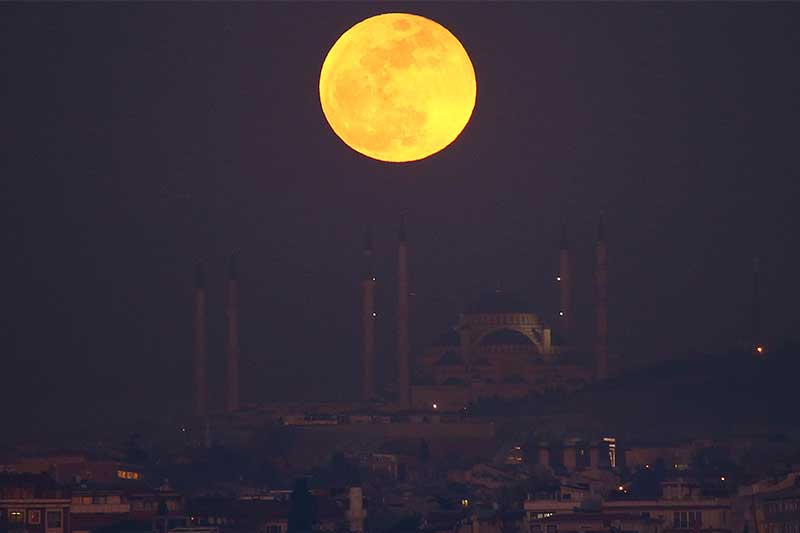 A super blue blood moon rises over Istanbul, behind the Camlica Mosque, the largest mosque in Asia Minor, Wednesday, Jan. 31, 2018. It's the first time in 35 years a blue moon has synced up with a supermoon and a total lunar eclipse, or blood moon because of its red hue, all rolled into one celestial phenomenon. AP/Emrah Gurel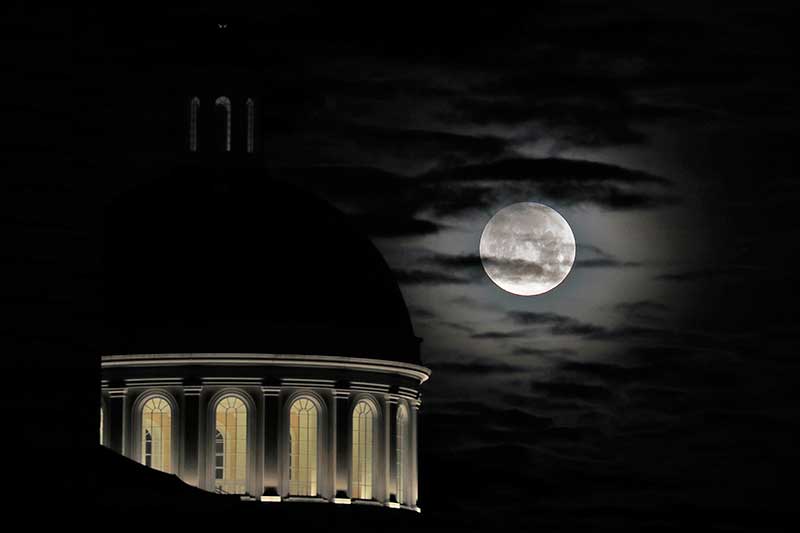 The moon begins to set over Christopher Newport Hall in Newport News, Va., early Wednesday, Jan. 31, 2018. The super blue blood moon was visible for the first time in nearly 152 years. NASA refers to the super blue blood moon as a trio of lunar events all occurring at once: the second full moon in one calendar month (a blue moon), at its closest orbital approach to Earth (a supermoon) during a lunar eclipse (a blood moon). Jonathon Gruenke /The Daily Press via AP