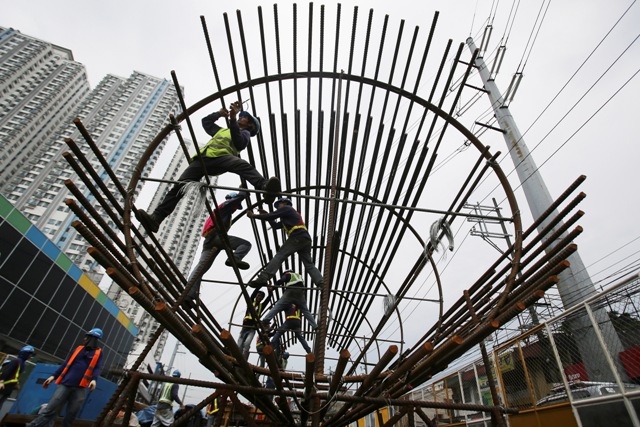 Data from The Global Competitiveness Report 2016-2017 of World Economic Forum show that one of the most problematic factors in affecting business and investments is the inadequate supply of infrastructure. AP/Aaron Favila, File photo
Investments in infrastructure: Road to development
(philstar.com) - November 24, 2017 - 3:28am
"Infrastructure positively affects economic growth. Depending on the type of infrastructure, the time or period, the region or location, its effect varies from negligible to moderate," said Dr. Epictetus E. Patalinghug in his special study "Infrastructure and Economic Growth: The Philippine Experience."
Patalinghug emphasized that the country's economic infrastructure gap poses a major stumbling block to sustainable growth. The Philippines' quality of infrastructure lags behind its ASEAN counterparts due to decades of underinvestment and inefficiency in resource utilization.
Infrastructure inadequacy
Data from The Global Competitiveness Report 2016-2017 of World Economic Forum show that one of the most problematic factors in affecting business and investments is the inadequate supply of infrastructure. This infrastructure inadequacy has increased to 17.8 in 2017 compared to previous year's score of 17.0 as reflected in The Global Competitiveness Report 2015-2016.
Enabling policy, environment
In order to set the tone for increased investments, President Rodrigo Duterte promised to implement a golden age of infrastructure through its "Build, Build, Build!" infrastructure program by allocating P8.2 trillion infrastructure budget over the next six years. Based on the data from the Department of Budget and Management, the infrastructure outlays for 2015, 2016 and 2017 indicates that the infrastructure budget increased from P575.67 billion in 2015 to P860.65 billion in 2017. In terms of percentage of infrastructure spending as a proportion of GDP, it increased from 4.3 percent in 2015 to 5.4 percent in 2017.
Official development assistance: From pledges to real investments
Despite higher budget allocation, the government should prioritize increasing its capability to create and implement the projected pipeline of infrastructure projects on time.
As one possible solution to this problem, Duterte has encouraged Chinese and Japanese investors to invest in specific projects in the country.
Recently, the Japanese International Cooperation Agency (JICA) has expressed its contribution by way of financial assistance to the Philippines' sustainable economic growth through infrastructure development in order to accommodate the growing demand for quality mass transport.
Some of the infrastructure projects to be financed by the Japanese government include the Metro Manila Subway Project Phase 1, Cavite Industrial Area Flood Management Project, Circumferential Road 3 Missing Link Project, Dalton Pass East Alignment Alternative Road Project, Malitubog-Maridagao Irrigation Project Phase 2, Malolos-Clark Railway Project, Arterial Road Bypass Project-Phase 3, Pasig-Marikina Channel Improvement Project Phase 4 and Road Network Development Project in Conflict-Affected Areas in Mindanao.
Safe, reliable and efficient transportation to the commuters' convenience
Quality mass transportation and increased mobility, serving as drivers of economic growth, are the ultimate goals of these infrastructure projects.
The government's capacity to construct these projects as planned should also be complemented by the private sector's comparative advantage in managing, operating and marketing the project.
Moving forward, lessons from the MRT 3's substandard performance — frequent train breakdowns, accidents, glitches, poor maintenance — and the termination of the anomalous maintenance contract with Busan Universal Rail Incorporated should be seen as an opportunity for the government to broaden its perspective that would hopefully lead to an improvement and innovation in public service.
With the worsening traffic situation in Metro Manila due to population growth and urbanization, government will need to speed up triple-time to catch-up with the country's growing demand for reliable and efficient mass transportation. For the thousands of commuters in the metro, the shift from road-based to rail-based transport will work to their comfort and convenience. At the end of the day, the challenge for government is to act swiftly so that the welfare and interest of the riding public will not be prejudiced.
___
Lawyer Hannah Viola is a convenor and legal counsel of CitizenWatch Philippines and a fellow of the Stratbase ADR Institute, a partner of Philstar.com.