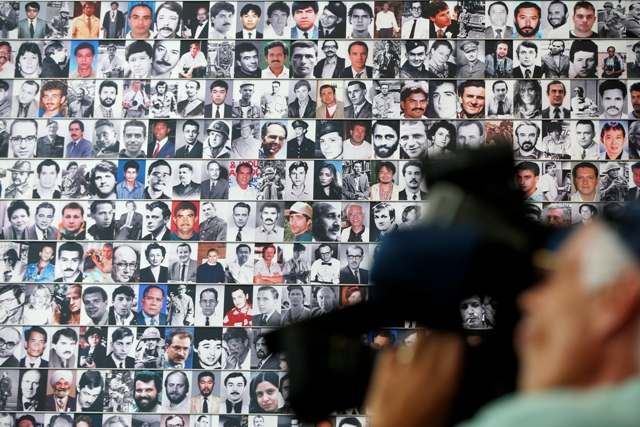 A wall of photographs of journalists killed while reporting the news lines a wall during the rededication of the Journalists Memorial at the Newseum in Washington, Monday, June 9, 2014. AP/Charles Dharapak, file
Did the Philippines support the UN resolution on safety of journalists?
MANILA, Philippines — On November 20, the 72nd session of the third committee of the United Nations General Assembly (UNGA) adopted the resolution on the safety of journalists and the issue of impunity.
The resolution reaffirms the universal declaration of human rights and takes note of the UN Plan of Action on the safety of journalists and the issue of impunity.
"Bearing in mind that impunity for attacks against journalists remains one of the greatest challenges to the safety of journalists and that ensuring accountability for crimes committed against journalists is a key element in preventing future attacks," the resolution read.
The resolution also expressed concern over human rights violations and abuses linked to the safety of journalists and media workers, including killing, torture, enforced disappearance, arbitrary arrest and arbitrary detention, expulsion, intimidation, harassment, threats and other forms of violence.
The following countries co-sponsored the revised draft resolution:
Albania
Andorra
Argentina
Armenia
Australia
Austria
Belgium
Bulgaria
Cabo Verde
Chile
Costa Rica
Croatia
Cyprus
Czechia
Denmark
Dominican Republic
Estonia
Finland
France
Georgia
Germany
Ghana
Greece
Guatemala
Honduras
Hungary
Iceland
Ireland
Japan
Jordan
Latvia
Lebanon
Libya
Liechtenstein
Lithuania
Luxembourg
Malta
Monaco
Mongolia
Montenegro
Netherlands
Norway
Panama
Poland
Portugal
Republic of Moldova
Romania
Serbia
Slovakia
Slovenia
Spain
Sweden
former Yugoslav Republic of Macedonia
Tunisia
United Kingdom of Great Britain and Northern Ireland
In a Twitter post, British human rights organization Article 19 listed the co-sponsors of the UN resolution, noting which governments supported the resolution.
The Philippines was not included in the co-sponsors list of the resolution on the safety of journalists and the issue of impunity.
The Department of Foreign Affairs (DFA), however, explained that the list does not necessarily equate to the countries who voted in favor of the resolution.
The resolution was adopted by consensus meaning it was not put to a vote.
"But if it were put to a vote, the Philippines would have voted to support the resolution, consistent with respect for human rights principles and media freedom," DFA spokesperson Robespierre Bolivar said.
He added that the Philippines have supported similar draft resolutions in the past.
RELATED: Unesco chief calls for justice for slain journalists